Luma Pools Interview Part 2
Luma Pools & Hot Tubs and Spas Accessories & Maintenance.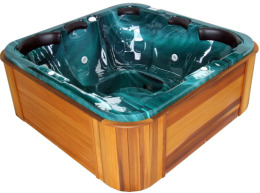 Part 2 of the interview with Marco Muzzi, the Assistant Editor of Luma Pools & Hot Tubs.
You can find the first part of the Luma Pools Interview right here. 


Due to their higher temperatures, hot tubs and spas sometimes need different chemicals than pools. Can you explain this and what chemicals and maintenance do you recommend?

When shopping for cleaners it is very important to differentiate between cleaners intended for swimming pools and hot tub chemicals. Manufacturers recommend balancing the water with either bromine or chlorine to maintain a consistent pH.

For those people with chemical sensitivities, there are now enzymatic cleaning solutions and ozone generating systems that offer the same level of cleanliness but at an increased price.

Many people like to install a hot tub in an existing deck. Are there any building codes and/or laws that need to be addressed prior to building a hot tub into an existing deck?

The hot tub installation will hinge on whether there is an appropriate electrical supply available for the operation of the hot tub. The deck must be a properly supported and level frame with a fence or hot tub enclosure, to avoid the risk of an unattended child drowning.

What would someone who is thinking about a hot tub need to know and what questions would he need to ask before hiring a contractor? What are the most important aspects to consider for hiring a contractor?

When hiring a contractor to install your new hot tub, you will want them to provide proof of their insurance and any possible certifications.

A list of references for similar jobs and installations will give you peace of mind that they have successfully installed a hot tub before and that they are familiar with local building codes and ordinances.

Can you discuss a few ways to protect a hot tub from the weather?

Hot tub covers come in a range of styles and colors and it is important to buy one that is labeled specifically for outdoor use in order to be certain that the material is color-fast and can withstand the elements throughout all of the seasons.

There are many accessories and add-ons available for spa covers that will help you keep your hot tub safe from the heat and cold with a lock for safety.

What are some general maintenance tips you could offer for a hot tub owner?
In order to extend the life of a home spa, it is recommended that owners perform regular hot tub maintenance on all serviceable parts and follow the manufacturer's guidelines on necessary care and upkeep. Completely changing the water four times a year provides an opportunity to clean both the inner shell of the tub as well as the inside of the cover.
6. If something breaks or leaks down the road and the hot tub needs to be fixed, what is the best way to find a good repairman? What questions should the customer ask and how could he protect himself?
Generally how long are warranties, and what do they normally cover? No one likes a leaky hot tub, but it can happen. Your first call should be to your hot tub dealer to see if the repair is covered under your manufacturer or dealer warrantee or if the warrantee requires that maintenance be performed by certain authorized companies.

The hot tub owner will want to ask the repairman for proof that they carry insurance in case of a job-related injury. If there is time, the owner should ask for a list of references and contacts for successfully completed similar jobs. A quote or estimate prior to any labor will allow the owner to budget accordingly.

Just like hot tubs, warranties come in all shapes and sizes. There are, usually, extended and add-on warranties that can be purchased to fit any situation. Your local hot tub dealer can walk you through the particulars of both the dealership's warranties and the hot tub manufacturers warranties. 

I want to once again that Marco for taking time for this interview. Please feel free to go to his companie's website for more great information.

For the first part of this interview simply click right here

Best of luck to you, your company, and customers.

Go To:
Swimming Pool Care

>
Interview Page

>
Luma Pools Interview Part 2
Top Of Page