Above Ground Swimming Pool Ladders | Choose The Best One For You 
Whether you are looking for above ground swimming pool ladders or steps, the choice is clear:  You gotta get something to get in and out of your pool safely and with the least amount of effort.  That's self-evident.  But which one?  A ladder or steps?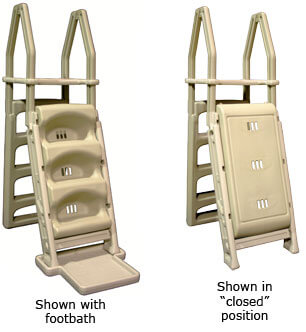 If you're getting tired of lifting your kids out of the pool, or maybe you just want to exit the pool without straining yourself, then look no further than a good above ground pool ladder.  Could it be time to replace it?  Are you in the market for one?  Let's find out.  Fair enough?
Choices For Above Ground Swimming Pool Ladders
We'll first look at the best choices for above ground pool ladders and consider what will best suit your needs and pool.  Learning this beforehand can ensure you're making a smart decision and keep you and your family safe when exiting the water. 
There have been reports of some nasty cuts and scrapes by people trying to get out of an above ground swimming pool without using steps or a ladder.  You can also cause damage to the walls of your pool by putting too much weight on them.  My advice is look into the many varieties of above ground pool ladders and choose which one is right for you.  Be sure you're getting the right kind for your size of pool by taking all of the appropriate measurements. 
Different Kinds Of Above Ground Swimming Pool Ladders 
An above ground pool ladder is usually made of either plastic or metal, such as stainless steel, with pool hand rails to grip onto.  They should have firm and secure swimming pool ladder mounts.  My favorite above ground swimming pool ladders are plastic.  Galvanized or stainless steel handrails may look pretty cool, but tend to become very hot in the summer sun. 
Ladders for above ground pools should have non-skid pool ladder treads to protect the swimmer from slipping.  Both in-ground and above ground pool steps work in the same manner; they should get the swimmer in and out of the pool in safety.  Most elderly people prefer pool stairs, or "wedding cake" steps, over regular pool ladder steps, because of the relative ease of getting in and out of the water.  The steps have swimming pool rails and a much broader base area to make entry and exit safer. The pool hand rails make it much easier to balance.
So if you're looking for an above ground swimming pool ladder, ladder accessories, or in-ground pool steps, just make sure you're getting the right kind of ladder or steps that your pool needs and you deserve. 
Does Pool Ladder Size Matter? 

For your new above ground pool ladder to work properly and be safe, the pool steps should reach from the ground to the top of the pool.  A ladder that's too high or short can cause balance and safety issues so make sure your ladder is fitted correctly.  Also make sure it's sturdy enough to hold your weight, but light enough to remove it from the water without injuring yourself such as during your pool closing routine or cleaning. 

Swimming Pool Ladder Options
Above ground swimming pool ladders will normally come in three types: plastic resin, aluminum, steel, or a combination of two or more of these materials and each one have their own positives and negatives.  
Plastic Resin Pool Ladder

These ladders are weather-resistant, very durable, and low-maintenance.  Cleaning is easy by using a specified non-abrasive plastic resin cleaner followed by a quick rinse with a garden hose. 

Aluminum Pool Ladder

Aluminum above ground swimming pool ladders are a little more sturdy and stable than plastic resin ladders but not stronger than steel.  Aluminum resists rust a little better than steel but both steel and aluminum ladders tend to get very hot so be care full stepping onto the ladder.  Cleaning is easy.  Dish soap, water, a clean rag, and a little effort can go a long way in keeping your ladder clean and ready.  

Steel Pool Ladder
The strongest pool ladder frame you can buy is made of steel.  These ladders tend to be a bit heavier, more cumbersome to handle, and are the most expensive kind of pool ladder.  Many ladders use zinc coated galvanized steel which is ideal for  prevent rusting.  Cleaning is just like the other types of pool ladders.  A mild cleaning product, clean rag, and water from a hose will do the job.  As always, you'll want to refer to your manufacturer's instructions for care and maintenance of any above ground pool ladder you choose.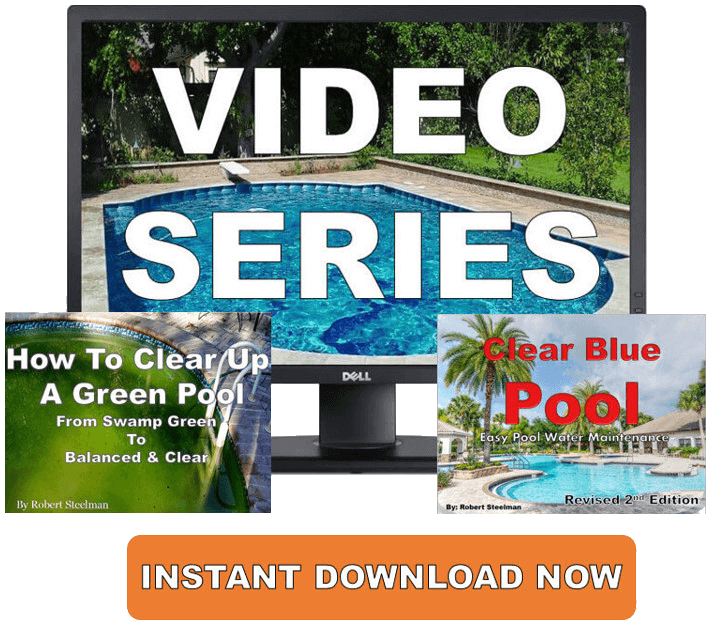 Do you want the pool you deserve but aren't sure what to do?  Are you tired of having a green pool?  Don't lose another $400 on your pool care!!

In my exclusive 12 Part F.T.A. Pool Fix Video Series I show you how to not only clear up your pool but how to keep it perfect all swimming season.  Refined and perfected over the last 20 years, and is the ONLY and BEST evidence-based system available.  Cut through the confusion with this easy to understand guide to pool water maintenance.  Available for computer and mobile devices. You also receive 2 eBooks, "Clear Blue Pool Revised 2nd Edition" & "How To Clear Up A Green Pool".  Click the button and get started today!!  Or get more information right HERE!!  

Getting the right swimming pool ladder is a big decision.  It's about convenience and swimming safety.  An above ground pool cover, swimming pool fences, swimming pool steps, pool stairs, pool rails, and a stainless steel handrail can add safety to your pool.

Above ground pool accessories such as swimming pool decks, swimming pool lights, and ladder accessories can add a touch of class to in-ground pools and even to discount pools.  Oval above ground pools can have nice wedding cake steps for convenience and pool hand rails for safety.  Swimming pool rails and above ground pool fences are a must if you have small children.
You can also get a nice above ground pool skimmer, vacuums, and many other above ground pool accessories to make your pool a complete oasis. Do your research, compare prices, ask the right questions, and then when you have the best out of the many swimming pool ladders for your pool, hook it up and go swimming.
Recommended Reading For You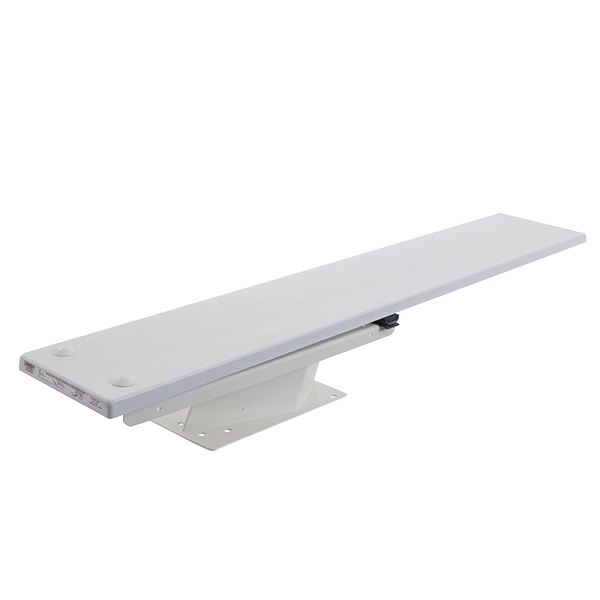 Diving Boards - Swimming Pool Diving Boards and Replacement Diving Board Information.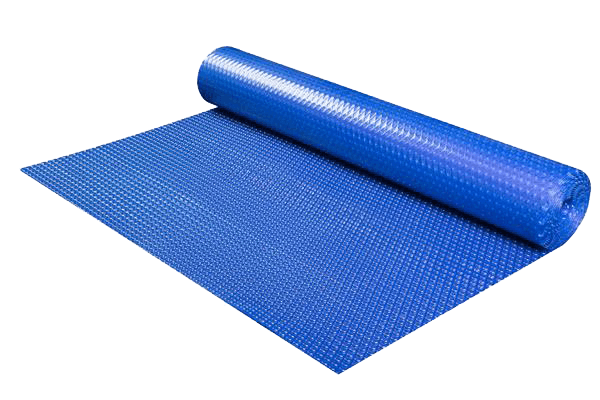 Swimming Pool Solar Covers - A swimming pool solar blanket is a great heat saver for your pool, spa, jet tubs and hot tub for ultra clean technology.

Swimming Pool Chemistry - All About Swimming Pool Water Chemistry & Pool Water Maintenance Tips.  

Go To:
Top Of Page