Choose The Best Sunscreen
The best sunscreen and the best natural sunscreen. Important sunscreen information and sunscreen safety.
Choosing one can be overwhelming. It's all this SPF and UVA stuff. Then you have the UVBs. 
The "SPF" simply means Sun Protection Factor. Wearing sunscreen with a higher SPF number gives better overall protection against harmful UVB rays from the sun.
Too many sunscreen ingredients to even consider.

SPF numbers are to let you know how long you can stay in the sun without burning.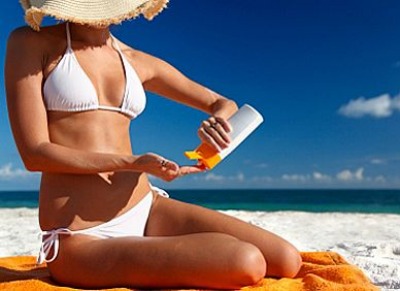 If it takes 15 minutes for someone to burn, the best sunblock of SPF 15 will allow up to 15 times longer in the sun without burning.
Most doctors recommend a good face sunscreen of SPF of 15 or higher and the available levels are from 2 to 60. SPF 50 may only provide 1% to 2% more protection than SPF 30.
Sunscreen Dangers

Sunscreen Causes Cancer?
There is some research that says over the counter lotions may cause and/or accelerate skin cancer. Most notable are the two ingredients Oxybenzone and vitamin a.
Overuse of sunscreens and lotions may cause an allergy. Many of these allergic reactions are called contact dermatitis.
Best Sunscreen Alternatives

Organic Sunscreen - Organic sunscreens don't contain unhealthy synthetic chemicals or sun filters. You can choose a mineral sunscreen that protects your skin with zinc oxide or titanium dioxide.
Chemical Free Sunscreen - These contain titanium dioxide and creates a barrier on your skin to reflect the sun's harmful rays.
Biodegradable Sunscreen - Use zinc oxide and/or titanium dioxide. This sits on the skin and forms a barrier against the sun's rays. Zinc oxide and titanium dioxide start to protect the second you put it on.
SPF Clothing - Sun block clothing are specifically designed to block out the sun's rays to keep you safe on those sunny days. There are many kinds of shirts, pants, hats, etc...
UVB & UVA Protection
Check the label. It will indicate the UVB or UVA protection.
Some doctors believe the UVA rays have an aging effect on the skin and overexposure to UVA rays may cause skin cancer.
The UVB rays may be responsible for sunburns.
By choosing a sunscreen that has "UVA/UVB" protection you'll have what is called "broad spectrum" protection.
Waterproof & Water Resistant Sunscreen Facts

If you're planning on swimming you'll want to have a good sunscreen that is "waterproof" or "water resistant."
The best sunscreens that are deemed "waterproof" should give about 80 minutes of protection in the water. A "water resistant" sunblock lotion should give about 40 minutes of protection.
Go To:
Swimming Pool Care

>
Best Sunscreen
Top Of Page