Best Chemical Free Sunscreen
The Best Chemical Free Sunscreen Is The Most Effective Sunblock With Sunblock Clothing . The Best Sunscreen Is A Natural Sunblock For Sensitive Skin.
A chemical free sunscreen should be a 100% natural and non-whitening agent that provides broad-spectrum UVA/UVB protection.
This is done without using harsh chemicals like octinoxate and oxybenzone.
The most effective kinds are Zinc Oxide sunblock or Titanium Dioxide sunblock.
These are natural minerals that create a barrier on your skin to reflect the sun's rays.
This is the perfect sunblock for children or those that need a sensitive skin sunscreen.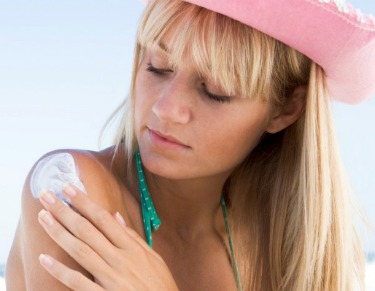 How to Use A Chemical Free Sunscreen

Apply generously and evenly before you go out in the sun

You'll need to reapply it as needed, especially after swimming, sweating, or drying off with a towel

Even the best sunblock or organic lotion may discolor your clothing, so be careful with any natural skincare products, natural suntan lotion, or organic body care.
Biodegradable Organic Zinc Oxide Sunscreen/Sunblock Ingredients

Titanium Dioxide and Zinc Oxide
These are naturally occurring minerals are used as a white pigment.

They reflect the sun's rays so they can be considered a natural sunscreen. These are the active ingredients in your all natural sunscreen.

Safe Sunscreen Additive Inactive Ingredients

Water

Cannabis Sativa (Hemp)

Helianthus Annuus (Sunflower)

Flower Extract

Hawthorn

Hamamelis Virginiana (Witch Hazel)

Hydrastis Canadensis (Golden Seal)

Symphtum Officinale (Comfrey)

Rosmarinus Officinalis (Rosemary)

Lecithin

Glucose

Canola Oil
My children use a physical sunscreen made from Zinc Oxide and/or Titanium Dioxide. I suggest you keep a baby younger than 6 months out of the sun.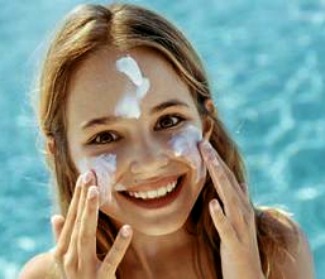 If that's not possible you can use a natural sunscreen or a sensitive skin sunblock whenever possible. Sunblock clothing works very well.
A chemical total sunblock may cause an irritation or an allergic reaction. The chemicals are absorbed directly into the skin.
Zinc Oxide and Titanium Dioxide sit on top of the skin that form a barrier against the sun's rays. If you or your child don't use a natural sunblock or a natural suntan lotion, you can do a test on a small part of the skin to be sure there's no allergic reaction to it.
The upper arm seems to work best. If a rash or redness develops by the next day you might need to get another kind of sunscreen. Use sunscreen clothing if needed.
You may have heard that a biodegradable sunscreen or a "broad-spectrum" product protects against both UVA and UVB rays. A natural sunscreen that contains Zinc Oxide or Titanium Dioxide will do this.
The best body and face sunscreen sun protection factor (SPF) should be a minimum of 15. You probably don't need to go higher than 30.
Pretty much over that and not only are you wasting money but you're getting smaller amounts of protection. If you use a chemical sunscreen that means more chemicals are being absorbed into your bloodstream.
You'll want to reapply your physical sunscreen as often as every two hours. This goes for a spray on sunscreen as well. Some waterproof sunscreens last longer. The label says up to eight hours, but don't push it.
I found that about every two hours for a chemical free sunscreen is fine when you're out in the sun for extended periods.
Remember to check the label for ingredients.
Go To:
Swimming Pool Care

>
Best Sunscreen

>
Chemical Free Sunscreen
Top Of Page