Electric Pool Heater
Electric pool heater information and compare pool equipment, gas vs. electric water heater for safety and ultra clean technology.
Electric swimming pool heaters are similar to a hot water tank for your home.

The water is warmed by emitting an electrical current to the heater coils.

As the water passes over the coils it becomes warm, and that warm water goes into the pool.
Now your family and friends can swim earlier and later during the swimming season, even on those not-so-warm days. 
You may not need a pool water heater, but a good electric swimming pool heater may be helpful in getting the most out of your pool. 

Inground & Above Ground Electric Pool Heater

Today, electric swimming pool heaters are very well made and should last a long time.

They have quality components, are very functional, and have wonderful safety functions. Some very popular models are the Raypak pool heaters.

Hayward Heater
As compared to a propane pool heater, solar swimming pool heaters, wood pool heater, or natural gas pool heaters, using an electric swimming pool heater is a slow process. Some may say that because of the cost of electricity in parts of the country, an electric heater may be a poor choice.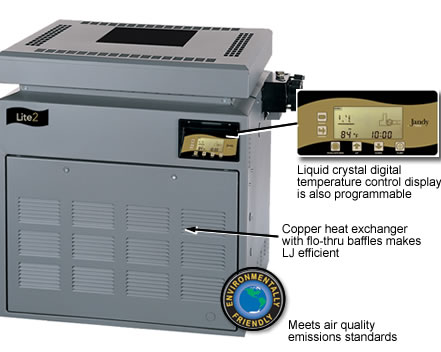 Jandy Lite 2 Pool Heater
More Info. On Pool Heaters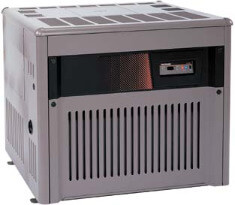 Solar Swimming Pool Heaters - Solar swimming pool heaters and great information on swimming pool solar heat.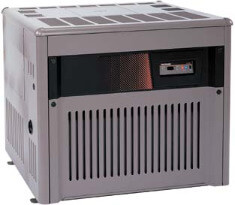 Swimming Pool Heaters - Info. On Solar & Electric Swimming Pool Heaters. Pool Solar Heaters Info. & Savings Chart.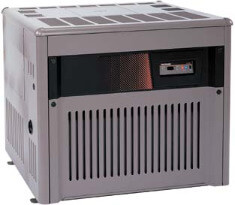 Swimming Pool Solar Heater - Solar swimming pool heaters are also an excellent way to save on your energy and pool costs.


Quality Electric Pool Heaters

Long Life. Try to get an electric pool heater that is corrosion free, copper and bronze-not aluminum
Reliability
Trouble-Free. Quality and safety should be there. Some electric pool heaters have a pressure switch to stop heating without water flow, a temperature control to prevent overheating, and a good thermostat. How about automatic shut-off if it accidently tips over?
Easy Installation. Should plug in to standard inlet, be compact, and have convenient outlets
Warranty. Should last for at least 2-5 years with full replacement
Digital Control Panel makes everything much easier to see
Titanium Heat Exchanger
Extra-Large Evaporator Coil to gather more outside air to heat. This feature make an electric heater a little more efficient.
A Safety-Internal Flow Switch. This is just in case if the water stops flowing, you're electric swimming pool heater will stop heating
A good cabinet that won't rust or corrode
Pool Water Heaters - What Size Do I Need?

This one is pretty easy. For a normal rectangle pool, about 14X30 or less, you'll probably need an 80,000 BTU electric swimming pool heater or larger.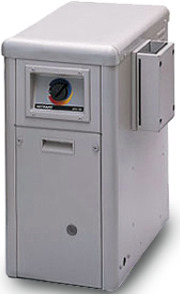 For a larger pool, about 18 x 36 or over, you'll need a 100,000 BTU unit or larger. It's better to go just a hair bigger because you'll want a slight "buffer" if the temperature suddenly dips down a few degrees.
If you're looking for the best pool heater (above ground swimming pool heater) and your pool is less than 22 ft., you could use an 80,000 BTU unit. For round pools wider than 30 feet, a heater with at least 100,000 BTU electric pool heater is recommended.
If you have a solar cover, which I recommend, you can use the same size heater up to 30 ft. around. Any pools larger than 30 ft. and you may want to consider a 100,000 BTU electric pool heater unit, or larger.
Using a solar cover saves on chemicals, help keep down water evaporation, heats the pool even faster, and saves on swimming pool maintenance.
The Best Pool Heaters

When you're serious about looking around at the many electric swimming pool heaters available, you may want to ask these questions:
What's the price? Is that the best you can do?
Installation cost?
Does it have an automatic control? Automatic shut-off?
Any special plumbing required?
Is it rust and corrosion resistant?
Will it install easily into my existing pipes and/or plumbing?
Are there any vents?
How large are the panels and how much room will they take up? Is it a compact design that would should fit my pool?
No condensation or corrosion
Is it UL recognized?
Does it have a good thermostat? Is the thermostat automated?
Is there maintenance? If so, what and why? Will you take care of that or do I?
Digital control panel?
What's the warranty? Ask for specifics.
What if I install my electric pool heater? Will that void the warranty? Get it in writing.
Do you have a contractor? Is he licensed and insured? Is he experienced in electric swimming pool heaters? Ask for proof.
What are the safety features? What would happen if one of the safety features fail? If it does fail, who is responsible?
If it does fail, who will fix it? Will you fix it, or do you contract that out to someone else? Who is it? Why do you use them? How long have they worked with you?
How about free delivery in writing
Pool and Spa Heater Manufacturers, Info. and Purchase
Propane pool heater
Raypak (Raypack) pool heater
Pentair pool heater
Commercial pool heaters
Used pool heater
Homemade pool heater
Intex pool heater
(Inexpensive) cheap pool heater
Teledyne Laars pool heaters
Aquacal pool heater
Rheem pool heater
Portable pool heater
Wood burning pool heater/wood fired pool heater
Oil fired pool heater
Heat Siphon pool heaters
And look for Hayward pool heater parts and pool heater repair manuals.
Remember to never sign anything until you're sure that THIS is the one you want and it's right for your pool.
Happy Swimming
Go To:
Swimming Pool Care

>
Electric Pool Heater
Top Of Page
---
What Other Visitors Have Said
Click below to see contributions from other visitors to this page...