Plastic Pool
Plastic pool and dog pools. An inflatable kiddie pool is great fun and plastic stairs makes it better.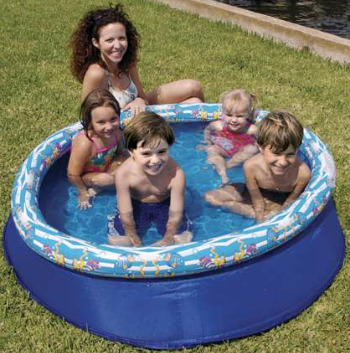 It may help if you consider the benefits of having a plastic swimming pool for your child.
He/she will learn to appreciate the water and play, get some exercise, and cool off during those hot Summer days.
You can purchase quality plastic swimming pools because they are relatively inexpensive and if it cracks you can just replace it.
After your kids have outgrown the pool you can either sell it or give it away as long as it is still in usable condition.
Maybe even a small garden to remind you of all the fun you had with your child.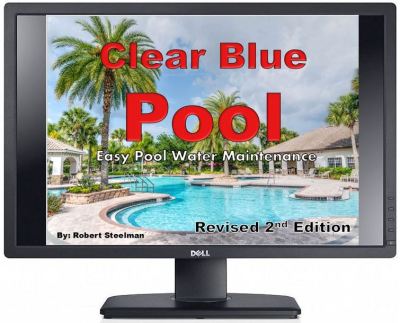 Click HERE To Discover Your Crystal clear Pool
There really is no definite answer to the questions "how big are plastic swimming pools" and "what are they" but this will give you a good run-down:
Normally between 25 – 4,000 gallons

No deeper than 3 ft.

Strong vinyl construction or plastic

Small filtration system or none at all

Set up and installed by the owner

Great for smaller backyards of where space is limited

Price ranges anywhere from $15 - $50
Plastic Pool Issues

There are really only a couple of issues that can occur when owning plastic kiddie pools:
If you're not planning on draining and refilling your plastic kid pool each and every day you'll need to properly sanitize it.
A plastic wading pool need just a very small dose of chemicals to ensure their safety so be sure to take the proper measurements and add all chemicals accordingly.
Normally you would use about 2oz. of Calcium Hypochlorite to bring the chlorine up 1.0ppm for every 1,000 gallons.
If an accident does occur in the pool (vomit or poop) be sure to bring the chlorine level up to a minimum of 10ppm to kill any micro-organisms.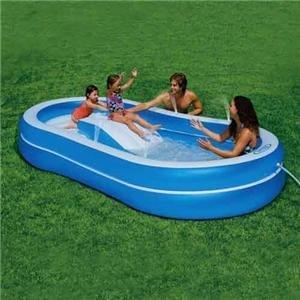 If the hard plastic kiddie pool is small enough you may just want to drain it and properly sanitize it using Clorox bleach.
The most important part is to understand proper swimming safety and adult supervision. Children can drown in 1 inch of water so always be there to ensure your child's safety.
Plastic kiddie pools and children's outdoor games are a great way to have your kids swimming, splashing around, and enjoying those hot Summer days.
There's also lots of swimming pool games you can play. Obviously you'll need to modify the games to meet the needs of your youngster and the limited space.
It's all about the fun with your new small plastic pool.
Happy swimming with your children. 
Go To:
Swimming Pool Care

>
Salt Water Pools

>
Plastic Pools
Top Of Page