Pool Chlorine Tablets
The importance of pool chlorine tablets is essential to having a crystal clear pool. Water can be test with a pool test kit or pool test strips.
Swimming pool chlorine tablets are here to keep your pool safe, crystal clear, and clean. By using your tab float or feeder you can be sure your pool is getting the chlorine it needs.
If you have an outside pool you're probably going to need pool tabs in the near future.
They work great as a regular pool chlorinator.
Remember the are considered a chemical so chlorine safety is a must. 
Always be sure to read the manufacturer's instructions and handle all pool chemicals with care.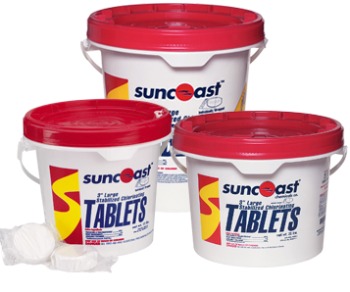 How To Use Pool Chlorine Tablets

Your first step is to calculate your pool's water volume. For a: 
Rectangle pool - L x W x D x 7.5. The length is multiplied by the width and that number is multiplied by the average depth. After you have these calculations you then convert the volume into gallons by multiplying the final number by 7.5.
Circular or oval pool - C x D x 5.9. C is the circumference. Take the circumference number and multiply that by the average depth. Then take that number and multiply by 5.9 which will give you the water volume of the pool.

Next Step

The two sizes 1" and 3" tabs. If you have a very small pool the 1" will probably work. The floater should usually hold 2 - 3 tabs and since some will dissolve faster than others you'll need to replace them more frequently.

Only Use A Tab Feeder Or Tab Float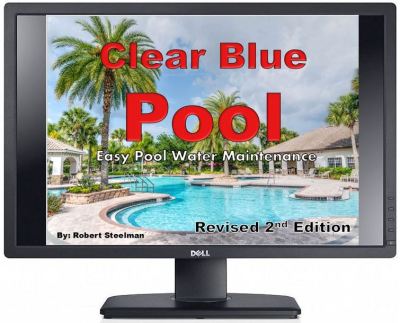 Click HERE To Discover Your Crystal clear Pool
Your Chlorine Tablet Dispenser
Your dispenser will be floating in your pool releasing the chlorine and acid your pool needs.
Simply unscrew the top of the floater and place the chlorine tablets inside, screw the top back on and throw it back into the pool.
Be sure the holes on the bottom of the dispenser are open all the way to allow for better circulation of the swimming pool water. 
You can also purchase the many varieties of swimming pool chemical feeders. You place the tabs in the cylinder and use the dial to adjust just how much and how often you want you pool to be chlorinated.
This one is great for those pool owners who like to take longer vacations and don't want to worry about their chlorine tablets running out too soon.

Please don't just throw them into the pool and allow them to sink to the bottom.
Not only will you not get the full use of the tabs but you may end up ruining your vinyl liner and cause swimming pool stains. 
Testing The Pool Water
You need to take into consideration the size and brand of your chlorine tablets.
Basically all you need to do is replace them when they run out but it's also good to have the proper pool water testing kit.
Swimming pool chlorine should be between 2 - 4ppm and your CYA between 30 - 50ppm. 
Cyanuric Acid/Stabilizer/Conditioner Chart


| | | |
| --- | --- | --- |
| Cyanuric Acid | Minimum Chlorine ppm | Goal Chlorine ppm |
| 20 | 1.5 | 2.5-3.0 |
| 30 | 1.5 | 3.5-4.0 |
| 40 | 2.5-3.0 | 4.5-5.0 |
| 50 | 3.5-4.0 | 5.5-6.0 |
| 60 | 4.5-5.0 | 6.5-7.0 |
| 70 | 4.5-5.0 | 7.5-8.0 |
| 80 | 5.5-6.0 | 8.5-9.0 |
| 90 | 6.5-7.0 | 9.5-10 |
By keeping an eye on your cyanuric acid level, your sanitizer/conditioner will do its job properly and you may not need any extra swimming pool chemicals. 
Benefits Of Swimming Pool Chlorine Tablets
Ease of use
Relative safety
Stable form of chlorine
Inexpensive
Will not increase calcium hardness as does Calcium Hypochlorite
In water with a high pool pH level these chlorine tablets can help bring the pH level down
Can be used in a chlorine tablet pool chlorinator system

Negatives Of Swimming Pool Chlorine Tablets
Must be added directly into the floater or swimming pool chemical feeder
Must be stored away from children, pets, and heat
CYA will continue to rise so you may need to do a partial drain and re-fill of the pool water
May cause staining if left on the bottom of the pool or a good blast of acid if placed in the skimmer
Not suitable for a pool shock
Some swimming pool owners may not like a device floating around their pool all the time
Use your tabs on a regular basis, test the water with a good pool water test kit and have the pool perfect for you. 
Go To:
Swimming Pool Care

>
Swimming Pool Chlorine

>
Pool Chlorine Tablets

What Other Visitors Have Said
Click below to see contributions from other visitors to this page...

How Many 3" Chlorine Tablets Per Week Not rated yet
Have an 8,000 gallon pool. My salt generator cell just went after 5+ years. In the meantime, how many 3" chlorine tablets do I use in the floater each …