Pool Landscaping Ideas
Pool Landscaping Ideas & Landscaping Small Yards. Free Plans and Landscaping Thoughts For Inground and Above Ground Pool. 
Back yard landscaping around a pool, when chosen carefully, adds a nice touch of class to your swimming pool area.

Desert landscaping and brick landscaping ideas are practically zero maintenance when correctly installed.
The stone look is fairly easy to build and maintain. It's comparatively inexpensive when looking at other kinds of landscaping. 
Be sure that you map out your yard before purchasing anything. A easy and free exercise you can do is get a length of garden hose

Take it and place it around the area of the yard you'd like to landscape. This can give you a general idea of what it may take to cover the area.
For rock and landscaping and stone ideas around the swimming pool, the rock garden is normally covered in a variety of beautiful stones. Cameral, Wintergreen Quartzite, Rose Marble, or crushed Granite work very well. For even more colors you might want to consider round river rocks.

For landscaping slopes and/or edges you may want to build a bed. This kind of slope is able to contain the rocks yet still looks nice.

Be sure to have an upward slope. This will keep the smaller rocks in while allowing for a sharper edge and  rain water to drain out. 

Try covering the bed in closely set medium 18-24″ stones to give it a cobblestone effect.

Garden & Pool Landscaping Ideas on a Budget

The options for landscaping around a pool are only limited by your imagination. Your landscaping tips and ideas should include the shape, size and design of your pool and that will be the focal point.

This is the starting point and it's important to combine practicality and aesthetics for landscaping a swimming pool that reflects your taste and personality.
You can choose rounded flower beds and curved walkways, or a design that is straight and linear. For southwest landscaping ideas you can include many varieties of rocks, cacti, trees, and plants that you would find in the desert.
Ideas for landscaping a hill might include curved walkways with rocks, bricks, or a cobblestone setting. Have items that won't slide off in case of a heavy rain.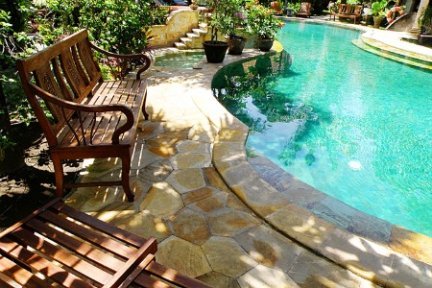 The swimming pool landscape can partially or fully wrap around the pool or be entirely different.
For small yard landscaping ideas it can be minimal or wild and involve simple designs or those that have a garden, garden art, natural ponds, pathways of stone or brick and covered sitting areas.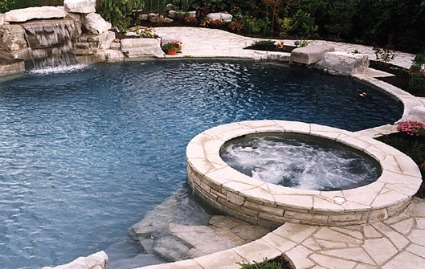 There are four important parts when creating your pond or pool landscaping ideas and plans:

Trees and/or bushes that are too large or messy
 This will make pool maintenance difficult. Reconsider palm trees or something similar. 
Make sure grass clippings and water run-off stay out of the pool or pond water

The pool's color and design are important for your pond's or pool's outdoor landscaping ideas

Your privacy landscaping, fence. and swimming pool decking and/or patio's appearance will also be factors in your swimming pool landscaping picture
Personal Considerations In Landscaping A Pool Area

Your garden or patio space. Furniture and designs for reading, entertaining, and playing.
For relaxation, try flower bed landscaping ideas and a hammock. If entertaining, consider an outdoor bbq pit or fireplace and a large patio.
If the sounds of nature is your choice, consider wind chimes, bird baths, bird houses, and feeders. 
Natural ponds, pool waterfalls, and swimming pool fountains will give a soothing sounds.
Environmental Considerations
Do you have any physical or architectural limitations including hills, slopes, or telephone poles? For hills or slopes, a retaining wall or raised deck might be needed.
For patio landscaping ideas you should have a great view and be situated out of the wind. Put the patio close to your house. For plants, shrubs and awnings, consider where the sunlight comes in and at what times.
For your privacy, you may consider fencing, trellises, ivy, vines, and hedges. Remember that your pool landscaping ideas are only limited by your imagination, so go have fun with it and create your own oasis.
Go To:
Swimming Pool Care

>
Pool Landscaping
Top Of Page

What Other Visitors Have Said
Click below to see contributions from other visitors to this page...

Cement Crumbling Around Pool & Crack In Pool Wall

My pool is exaclty 4 months old. My pool has a cememt boarder on it and the the part that touches the water right above the tile water line the cement …
Landscaping Around An above Ground Swimming Pool To Protect The Wall

What is the best way to landscape around your pool? I just had my 11 year above-ground swimming pool replaced. I've used beach rocks (about 1" diameter …
Swimming Pool Frustration Overload! Not rated yet
A year ago we had a whole new pump/filter system replaced. Our pool is 50,000 gallons surrounded by dirt. We live in the high desert region of Southern …