Discount Portable Swimming Pools: Above Ground Pools For Family Fun
Portable swimming pools and exercise swimming pools. These affordable swimming pools allow for an aquatic workout with great aquatics therapy.
And you can swim at home with the whole family.  About 50% of all pools sold in the United States are portable above ground pools, sometimes called soft-side swimming pools.  More people are turning to these because of the quality, construction, and variety of swimming pool liners.  

You might be served very well if you consider this because they cost much less than their cousin, a normal inground swimming pool.  Real affordable portable swimming pools should be low cost, have the same pool water chemistry, and can be put up in a Saturday afternoon.  When the season is over and you want to get a little more space in your backyard, simply take it down and store it away.  Intex pools and Doughboy swimming pools are a couple to consider.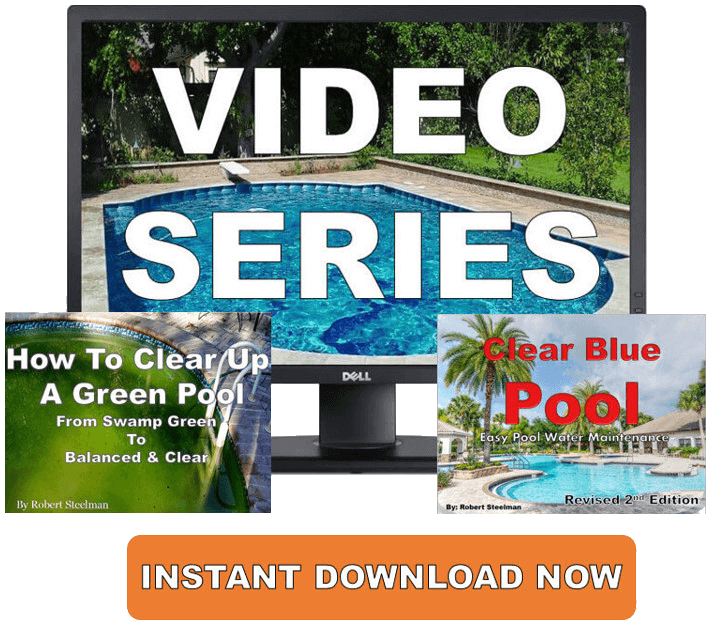 Do you want the pool you deserve but aren't sure what to do?  Are you tired of having a green pool?

In my exclusive 12 Part F.T.A. Pool Fix Video Series I show you how to not only clear up your pool but how to keep it perfect all swimming season.  Refined and perfected over the last 20 years, and is the only evidence-based method available.  Cut through the confusion with this easy to understand guide to pool water maintenance.  Available for computer and mobile devices. You also receive 2 eBooks, "Clear Blue Pool Revised 2nd Edition" & "How To Clear Up A Green Pool".  Click the button and get started today!!  Or get more information right HERE!!  

How To Choose A Used Above Ground Swimming Pool
Part 1
How To Choose A Used Above Ground Swimming Pool
Part 2
If you want to keep your swimming pool up all year, that's fine as well.  Many can stand years of weather and pretty much anything your kids can throw at it (but not literally).  There's an above-ground pool for almost every space and backyard.
Things To Consider

When looking at above ground or portable swimming pools, there are a few things to consider:

Lifestyle

Entertainment factor

Convenience

Cost

Financing

Maintenance

Yard space

Flexibility

Size of the pool

Swimming pool workout

Aquatic fitness equipment

Swimming pool accessory

Same swimming pool chemistry

Type of swimming equipment
What To Look For In A Portable Swimming Pool
It is true that inflatable, easy-setup, and portable pools are the most affordable.  However, they don't last as long as regular above ground pools and they obviously don't do well in harsh Winter and Summer environments for very long.  Regular above ground vinyl pools that are reinforced with metal fair much better and stand a better chance against wear and tear and other environmental factors.  Above ground pools can be left up all year long while portable pools must be taken down, lest Mother Nature has her way.
If you're in the market for a pool, keep these things in mind:
Baked enamel frame

Strong and heavy gauge steel

Non-corroding

Tear resistance

Heavy-duty 3-ply liner

Quality skimmer, wall and return fittings

10-15 year warranty

Possible financing

Vacuum adapter

Winterizing plugs
Does Size Matter?
You can find a variety of pools ranging from 600 gallons up to 5500 gallons. It just depends on your wants and needs.  Some places may even offer 100% financing.  Just be sure you do the math and don't get in over your head financially.  That's very easy to do.  Just remember that these are a bit restrictive on their shape and sizes as compared with normal in ground swimming pools, so choose carefully. 
Most come with a filter pump and those models 2800 gallons and over may come with a swimming pool ladder, ground cloth, pool cover, and maintenance kit.  But who knows?  In this economy, pool dealers might be willing to add some added features to get your business. No harm in asking.
These pools (even dog pools) just might be the right ticket if you have a limited budget or yard.  If you move often, it can be like a member of the family, just take it with you.  Just remember the most important thing about having a swimming pool is swimming pool safety.

Be sure to include in the price of your swimming pool a swimming pool safety fence.  Remember the old American Express commercials, "Don't leave home without them." Well, don't leave the pool store unless you have an above ground pool fence on the way.  Child water safety for all portable swimming pools should be the first and last thing on your mind.
Go swimming and have fun. 
Go To:
Swimming Pool Care

>
Above Ground Pools

>
Portable Pools
Link To Top