Solar Pool Covers
 Solar pool covers and solar heating blankets are great to save on water and chemical usage for simple green and ultra clean technology.
Solar heating blankets sit freely on top of a pool. Removing an in ground or above ground pool solar cover is easy.
All you do is pull it off and store it.
With a helper the job can be made a little easier.
Most pools lose about 90% if their heat at the water's surface. By adding a solar pool cover you can save money on chemicals and evaporation.
Or you can purchase a swimming pool solar cover reel that makes the task much easier.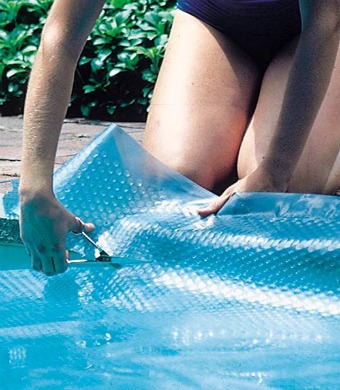 Once taken off the pool they are usually folded up, stored away, or rolled-up on a large reel and wheeled to the side out of the way.
They can also be called "bubble covers" or "swimming pool solar blanket" and are a good alternative to more costly and heavier vinyl and insulated vinyl pool covers.
They use the sun's heat and energy to insulate the pool and reduce evaporation (decreased water bills) and to help minimize pool heating energy cost.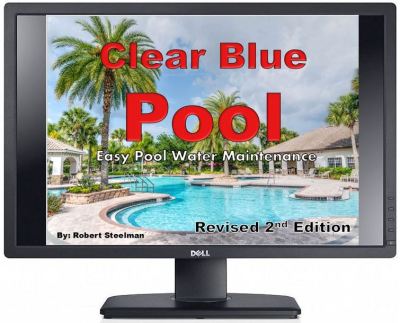 Click HERE to Discover Your Perfect Pool
Features Of Solar Pool Covers

Solar pool blankets are heavier-grade durable plastic sheets that have a bubble pattern that is resistant to ultraviolet radiation. 
This resembles bubble-wrap packing material. 
Function
These bubbles take in and hold the sun's heat to keep the pool warm. Solar swimming pool covers also keeps leaves, insects and other debris out of the water.
Effects
This heat retention means the pool operates more efficiently and cuts down on energy costs. Your pool heater will also be more efficient because it may not need to run as long, saving on electricity costs.
A debris-free pool also helps you save money on chemicals and cleaning.
Types Of Inground & Above Ground Pool Solar Covers

Many pool solar blankets can float on top of the water. Some larger models are held down by anchors along poolside and can be rolled up on a reel by hand or with a motor.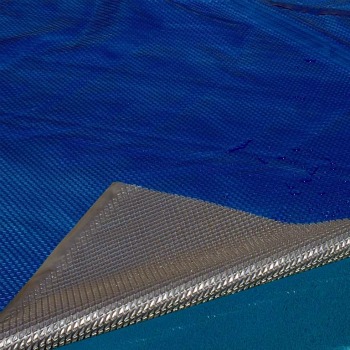 There are many custom shapes and sizes so you can get the exact fit for your pool to give you the most economical and best cover for your money. You can also cut them to the exact dimension of your pool.
Considerations
A pool blanket may need to be replaced every three to five years due to deterioration from UV rays, chemicals, handling, accidental punctures, etc...
You will want to always place the pool cover bubble-side down.
Go To: 
Swimming Pool Care

>
Solar Covers

>
Swimming Pool Covers
Top of Page