Kill Swimming Pool Algae Easily and Have A Clear Pool 

Clear Up Swimming Pool Algae and Cloudy Swimming Pool Water. Bad Pool Water Maintenance Is The First Sign Of Green Swimming Pool Water. 
Do you know what's not fun?  When you walk outside and see green swimming pool water, especially when it's a major weekend and you have all of your friends over.  Right?  Not fun at all.  
So where do these nasty algae spores come from?  Algae spores are constantly entering the pool through a variety of avenues.  Wind, rain, and other contaminants contribute to the problem.  Algae is a solid physical living organism that can grow and reproduce very quickly.  It grows so fast it can double in size in less than 24 hours, especially when conditions are right such as warm sunny days.  A green pool can certainly take over your life and bank account.  
While there are many contributing factors for swimming pool algae blooms, the main reasons are:
Lack of chlorine

Bad pool chemistry

Bad filtration

Or a combination of these and other factors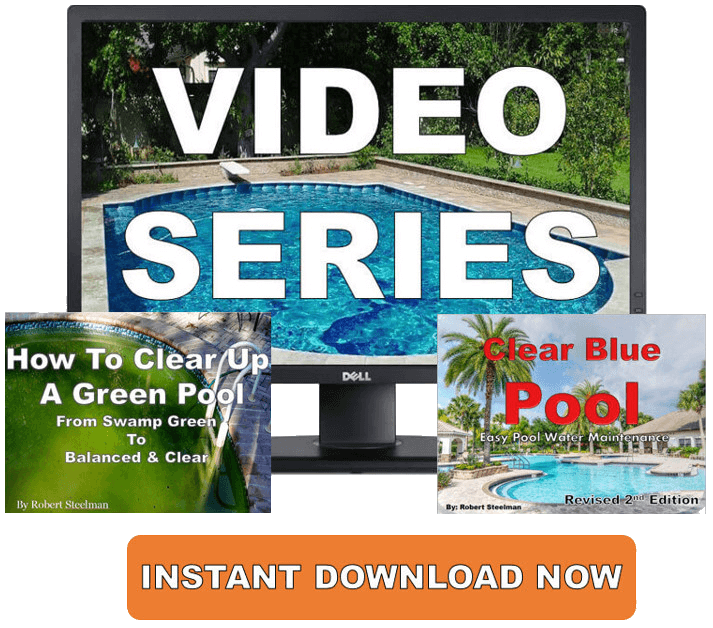 Are you sick and tired of fighting your green pool?  Too many chemicals?  Too many trips to the pool store?  Don't lose another $400 this year on pool care!! 
In my exclusive 12 Part F.T.A. Pool Fix Video Series I show you how to not only clear up your pool but how to keep it perfect all swimming season!!  Refined and perfected over the last 20+ years and is the ONLY and BEST evidence-based system available.  Cut through the confusion with this easy to understand guide to pool water maintenance. Available for computer and mobile devices. You also receive 2 eBooks, "Clear Blue Pool Revised 2nd Edition" & "How To Clear Up A Green Pool". Click the button and get started today!!  Or get more information right HERE!!  
Recommended Reading For You

Green Pool Water - Green Pool Water & Pool Water Maintenance.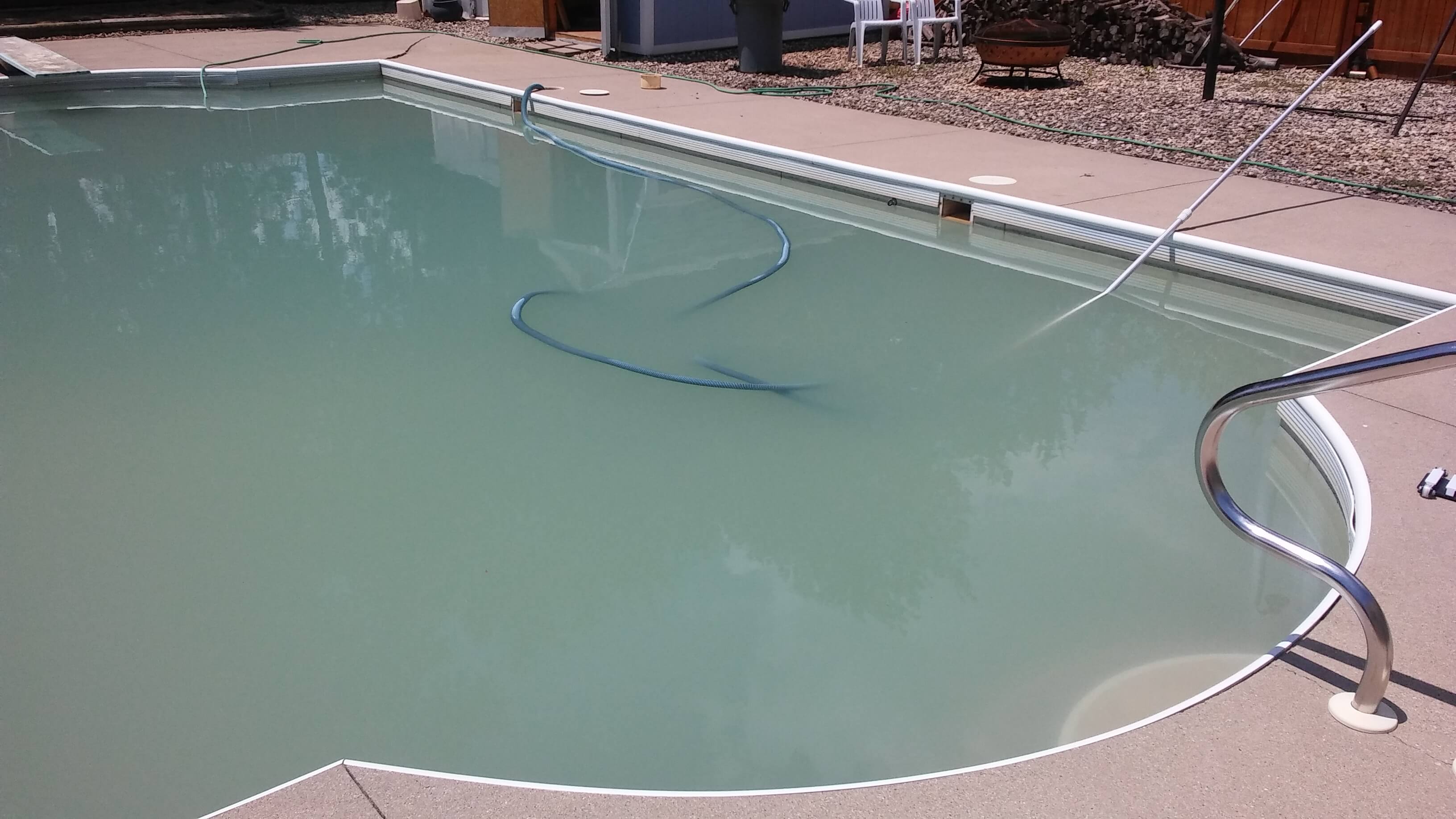 Yellow Algae - How to kill yellow algae in your pool. 

Red Algae - How to kill red algae and swimming pool care instructions. 

Cloudy Pool Water - Understand Cloudy Pool Water & Swimming Pool Water Maintenance.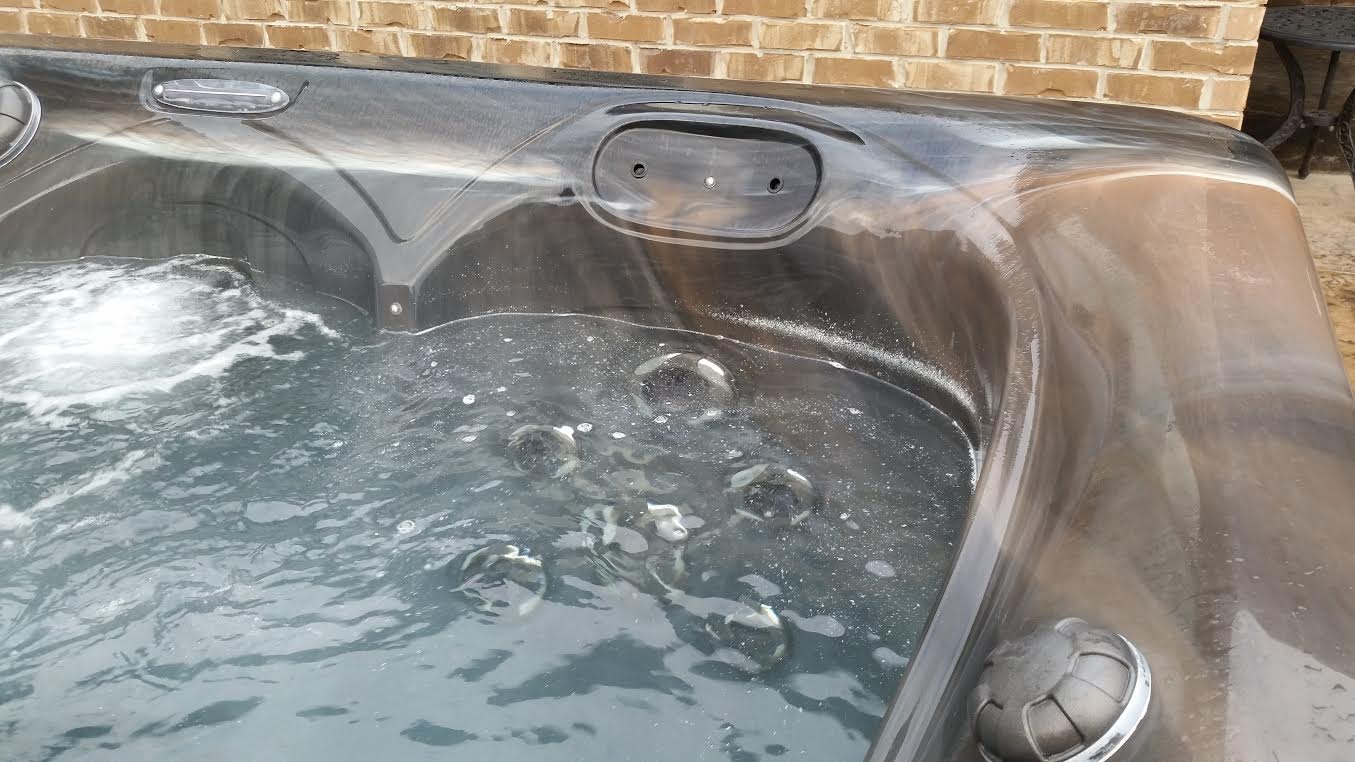 Water Mold - Water mold and hot tub water damage removal.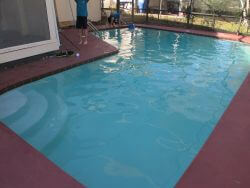 Pool Algaecide - Pool algaecide and swimming pool maintenance tips.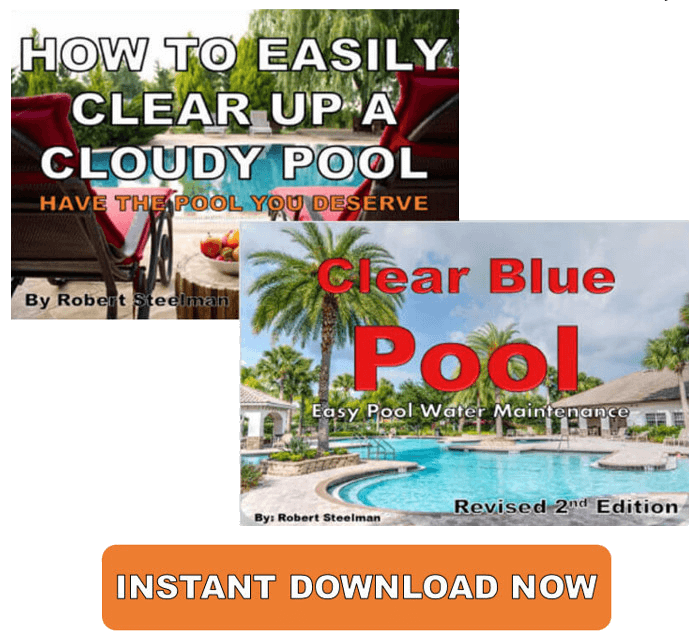 Are you frustrated with your cloudy pool?  Has it been weeks since you've seen the bottom?  Tired of losing so much money on your pool? 
"Clear Blue Pool Revised 2nd Edition" & "How To Easily Clear Up A Cloudy Pool" eBook Combo Package teaches you all you need to know about clearing up and maintaining your pool.  Refined and perfected over the last 20 + years and is the ONLY and BEST evidence-based system available.  Also included is my exclusive F.T.A. Pool Fix on clearing up green and cloudy pools.  Click the download button or HERE to get started today or go HERE for your Resources Page to learn about your eBook!!
How To Clear Up Green Pool Water & Swimming Pool Algae
Take Precautions First
When dealing with pool chemicals there are a few things to remember:  Always take the proper precaution in dealing with these types of pool chemicals and read the manufacture's labels.  Use heavy-duty rubber gloves and goggles.  Keep pool chlorine and other pool chemicals out of reach of children and pets. 
Know Your Chemical Readings
It's virtually impossible to know how to clear up your pool with the chemical numbers.  Ranges and colors don't work.  This is why I use and recommend the Taylor FAS-DPD K-2006.  Test strips are easy to use but they're not nearly as accurate as a good pool water test kit.  The TF-100 is also recommended.  If you live in a place with high calcium fill water, you might want to use liquid chlorine (sodium hypochlorite).  Many pool owners use bleach.  It's simply slightly watered down pool chlorine.  Be sure your pool pH, alkalinity, CYA (pool stabilizer), and calcium hardness are adjusted.  Be careful when using Dichlor.  The CYA can get out of hand quickly.  For every 10 ppm of chlorine added with Dichlor, you'll raise the CYA by 9 ppm.  Trichlor chlorine tablets are a great way to weekly dose your pool with chlorine but it does add CYA.  For every 10 ppm of chlorine added with Trichlor tabs you'll raise the CYA by 6 ppm.  Flocculants (flocculate), certain algaecides (other than PolyQuat 60), clarifiers, coagulants, phosphate removers, etc... only mask the problem of algae in pool water.  You must know the chemical readings and how to read them.
Sweep It & Scoop It
You want to remove as much debris from the pool as possible, so grab your wide-mouth leaf and start scooping.  The little blue skimmers are fine for some light work, but nothing beats a wide-mouth leaf rake.  Make sure you have a soft nylon brush for your vinyl or fiberglass pool.  NEVER use a wire brush on those kinds of pools.  Wire brushes are ONLY for plaster/concrete pools.  Brush the sides, steps, floor, and water line.
Shock It With Chlorine
Be sure to turn OFF your salt water chlorine generator before shocking the pool.  Shock the pool with liquid chlorine up to 15 - 20 ppm and maintain a high chlorine level.  You might need to add chlorine morning and night to achieve killing the swimming pool algae.
Keep The Filter Running
Run the filter 24/7 and clean or backwash your filter every 10 - 12 hours until the water clears.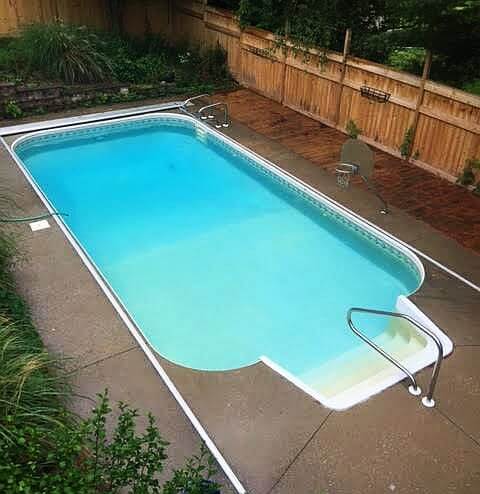 Not all cloudy pool water and algae in swimming pools are the same.  Green swampy water is a sign of algae.  Clear emerald green water can be high metal content.  You will approach them differently.  Learn about your swimming pool water chemistry and basic swimming pool care instructions to kill swimming pool algae.
How To Prevent Green Algae In A Pool
That "Ounce Of Prevention" Thing?  Yeah, That One.
Yes, it's true.  We've heard it all of our lives, but it's true.  The best way to get rid of pool algae is to not get it to begin with.  Maintaining the pool chemistry and a properly working filter is critical to your success as a pool owner.  
Word Of Caution
By the way, allow me to tell a little secret.  Any advice given to you about your pool will either CONFIRM or CONTRADICT  the Universal Laws of Pool Chemistry.  These are applicable in every part of the world without exception.  If you have swimming pool algae and ever hear someone say,"Oh, you have a green pool?  Well then, I'll tell you how to clear it up.  First, get the pH and alkalinity in line.  Then shock the pool and add a clarifier.  If that doesn't work, put 2 tabs in the skimmer and add a couple bottles of phosphate remover and circulate the water for 24 hours.  If that doesn't work, add 2 bottles of algaecide, 2 more bottles of phosphate removers,  and put another tab in the skimmer."  Does that sound familiar?  It just might.
Folks, I absolutely guarantee that advice will cost you hundreds of dollars, countless hours, and your Summer will be ruined.  It's virtually impossible to clear up a green pool without the right information and the proper understanding of pool chemistry that applies equally to every chlorine and salt pool in the world.  Go HERE to learn much more about your green pool water, why it went green, and how to clear it up in more detail. 
Go To:
Top Of Page
Your Favorite Way To Clear Up A Green Pool Or Ask A Question
Click on the links below to see some other great tips and secrets. They were written by other visitors that love their pools.