Swimming Pool Diving Boards
Swimming Pool Diving Boards and Replacement Diving Board Information.
This accessory should be considered a long term and high quality investment to suite your particular needs and wants.
It should give you many years of trouble-free service and add enjoyment to your swimming pool.
Some are sold separately from the diving board stand so be careful when you order. You may need the whole thing but just get the board.

If you're unsure about installing your new board, get a qualified pool tech. Better safe than sorry.
Swimming Pool Diving Boards Hole Patterns

Be sure to take the proper measurements. Pool decks are different. Check that the anchor points are correct and you have the right hardware for the job. 
More Pages For You
---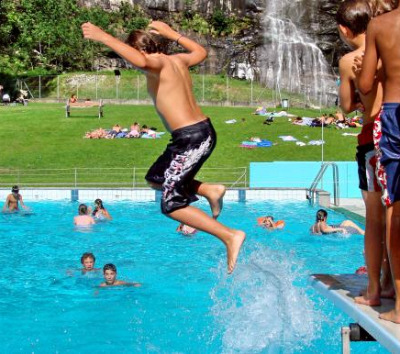 Pool Steps - Swimming pool steps and swimming tips. Great information on wedding cake steps and swimming pool stairs.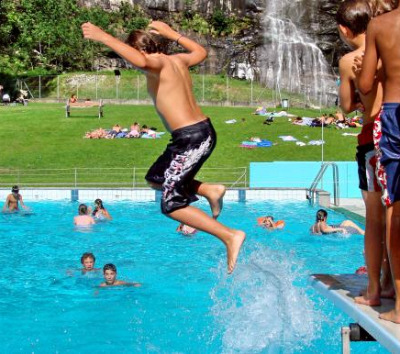 Pool Slide - Swimming pool slide and great information on above ground pool accessories for great swimming and Summer fun.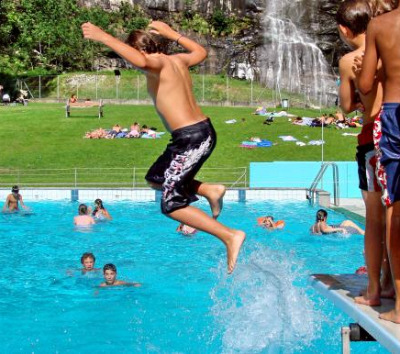 Pool Fountains - Pool fountains and poolside waterfall. Create your own pool art with swimming pool lights and a really cool pool water feature.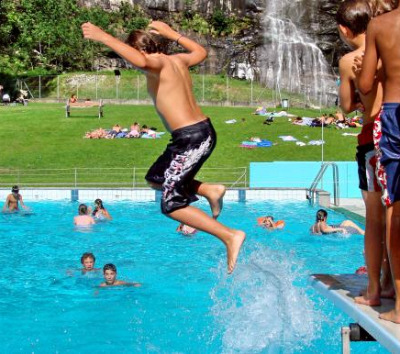 Pool Lights - Swimming pool lights and prices. Really cool underwater pool light effects for your inground and above ground pool. 


---
What To Look For In A Diving Board

When looking for a new or replacement, you'll need to ask yourself a few questions:
How will it be used?
There are home and commercial so be sure you get the right one.
Light to moderate use is best for home pool owners
How big do you want to go: 6', 8', 10', or 12'? Which one would best fit your pool and deck?
Acrylic outer-body, non-skid sanded tread, and holes for easy installation
Strong deck mount
Normally a 3-5 year warranty. A good board should stand up to bad Winters and hot Summers
Is it for regular, platform diving, or competitive diving?
Is your swimming pool a salt pool? You can get a diving board just for salt water swimming pools, so you can say no to corrosion.
Swimming Pool Diving Boards Styles & Prices

There are as many styles and colors.  This list will get you started in the right direction.


The prices go up as the color gets a little darker or more intricate, so white will be less expensive than silver-grey or pewter with matching tread.

| | |
| --- | --- |
| Size | Price |
| 6' Fibre-Dive | $320-$410 |
| 8' Fibre-Dive | $400-$540 |
| 10' Fibre-Dive | $600-$735 |
| Supreme Base w/ Jig | $300 |
| | |
| Fibre-Dive Flyte Deck/Combo Board and Stand | Price |
| 6' Flyte Deck Combo | $630-$790 |
| 6' Flyte Deck Combo | $700-$970 |
| 6' Flyte Deck Combo | $940-$1200 |
Out of all the boards available, the one best for you is you're choice. 
Just remember there can always be a diving board accident so the most important factor concerning your swimming pool is swimming safety.
Don't allow the emotion of buying a new diving board get in the way of common sense and safety.
Have fun and swim a long time.
Go To:
Swimming Pool Care

>
Diving Boards/Accessories
Top Of Page
---
What Other Visitors Have Said
Click below to see contributions from other visitors to this page...

Pool Float & Sweep

I really enjoy your site and one question. I am going to use a chlorine floater but how do I keep the hose from my pool sweep and the floater from colliding? …