Swimming Pool Financing
Swimming pool financing and the average costs of installing and building a swimming pool, common mistakes and questions to ask.
Swimming pool construction cost is really no different than any other major purchase like a car or your home.
Some pool companies, swimming pool dealers and lenders may even look upon the addition of a swimming pool as a "home improvement" and may be willing to work with you.

Most lenders should look upon a pool as an investment into your home and possible increased resale value.
And before you put a swimming pool in your backyard, remember you're going to need to make payments so plan carefully. We all know we you just can't say I'm gonna do it and BAM, there it is. There needs to be a plan, right?
Save TONS of time and money. Spend more time enjoying a pool and less time worrying about it. Click on the eBook below and get started.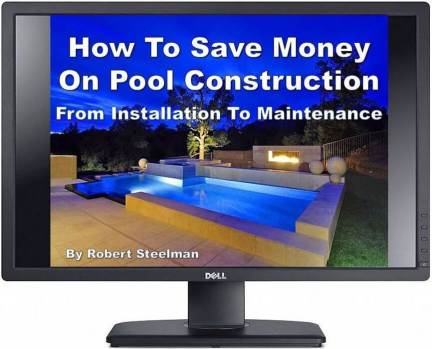 Maybe these thoughts will help you along the way.

Swimming Pool Financing Plan

How much are you willing to invest?
Will you have a smaller or larger sized swimming pool? Any additions such as hot tubs, waterfalls, outdoor BBQ island, swimming pool solar heater, electric pool heater, or decking?
What's the total swimming pool costs?
Some pool builders may finance in-house and may save you a great sum of interest in the long run.
Some lenders may consider you swimming pool financing as a long-term option and will finance you on the value of your home after you've made the improvement
Find a lender that is experienced in swimming pools
When you build a swimming pool get a plan that fits your situation and budget
Some owners want a long-term loan with smaller payments. The down-side to this is you'll probably pay more interest.
Some may want a shorter loan with slightly higher payments while others may want to finance only the pool and not the decking or landscaping.
Are you building the house now?
Ask if you can build the pool at the same time. Talk with your contractor about this and see what they say.
Have you considered a HELOC? (home equity line of credit or loan) Is the loan a fixed rate or adjustable?
Are there any tax benefits?
Be sure about any private swimming pool rules and regulations
If you plan on selling a home yourself, be sure to know everything about your pool such as weekly pool maintenance cost, inground pool cost, other swimming pool prices, construction cost, etc...
Remember the most important aspect of any pool is swimming safety.
One Step At A Time

Purchasing a pool doesn't need to be a "pull your hair out" ordeal.

Most swimming pool financing is a long-term program like the one for your home.

You can spread the payments over a longer period and make the monthly payments that are within your budget. If you think you have a good plan, please remember a couple of things:
Don't allow your emotions to get the best of you. This is a business decision and you can't compromise on quality, workmanship, maintenance, warranty, or service.
Don't get in over your head. Know the swimming pool costs and everything that goes with it.
Do your homework, ask the right questions, find the right lender, and if it's not going to work, then drop it.

Swimming pool financing takes time and energy, but if all the ducks in your pool life are lined up in a neat little row, it's worth it.

You need to have a good pool plan, size up the project, be smart, think it through, take it all in, and examine every aspect.
Having a swimming pool is fun but it won't be for long because you forgot to add up everything and now you can't make the payments. 
Go To:
Swimming Pool Care

>
Pool Cost

>
Financing
Top of Page
---
What Other Visitors Have Said
Click below to see contributions from other visitors to this page...