Swimming Pool Safety Cover | How To Choose The Right One
Swimming pool safety cover and child swimming pool safety. Great information about pool safety rules and swimming safety tips. 
You have everything ready to close your pool.  Chemicals in hand. the right test kit.  But what about a safety cover?  Aren't all pool covers the same?  Are there different choices?  You bet there are.  Covering your pool for the Winter is the last step, and having the right cover is of the utmost importance.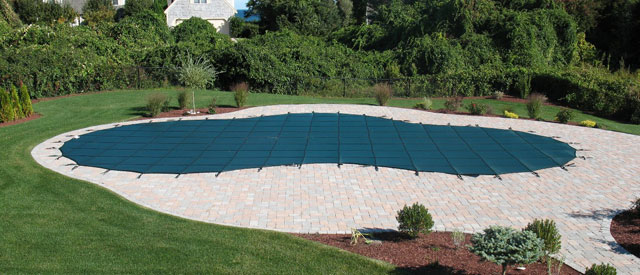 Swimming safety should be of the utmost concern for parents.  A good inground or above ground pool cover or a quality solid cover will help protect both your children and pets from becoming another drowning statistic.  For an added layer of protection, I would highly recommend looking into a quality swimming pool alarm. After years and years of improvements, you can get outstanding above ground or inground pool covers.  Many safety pool covers either meet or exceed local and national standards.  When properly secured to your swimming pool, they offer reliable service that can't be just blown off by a good gust of wind and requires a special installation rod.  These are not to be confused with a solar pool cover, which retains heat in your pool.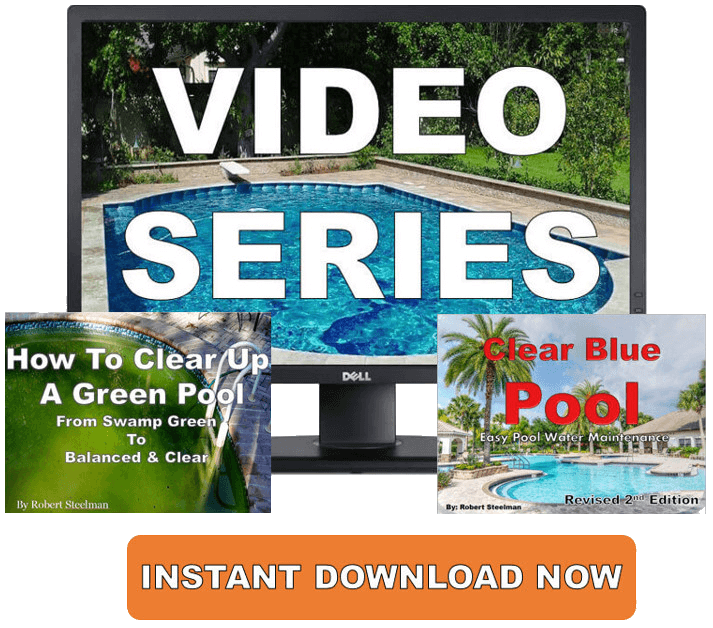 Are you sick and tired of fighting your green pool?  Too many chemicals?  Too many trips to the pool store?
In my exclusive 12 Part F.T.A. Pool Fix Video Series I show you how to not only clear up your pool but how to keep it perfect all swimming season.  Refined and perfected over the last 20 years and is the only evidence-based method available.  Cut through the confusion with this easy to understand guide to pool water maintenance. Available for computer and mobile devices. You also receive 2 eBooks, "Clear Blue Pool Revised 2nd Edition" & "How To Clear Up A Green Pool". Click the button and get started today!!  Or get more information right HERE!!  
Mesh Safety Covers
Mesh pool covers are a great option due to the reliability, strength, and affordability.  Despite being light, they're very strong and is the "go-to" pool cover for many people.  With proper care you can expect a good life out of your mesh pool cover, maybe 15 years or longer. 
How Do Mesh Pool Covers Work?
Mesh pool covers are designed to allow water to go through the woven material, but are still tight enough to catch loose debris such as leaves and sticks that would otherwise end up in your pool.  You may have some dirt and sediment on the bottom of your pool come Spring opening, but it's a far cry from not having any pool cover.

Advantages Of Mesh Pool Covers
Mesh covers are less expensive than solid vinyl pool covers by about $200–$600. 
They last last much longer.
No pumping water off the cover.  The water just goes right through the material.
Light-weight makes it ideal for a 1-person job.
Easy to install, remove, and store.
Disadvantages Of Mesh Pool Covers
All the water passes through and some of that is not clean. 
Dirty water requires more cleaning in the Spring.
Allows light to get through which means the possibility of more algae in the Spring.
Mesh Pool Cover Maintenance
Having a mesh cover for your pool is not a "set-it-and-forget-it" proposition.  On the contrary.  Steps might need to be taken in order for your pool cover to properly work.  Heavy snow should be removed from your cover.  It's best to use a soft bristle broom to remove an excess snow before it get too high and too heavy.  By brushing your pool cover off when needed, it will prevent ripping and tearing. If you get just a little snow, a leaf blower will perfectly work.   
Solid Safety Pool Covers
The big advantages to a solid safety pool cover is it does not allow light to pass through, and as the name implies, it's solid.  This is important because in the Spring when it's time to open your pool, there's less of a mess to clean.  A solid pool cover doesn't allow things to pass through, such leaves, sticks, and water.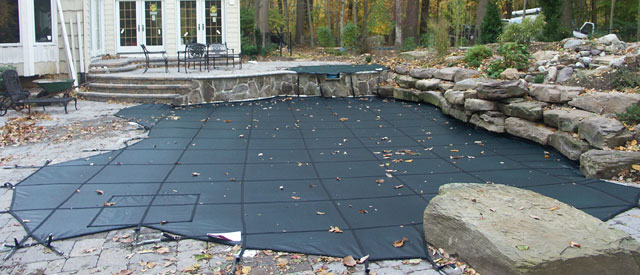 Advantages Of A Solid Swimming Pool Safety Cover
Heavy duty material is very strong and durable.
Less clean up in the Spring.
Keeps nasty water and other yucky stuff out of the pool. 
With the proper care, can last for years.
U.V. coating protects from the sun.

Safety for children and pets.
Disadvantages Of A Solid Swimming Pool Safety Cover
High upfront cost compared to a mesh cover
Shorter lifespan of around 7 - 10 years with proper care.
Much heavier than mesh covers which requires 2 or even 3 people to install and remove.
Water and snow needs to be removed from the top of the cover
Solid Safety Cover Maintenance

Maintenance on a solid swimming pool safety cover is pretty much the same as a mesh pool cover.  Don't allow snow to build up.  Use a soft bristle broom to remove the snow or use a leaf blower.  Your choice.  But there's one caveat:  You might need to use a pool cover pump to remove excess water from the top of the cover.  It's advisable to check your cover pump throughout the off season to be sure it's working properly.  Remember, we get what we inspect, not what we expect.  So take the time to check your cover pump.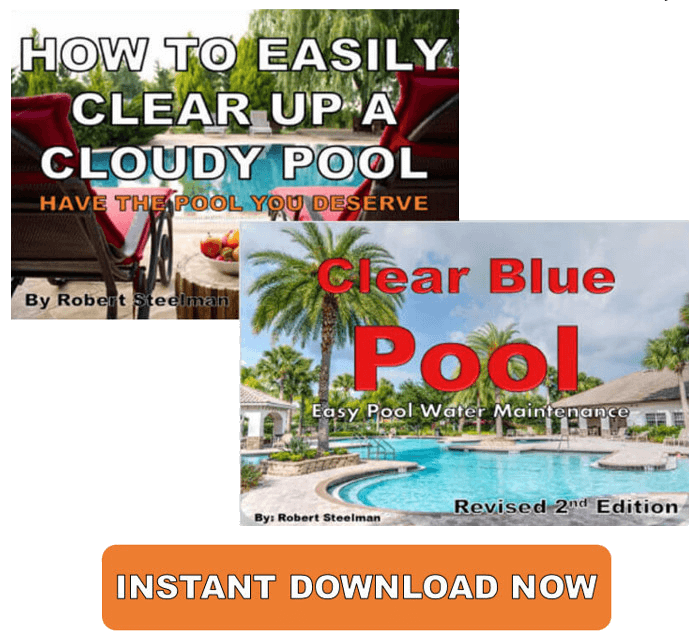 Are you frustrated with your cloudy pool?  Has it been weeks since you've seen the bottom?
"Clear Blue Pool Revised 2nd Edition" & "How To Easily Clear Up A Cloudy Pool" eBook Combo Package teaches you all you need to know about clearing up and maintaining your pool.  Refined and perfected over the last 20 years and is the only evidence-based method available.  Also included is my exclusive F.T.A. Pool Fix on clearing up green and cloudy pools.  Click the download button or HERE to get started today!!
Pool Cover Safety Standards
Pool cover manufacturers have done a tremendous job at making their products better and more durable.  You cannot place a price on safety.  If you don't purchase a swimming pool safety cover, drain your above ground pool and put it away.  If you have an inground pool, please get a pool safety cover.  Whatever pool safety cover you choose, make sure it meets ASTM standards.  The ASTM International sets the standards for pool cover safety that can be found at this link.   
How Do I Choose The Best Safety Pool Cover?
Obviously you're going to choose the cover that best fits your pool's situation, so here are a few questions to ask:
Is your pool already secure with a safety fence?  You don't have much time or money to invest?  Do you prefer a light-weight option?  Then a mesh cover might be right for you.
Do you want the strongest kind of pool cover?  Something that will keep everything out of your pool and make Spring opening a little easier?  And price is really not that important?  Then a solid safety cover is the way to go.
Regardless of the type of swimming pool safety cover you choose, something is better than nothing.
Go To:
Swimming Pool Care

>
Solar Covers

>
Swimming Pool Safety Cover
Top of Page