Swimming Pool Safety Net: Your Child's Protection Is Important
Swimming pool safety net and child swimming pool safety. Very important part of your pool safety is a strong pool net.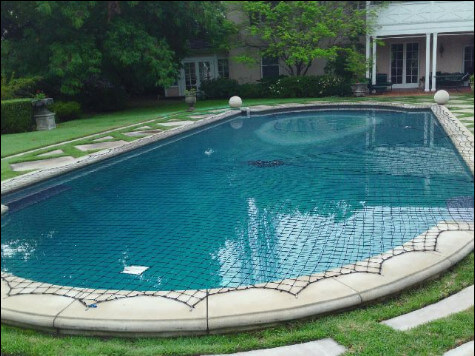 What's an easy solution  to pool safety?  A watchful adult?  Cell phone?  Yes, all those are important.  One more thing.   A pool safety net is a great way to make your pool safe.  You can relax and enjoy your pool and bring wonder and beauty to your back yard.  Pool safety should be your #1 concern to protect your children and pets against the danger of accidental drowning.  This is the number one cause of death in children under the age of five. 
No safety net means your child has a higher chance of drowning or sustaining submersion injury.  A quality pool net is one of the best insurance policies you can have.   You'll want to make sure any pool safety net installer goes through some type of training or certification program to meet the highest standards.
A good installer should be able to fit your safety net over any size or shape pool or open area of water that requires protection.  Also, make sure the company you choose offers responsive customer service and trained representatives and technicians in your area. 
Strong Swimming Pool Safety Net
The pool nets you'll be looking for are built to stringent ASTM-F-1346-91 standards.  They should be drawn tight over your pool using solid brass anchors, stainless steel connectors and a central tension system using only flush mounting points.  Most modern safety nets are made from the highest quality and tested materials and components available.  It should have an adjusting central tension system that can be tightened to your specifications and are easy to remove and replace.
Durable and high-density nylon and brass anchors are desirable.  The material should have UV stabilized inhibitors that resist fading and deterioration.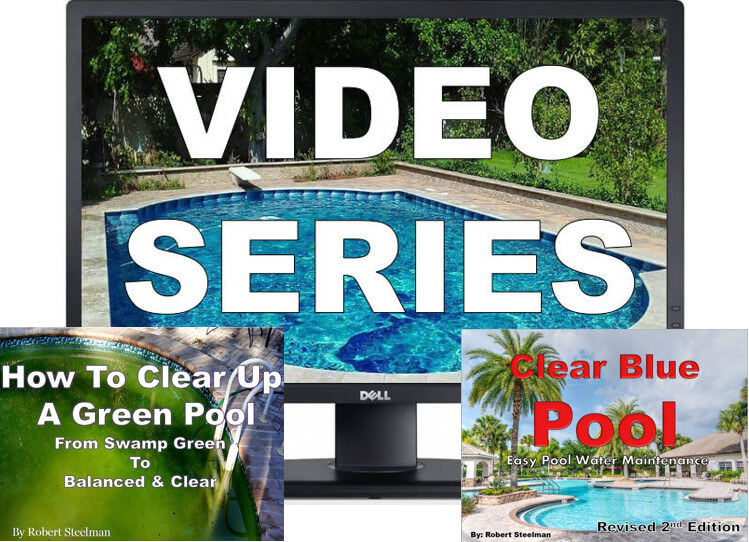 Frustrated by adding chemicals?  Too many chemicals?  Too many trips to the pool store?
In my exclusive 12 Part F.T.A. Video Series I show you how to not only clear up your pool but how to keep it perfect all swimming season. Cut through the confusion with this easy to understand guide to pool water maintenance. Available for computer and mobile devices. You also receive 2 eBooks "Clear Blue Pool Revised 2nd Edition" & "How To Clear Up A Green Pool". Click the button below and get started today!!

Net Pool Safety - Pool Net Installation
The pool cover safety material should be a polyethylene fabric and weave with 3 1/2" squares.  The standards of ASTM F-1346-91 calls for 4" or smaller squares.  Child swimming pool safety is important and this kind of net protects even the smallest head of a child from going through the net.  At the same time it discourages children from playing on the net.
The net cover material should be certified to hold 485 lbs. in the center without breaking.  This exceeds any real world situation.  Your net should not only meet all ASTM F-1346-91 safety standards, they should be designed to be removed and replaced with minimal effort.  It should be an "easy on/easy off" ratchet and roll-up type of swimming pool safety system.  Swimming pool safety net installation should only done by fully trained technicians.  No third parties or outside contractors should be used.
Swimming Safety Tips & Pool Safety Rules
A safety swimming pool net:

Have ease of operation - if there's a hassle there's a hazard.
If there's no ease of operation, you are less willing to put the net on which can create a dangerous situation.  Watch for inferior material.  The netting needs to be machine made to ensure uniformity, strength, and tautness.  Those handmade and home safety nets nets can loosen and sag.
The netting knots need to be heat sealed or else they'll slip
The netting should have stabilized UV Inhibitors.  Sunlight and pool chemicals could shrink or deteriorate the netting material.  The netting should be virgin, unused, and not recycled.
The components and fittings should be made from high quality and durable nylon, brass or stainless steel.  An inflatable safety net, plastic and/or galvanized metals could rust.
The pulley system should not be made of any metal.  Metal tension pulleys can weigh down the center of the net and make it sag and scratch your fiberglass swimming pool.
The net hooks should not be bent nails but precision-engineered components.  This will prevent entanglement.
Don't buy a pre-cut or DIY swimming pool safety net.  I have never seen one that correctly fit.
Be sure the net pool safety cover can be used on a roller which might half the time in rolling up the netting.
You can get optional fittings so your entertainment area can be color coordinated to match your backyard, decks, pool vinyl swimming pool liner, copings etc…  If you like the look of your swimming pool safety net or freestyle safety nets, you'll use it.
A swimming pool leaf net cover is not considered a safety net so please don't get them confused.
Have a pool safety sign where everyone can see it.
Install a child safety pool fence.
Take baby swimming lessons or swimming lessons for children at your local pool.
Understand child water safety and swimming and water safety
Having a quality swimming pool safety net is a wise investment but it's not a substitute for good adult supervision.
Go To:

Top of Page