Swimming Pool Safety Net
Swimming pool safety net and child swimming pool safety. Very important part of your pool safety supplies is a strong pool net.
A pool safety net is a great way to make your pool safe.
You can relax and enjoy your pool and bring wonder and beauty to your back yard.
Pool safety should be your #1 concern to protect your children and pets against the danger of accidental drowning. 
This is the number one cause of death in children under the age of five. 

No safety net mean you child has a higher chance of drowning or submersion injury. A quality pool net is one of the best insurance policies you can have. 

Strong Swimming Pool Safety Net

The pool nets you should be looking for are built to stringent ASTM-F-1346-91 standards.
They should be drawn tight over your pool using solid brass anchors, stainless steel connectors and a central tension system using only flush mounting points.
Net Pool Safety - Pool Net Installation

The net pool covers safety material should be a polyethylene fabric and weave with 3 1/2" squares.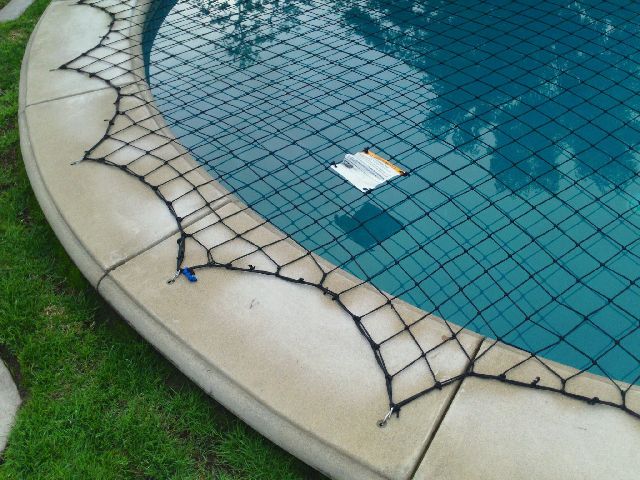 The standards of ASTM F-1346-91 calls for 4" or smaller squares. This is wonderful for child swimming pool safety and it protects even the smallest head of a child from going through the net and at the same time it discourages children from playing on the net.
The safety and swimming pool leaf net cover material should be certified to hold 485 lbs in the center without breaking.This exceeds any real world situation.
Your net should not only meet all ASTM F-1346-91 safety standards, they should be designed to be removed and replaced with minimumal effort. It should be an "easy on/easy off" ratchet and rollup type of swimming pool safety systems.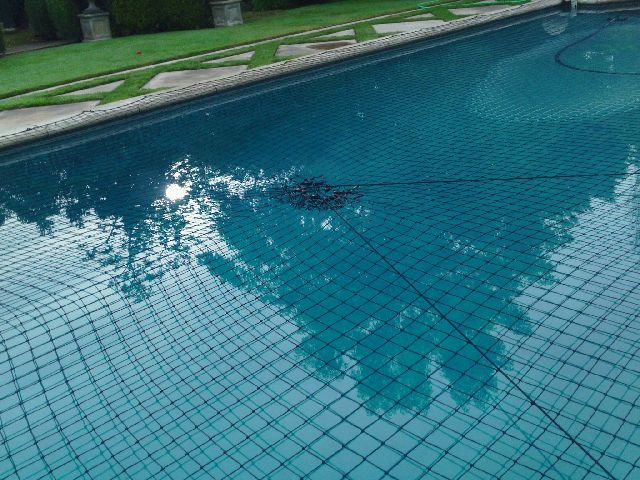 Swimming pool safety net installation should only done by fully trained technicians. No third parties or outside contractors should be used.
Swimming Safety Tips & Pool Safety Rules

A safety swimming pool net:

Have ease of operation - if there's a hassle there's a hazard
If there's no ease of operation you are less willing to put the net on which can create a dangerous situation. Watch for inferior material. The netting needs to be machine made to ensure uniformity, strength, and tautness. Those handmade and home safety nets nets can loosen and sag.
Having a quality swimming pool safety net is a wise investment but it's not a substitute for good adult supervision.
Go To:
Swimming Pool Care

>
Swimming Safety

>
Safety Net
Top of Page