Swimming Pool Solar Covers
Swimming Pool Solar Covers: Cut Heating Costs & Save Money 
Swimming pool solar covers keep your pool warm for pennies on the dollar?  That can't be, right?  Yep, it's true!!  A swimming pool solar blanket is a great heat saver for your pool, spa, and hot tub for ultra clean technology.  Solar heating blankets are usually made of a resin kind of material.  They have thousands of tiny air bubbles designed to heat to your pool using the sun's rays.  About 70% of heat loss is due to evaporation, so getting and using a good cover is one the best ways to keep your hard-earned money in the pool.
They're also a very cheap pool heater.  While they don't necessarily "heat" your pool in the strictest sense of the word, they do keep the heat in the water.  An inground or above ground solar cover is an effective way to keep your pool naturally heated and with economy in mind.
What Is A Solar Pool Cover?

Solar pool covers can help your pool retain heat and decreased evaporation by 80 - 90%.  They're actually a physical barrier that sits on top of the water, thereby preventing evaporation.  Solar covers can also:
Raise pool water temperature at least 10°- 15°F 
Swim earlier and later each season
May reduce energy bills
If you have a pool heater, pool solar blankets may save you money in heating costs
The air bubbles in the are like insulators, keeping the heat in at night and reducing evaporation of water and chemicals during the day
These are pretty tough and quality solar pool blankets are made of stabilized resins that should stand up to years of use
Strong seams that lie flat are able to withstand repeated folding, or you may use a swimming pool solar cover reel
Perfect accent to a nicely landscaped yard and a perfect looking pool
You can cut them to your pool's specific shape and size
Keeps your pool cleaner for a longer time by keeping bugs and dirt out of the water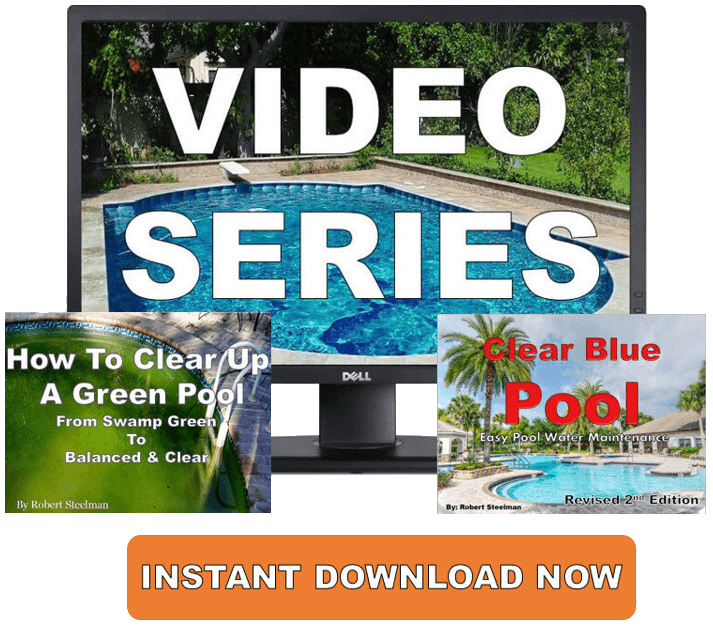 Are you sick and tired of fighting your green pool?  Too many chemicals?  Too many trips to the pool store?  Don't lose another $400 this year on pool care!! 
In my exclusive 12 Part F.T.A. Pool Fix Video Series I show you how to not only clear up your pool but how to keep it perfect all swimming season!!  Refined and perfected over the last 20+ years and is the ONLY and BEST evidence-based system available.  Cut through the confusion with this easy to understand guide to pool water maintenance. Available for computer and mobile devices. You also receive 2 eBooks, "Clear Blue Pool Revised 2nd Edition" & "How To Clear Up A Green Pool". Click the button and get started today!!  Or get more information right HERE!!  
Swimming Pool Solar Covers Tips
We can see how much energy and water are lost to evaporation, so it's important to keep water in your pool.  When we lose water through evaporation, the pool must be topped off again.  This new water will be colder than the evaporated water and will require more heating.  By using a swimming pool solar cover, you can be ensured the heat is not lost and stays in your pool.  Some benefits of having a pool solar cover are: 
Top quality in material
Strong and durable
Strong seams
Good heating and insulation
Reflective bottom coating
Can withstand weather
Easy to install and wrap up
Less expensive than other forms of pool heating
Variety of colors
Can be cut to the unique shape of your pool
Reduces evaporation by up to 90% when used correctly
How To Use Your New Solar Cover

Your solar blanket might be a little large for your pool, but not to worry.  You'll need to first take it out of the box and unfold it next to the pool.  Then carefully place it over your pool bubble-side down.  This not only helps keep the heat in the pool water but also saves the bubbles from getting fried by the sun.  If you have a uniquely shaped pool you can use scissors to trim the excess so the blanket fits inside the pool.
Your solar blanket is meant to be used whenever the pool is not in use.  Keep it on during the day so the sun can heat up the water.  It also reduces chemical use and evaporation during the day and night time.  If you have a very large pool you can cut the solar cover into sections then place them around your pool or use a cover reel. 
Important Safety Note
Remove the solar blanket prior to swimming.  Folding it back is not an option.  It is possible to get trapped under the cover.  You must always have a good field of vision for the entire pool at all times.  Completely remove the cover from the pool to avoid any risks.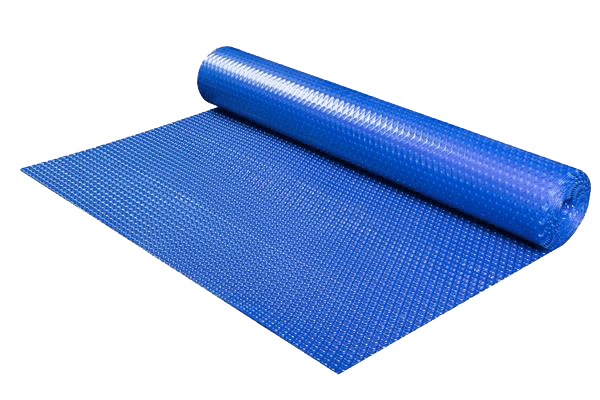 How To Store Your Swimming Pool Solar Cover

Fall is here and it's time to close your pool, get the safety cover out, and put the solar cover away.  Before storing your solar blanket, you should take a few steps to ensure it'll be ready next swimming season.
Remove your cover and place it on a large flat area, preferably your lawn.  Hard surfaces like concrete can damage the cover, especially if you drag it.  Use a soft bristle broom or soft brush and gently sweep the cover to remove any excess dirt and build-up.  Soapy water works well to help loosen up dried on dirt.  Rinse with clean water.  You can easily dry your cover using a leaf blower or hang it up to dry.  After one side is dry, simply flip it over and dry the other side.  After you wash and dry your solar blanket you can place it on your reel and wind it up.  If you don't have a reel and want to place it in a large container or bin, gently fold it, place it in the bin, and make sure the lid is securely fastened to keep bugs and critters out. Store the container in a cool area out of direct sunlight.
Recommended Reading For You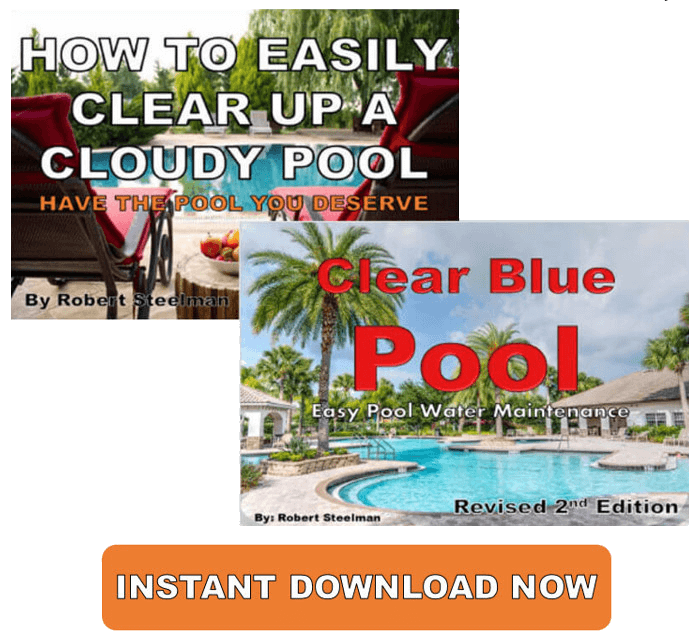 Are you frustrated with your cloudy pool?  Has it been weeks since you've seen the bottom?  Tired of losing so much money on your pool? 
"Clear Blue Pool Revised 2nd Edition" & "How To Easily Clear Up A Cloudy Pool" eBook Combo Package teaches you all you need to know about clearing up and maintaining your pool.  Refined and perfected over the last 20 + years and is the ONLY and BEST evidence-based system available.  Also included is my exclusive F.T.A. Pool Fix on clearing up green and cloudy pools.  Click the download button or HERE to get started today or go HERE for your Resources Page to learn about your eBook!!
Be sure you're getting true pool solar blankets.  There are some solar covers out there that are called "reflective coated solar covers".  These actually do the opposite in heating your pool. The reflective coat reflects the sun's rays away from your pool.  If you want heat in your pool, be sure to look at genuine swimming pool solar covers for your pool.
Go To:
Top of Page
What Other Visitors Have Said
Click below to see contributions from other visitors to this page...

Difference Between Inground And Aboveground Solar Covers

What is the difference between inground and aboveground solar covers? Thanks Robert Ball Thanks for the question Robert There really …