Total alkalinity and weekly pool water maintenance.  Simply add sodium bicarbonate or pool acid to make adjustments.  Common mistakes to avoid.
Do you have shock absorbers on your car?  Hopefully you do!!    Your pool needs this kind of "shock absorber" and it's name is total alkalinity.  You can learn how to easily increase and decrease your total alkalinity (TA) with no "pH bounce" in your inground and above ground swimming pool.  Here are the few simple steps you need to know.  They're not difficult steps, but they do require a bit of patience.
Your TA is just that, how much alkaline substance is in the water.  Levels that are too high or low will cause your pool water quality to become compromised.  When your total alkalinity is in check, all of the other chemicals will be much easier to maintain.  This saves you time and money now, and in the long run.  If the TA is high, your pool will experience an increased demand for muriatic acid.  You can also increase the chances of a cloudy swimming pool.  Too low will cause problems with pH "bounce" and possible green pool water.  I recommend testing your water alkalinity levels at least once per week.  Once you have it in range, it should change very little.
If and/or when you do need to make any adjustments to your TA you can go to this page to learn how to make the proper adjustments.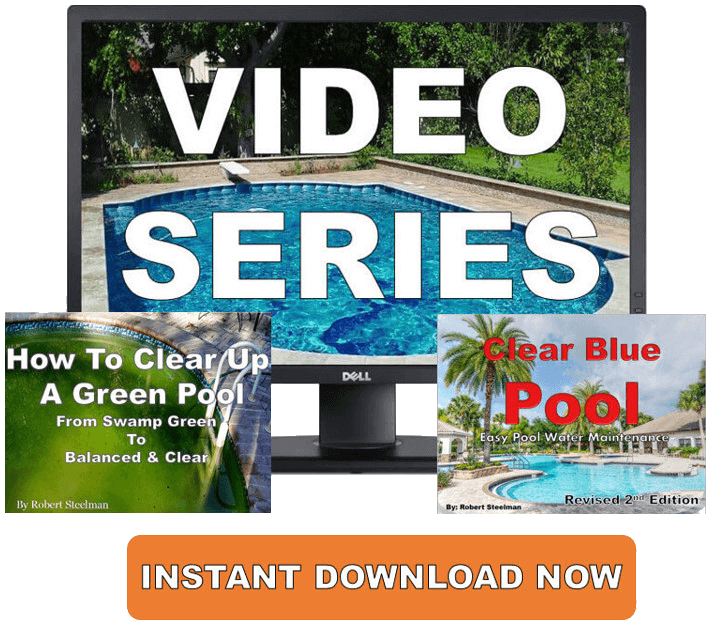 Do you want the pool you deserve but aren't sure what to do?  Are you tired of having a green pool?  Don't lose another $400 on your pool care!!

In my exclusive 12 Part F.T.A. Pool Fix Video Series I show you how to not only clear up your pool but how to keep it perfect all swimming season.  Refined and perfected over the last 20 years, and is the ONLY and BEST evidence-based system available.  Cut through the confusion with this easy to understand guide to pool water maintenance.  Available for computer and mobile devices. You also receive 2 eBooks, "Clear Blue Pool Revised 2nd Edition" & "How To Clear Up A Green Pool".  Click the button and get started today!!  Or get more information right HERE!!  

When a pool is unbalanced and out of control, it can be the most frustrating time for a pool owner.  Take the time to educate yourself on the proper way to balance your pool.  You need to have both the knowledge and understanding of how all the elements work together to give you the spa and pool perfect for you.
Please remember these are ideal ranges, but we don't live in an ideal world.  If you have a plaster pool (including salt water swimming pools) and the total alkalinity is 110 ppm or 75 ppm, don't sweat it.  Allow yourself and your pool a little grace.