Green Pool Water
Green Pool Water & Pool Water Maintenance. No Mistakes For Swimming Pool Chemistry & Swimming Pool Care.
Got Green Water?
Clear It Up Using My F.T.A. Process.
I Cleared Up This Pool In 4 Days For $40
The most common complaints among pool owners are swimming pool algae and green pools.
If the proper steps of swimming pool chemistry and pool water maintenance are not taken to avoid, eliminate, and control your pool algae, it can reproduce like rabbits and drive up your pool maintenance cost.
You'll need to chlorine shock the pool and use a swimming pool algae treatment or pool algaecide.
 If your pool water is green, follow the swimming pool maintenance tips on the bottle of the algaecide. Recommended is a PolyQuat 60.

How To Clear Up Green Pool Water

Properly balancing all of your pool's chemicals will greatly reduce the opportunity to turn your pool water green and give you clear pool water.
You've seen the perfect results I get, each and every time. Now you can do the exact same thing with my proven F.T.A. Process. Just click on the eBooks below to get your pool back.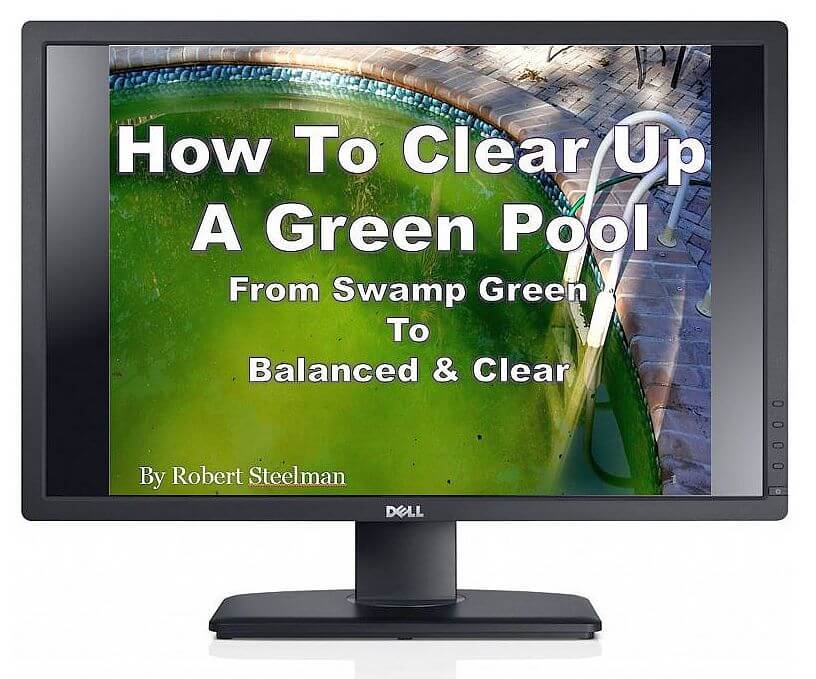 INSTANT DOWNLOAD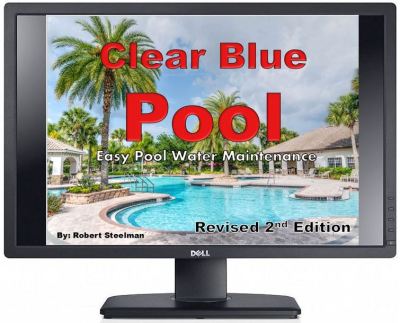 INSTANT DOWNLOAD
It's important to remember that each pool and situation is different. Green doesn't = green doesn't = green.

Some may have well water. Some other pools may have a high pH issue or low TA. While still others may have low pH, high TA, and low CYA. There are many variables to consider. This is where real experience comes in handy.
It's vitally important that you listen to someone who has a proven track record, real experience, and has the best information.
You can treat brown algae pretty much in the same manner as green algae. Black algae is a different animal all together.

Having your swimming pool chlorine, pool alkalinity, and hardness adjusted correctly is very important. Remember to brush and vacuum your pool because this will reduce the dirt accumulation and algae pores from sticking to the pool's surface.
If you have yellow algae, you'll probably brush it and think it's gone, but it will come back. 
Clear Up An Algae Swimming Pool 

When the time comes to clear up your green pool water it's always safety first.
Always take the proper precaution in dealing with these types of pool chemicals and read the manufacture's labels and the dangers of chlorine.
Use heavy duty rubber gloves and goggles and keep pool chlorine out of reach of children and pets. Again, I recommend using sodium hypochlorite/liquid pool. You can use calcium hypochlorite. It's easier, a bit safer, lighter in weight, easier to store, and 1 pound of granular chlorine equals 1 gallon (8lbs.) of liquid. However, it drastically raises the pH level and calcium hardness.
Chlorine Chart - Superchlorinate Your Pool
(Amount Needed to Reach 10 ppm)
Type Of Swimming Pool Chlorine
POOL GALLONS
1,000
5,000
10,000
12,000
15,000
20,000
25,000
50,000
Sodium Hypo
10 oz.
1 3/4 qts.
3 1/4 qts.
1 1/4 gal.
1 2/3 gal.
2 gal.
4 gal.
6 gal.
Lithium Hypo
4 oz.
1 1/4 lbs.
2 1/3 lbs.
3 1/2 lbs.
4 3/4 lbs.
6 lbs.
12 lbs
18 lbs.
Dichlor
2 1/4 oz.
11 oz.
1 1/3 lbs.
2 lbs.
2 2/3 lbs.
3 1/3 lbs.
6 3/4 lbs.
14 lbs.
Calcium Hypo
2 oz.
10 oz.
1 1/4 lbs.
2 lbs.
2 1/2 lbs.
3 1/4 lbs.
6 1/2 lbs.
13 lbs.
If you have green pool water, you must take immediate action in killing the algae. Doing this will lessen the risk of swimming pool stains and will lengthen the pool water life. 
For Green Pool Water You Should:
Bring the pH, pool alkalinity, and calcium hardness into line. Never add chlorine without first adjusting these three. 
I suggest you use liquid chlorine instead of calcium hypochlorite, to shock your pool. This kind of pool chlorine has a pH level of 12. For parts of the country that might have hard water, liquid chlorine will do just fine.
Brush the bottom, sides, and steps to loosen any algae that may be adhering to the surface. 
Continuously run your filtration system and be sure to backwash
Also watch that the pool's water level does not get below a minimum of 2" from the bottom of the skimmer. You want to get rid of the dead algae.
Super-chlorinate (shock) the pool
Keep brushing and vacuuming to rid the pool and any residual algae and remember to keep filtering and backwashing to get rid of the swimming pool algae. 
Brush and filter, then brush and filter, and then after you do those, well you guessed right, it's time to brush and filter some more.
Be sure to have the pump running 24/7 and backwash once per day. You can go up to 15ppm, but no higher. Anything after that and you're wasting money and chemicals.
For a more detailed look at exactly how to clear up your cloudy or green swimming pool, check out my F.T.A. Process. 
Remember, when you have green pool water or any swimming pool algae problem, there is no quick fix. It will take time, effort, and patience to clear up your pool.
When your swimming pool chlorine is down to 2 - 4 ppm the pool will be safe to swim in once again.
Obviously you would NEVER allow anyone to swim in the pool until the green pool water is gone and the algae has cleared up.
Go To:
Swimming Pool Care

>
Pool Algae

>
Green Pool Water
Top Of Page

What Other Visitors Have Said
Click below to see contributions from other visitors to this page...