How To Clear Up A Green Pool eBook
Your download includes a FREE eBook "42 Money Saving Tips For Your Swimming Pool".
You'll Have The Best, Fastest, Most Efficient, & Most Effective Step-by-Step Guide To Clear Up Your Pool. Get The Immediate & Lasting Results You Deserve. 
Save TONS Of Time & Money!!
The Perfect eBook For Your Pool In 2018!! 
Here's My F.T.A Process In Action. It Cleared Up The Nastiest Pool You'll Ever See!! If My Process Can Handle This Mess, Do You Think It Can Clear Up Your Pool?

*eBooks Are About 13MB So Please Be Sure Your Have Enough Space On Your Phone and/or Mobile Device*

Slim Design Is Mobile Ready
Wider eBook Is Perfect For Either Desktop Or Mobile Devices
How To Clear Up A Green Pool: From Swamp Green To Balanced & Clear
Get Your Instant Download For $12 thru a PayPal Secure Site



Click Below For a Quick Preview
Learn from a Aquatic Systems Maintenance Professional. You've seen my videos on my site and on YouTube. You've seen me clear up some really nasty pools. You can have the same results that I get, each and every time I walk into someone's back yard and clear up their pool.
If you're wondering how I do, it's all in the book. Along with my proven F.T.A. Process of clearing up pools. Nobody else on the internet has this kind of track record and can get these results this fast.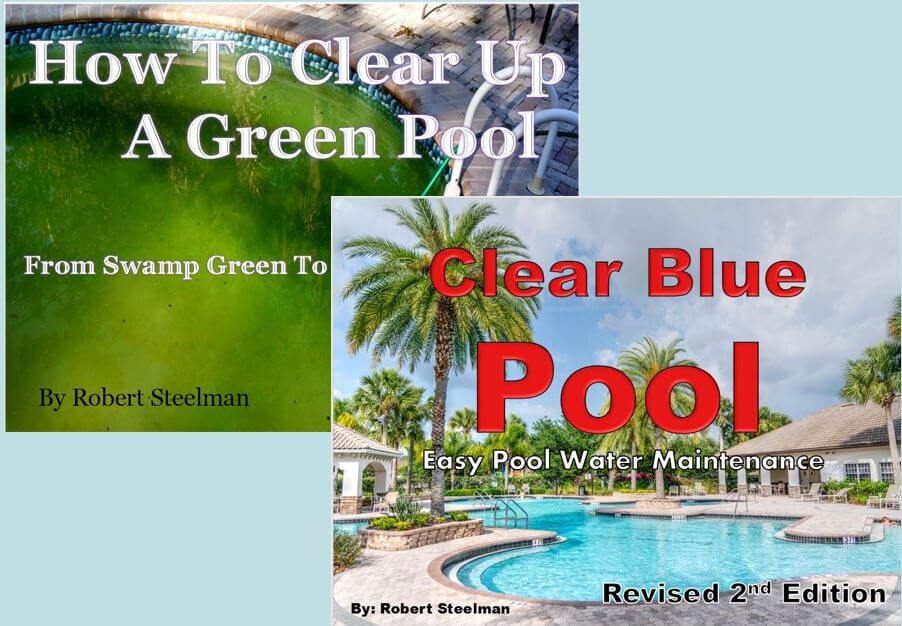 Or, you can combine your purchase and have both "How Clear Clear Up A Green Pool" AND my Revised 2nd Edition "Clear Blue Pool" for only $19. Just CLICK HERE to see what you'll receive.
Enjoy the benefits of:
A crystal clear pool

Less maintenance

Less chemical usage 

Family fun and socializing

Convenience

Enjoying the Summer months

Stress relief

Learning from a real Aquatic Systems Maintenance Professional with proven results & experience
---
Pool Owners Who Bought This Also Purchased
Learn my proven F.T.A Process of having a clear swimming pool in less than 7 days on average!! I've used it to clear up hundreds of nasty green pools.
With any eBook purchase you'll also receive my other eBook  "42 Money Saving Tips For Your Swimming Pool" for FREE!!  

"How To Clear Up A Green Pool" provides complete guidance to common problems associated with cloudy and green pool water. 
Everything you need to know to have the perfect pool all Summer long.
Testimonies From Pool Owners
From Terrance in South Carolina
Great videos and eBooks. I had spent about $800 trying to clear up my pool. Bought these items and within 4 days my pool was totally clear and perfect.
From Karen in Nevada 
Robert - Thank you SOOOOO much for your green water book. After 3 pool guys couldn't clear up my pool I listened to you. You're right. It only took 4 days for my pool to clear up and it only cost $28. WOW!!! My family thanks you too. 
From Tim in Mass.  
I have an above ground pool, not more than 10k gallons. I already spent nearly $200 at the pool store and the pool was just getting worse by the day. After reading the book I simply did the FTA plan that Robert laid out and not more than 2 days later the pool was clear.
From Mary
Thank you Robert for your help!! Your book and talking to you on the phone saved my Summer!!
From Martin in Oregon
Above ground pool was green and filthy. I already spent 2 weeks and over $100 trying to get the thing cleared up. I bought Robert's book, did what he said, and 4 days later my kids were swimming!! A miracle? Maybe, but it's the best $12 I've ever spent on an eBook. 
From From Karen in Alabama
OMG Robert you're the best!! After going round and round, not to mention burning through 4 other pool guys and $200 I took your advice. Within 24 hours the water started to clear up. After 3 days it was totally clear. In 5 days we were swimming again. I test the water and IT WAS BALANCED!! HOORAY!! We're going to have the best Summer yet!!  
Go To:
Swimming Pool Care

>
How To Clear Up A Green Pool eBook