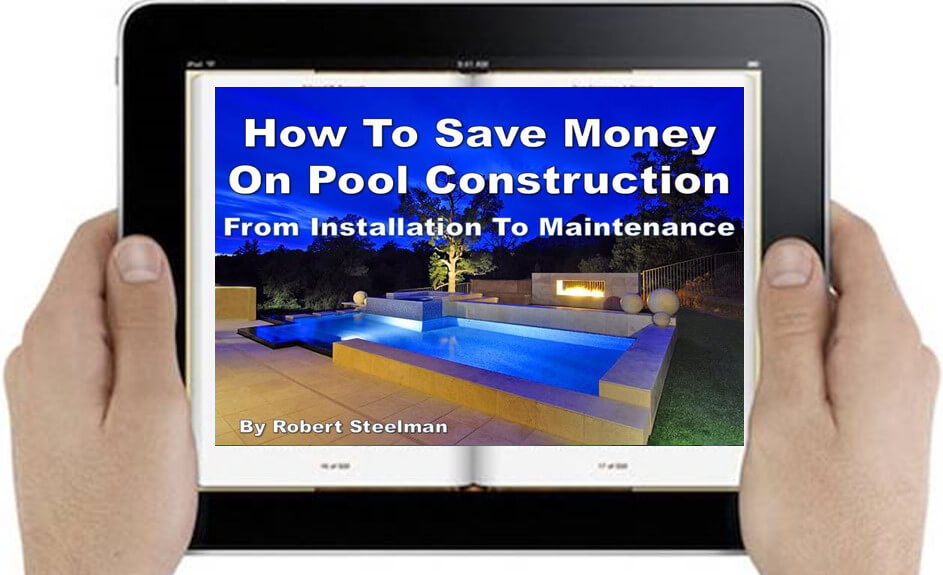 Are you sick and tired of wondering if a swimming pool is right for you?  Don't make a $25,000 mistake.  Get the right information BEFORE your start digging.
How To Save Money On Pool Construction eBook is packed full of information from my  20 years in the pool business. This is information that every prospective pool owner (and current owner) can use. I have done the hard work, getting right to the heart of the matter, so you can make the most informed decision. All this for only $12.  Click on the "Instant Download" button or HERE and get started today!!

Learn from a real Aquatic Systems Maintenance Professional.  You've seen my videos on my site and on YouTube.  Over the last 20+ years I've been on dozens of pool construction sites and have seen first-hand what can happen when things don't go as planned.  Pool owners get caught off-guard by expenses they didn't plan for.  Heartbreaking, but true.  Don't make a $25,000 mistake.  Invest $12 and get what you need.  And as always, your purchase is PayPal secure!!  
Say Good-Bye To Pool Confusion Forever
You'll learn how to quickly gauge and evaluate whether buying or building a pool is right for you.  There is TONS of information in this eBook to save you time and money and to help you make the right decision BEFORE putting down your hard earned money.  
FREE Bonus eBook included in your download: "42 Money Saving Tips For Your Swimming Pool".
Works Well On Both Desktop & Mobile Devices.
Everyone has a budget. This eBook will demonstrate how you can stay within your budget while having the perfect pool for you and your family. The benefits will include:

Spend more time swimming

Less maintenance

More money in your pocket

Don't get taken by incompetent contractors

No need to scramble around and spend hours researching on the internet

No more wasted time talking to the wrong people

Save thousands by asking the right questions

Gain true value for your hard earned money
If you're thinking about purchasing a swimming pool, you must be armed with the right knowledge.  This eBook offers that, and more.
With your purchase you'll receive another FREE BONUS eBook "Solutions To Common Pool Water Problems". Click HERE to get started today!!