Expert Swimming Pool Consultation
Set My Appointment Now ~ F.T.A. Process In Action
Experienced Aquatics Maintenance  Systems Specialist To Help Clear Up Your Green Pool Water Fast & Take Back Control!!
Phone Or Skype Appointments
The Exact Process To Clear Up Your Pool FAST!! It's About YOU & YOUR Pool!!  20 Years Of Real Experience Is Waiting For You.
Appointments Tailored To Fit Your Needs & Schedule



Guaranteed secured payments through PayPal
Select from 2 levels below. You can have:
60 minutes for $45

30 minutes for $25
You'll receive:

Complete personal service 

Absolute expert advice

Detailed analysis of your unique situation

Follow-up email including details and the exact process of clearing up your pool 

Sand, cartridge & DE filter troubleshooting

Chemical and pool water issues resolved



An easy to understand reason why your pool went cloudy and/or green (HINT: It's NOT because you didn't use enough phosphate remover or flocc)

The true value of owning a swimming pool
After your payment you will receive a confirmation email from me to go over your issues and get the details. We will then talk on the phone or SKYPE at your chosen time. 
Click one of the buttons below to get started and get your pool back FAST!!


Real Results From Personal Phone Consultations

Only $10 & 2 Days To Fix This
Seeing Is Believing. Check Out These Results.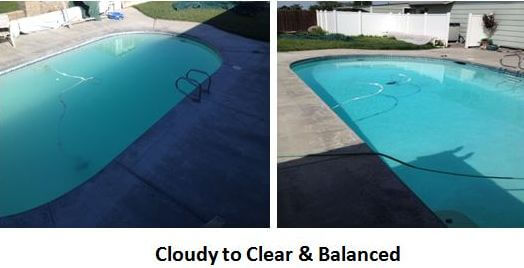 Enjoy the benefits of:
A crystal clear pool

Less maintenance

Less chemical usage 

Family fun and socializing

Convenience

Enjoying the Summer months

Stress relief

No sales pitch. I don't sell useless chemicals you don't need.

Learn from a real pool guy with proven results & experience
Click one of the buttons below to get started and get your pool back FAST!!


You can have confidence and knowledge when dealing with your swimming pool!! You can do what's right for yourself and family!! You can stop the never-ending trips to the pool store and hundreds of wasted $$ on chemicals that didn't work!! Look at your pool. If it's cloudy, green or something else is wrong, there is a way out!!

Don't Be Confused
Did you know that:
Talk to me, a REAL Aquatic Systems Maintenance Professional that has cleared up hundreds of green pools just like yours!! 
Just watch the series of videos where I take a swimming pool from swamp black/green and nasty to crystal clear in just a few days. 

And a total of $32 in chemicals.  That's right!! Only $32 in chemicals to take a 20,000 gallon pool from green to clean.
Have you already spent $200, $300, $400, or more on chemicals?

Has it been weeks or months since your pool was clear and balanced? 

Are you tired of wasting time trying to figure out your pool?

Are you frustrated about not having your pool because of listening to someone who may not know what he's talking about? 
Don't trust just anyone with a website or video on YouTube. See for yourself what I can do for you, from start to finish. 
Be confident in knowing you're getting the very best information from my nearly 20 years of real experience. You have nothing to lose but time spent with family and friends around a crystal clear and perfectly balanced swimming pool!!

Testimonials From Pool Owners Just Like You
James From Michigan
Can't thank Robert enough for his help. I've never written a testimony before for anything but I had to do it this time. Within 1 hour of talking to Robert I knew and understood more about my pool than dozens of trips to our pool store over the last 10 years. His knowledge and experience is the absolutely the best. We got our pool up and running after 3 years of frustration. Michigan only has a few months of swimming so it was important to have our pool back. You are a blessing to everyone. Thank you so much!!  
Tonya From Alabama
I'm a single mom with an above ground pool and don't have much time or experience with pools. I bought Robert's eBooks and talked with him on the phone. He walked me through every step in a way that even I could understand. 3 days later my pool was perfect after spending $300 at my local pool store. All they did was take my money and offer no help at all. It's now been 2 months and my pool is still perfectly clear. Taking care of it is SOOOO easy!! About 20 minutes per week is all I do and my kids are happy to be able to swim.
Michael From Wisconson
This is for everyone who only want to see the money. I was spending $500 each time to open and close my pool. Total of $1000 per year. Then it was $80 per month in chemicals. Over 4 months that totals $320. Service trips from pool techs totaled another $260 per year. Grand total of $1580 per year for my 20k gallon pool!! This went on for 5 years for a total of $7900!! I was going broke just with my little pool!! Then I found Robert. Holy crap is he good!! Not good, but the best!! Yeah, I'm excited!!
Here you go: Opening and closing my pool is now only $200 for a total of $400 and a savings of $600. My chemical use is now $20 per month with a savings of $60 per month. And no more service tech trips.
Total savings per year is $1100. Over the last 3 years that's $3300!! All this from his eBooks and talking with him on the phone. You want value for your money? Talk to Robert and you'll have it!! Can't wait until Summer to enjoy my always perfect pool!! 
Swimming Pool Care

>
Personal Consultation
Top Of Page