Are You Tired Of Messing With Your Pool? You're Not Getting The Results You Deserve?
Phone, Skype, or Zoom Video Conference Tailored To Fit Your Needs & Schedule
Experienced Pool Maintenance Systems Specialist To Help Clear Up Your Green Pool Water Fast & Take Back Control!!
Complete personalized service. 

Absolute expert advice.

Detailed analysis of your unique situation.

Follow-up email including details and the exact process of clearing up your pool. 

Sand, cartridge & DE filter troubleshooting.

Chemical and pool water issues resolved.




An easy to understand reason why your pool went cloudy and/or green. 

The secret nobody talks about to easily have a perfect pool all swimming season.
After your payment, you will receive a confirmation email from me to get the details.
$60 for your 45 minute consultation.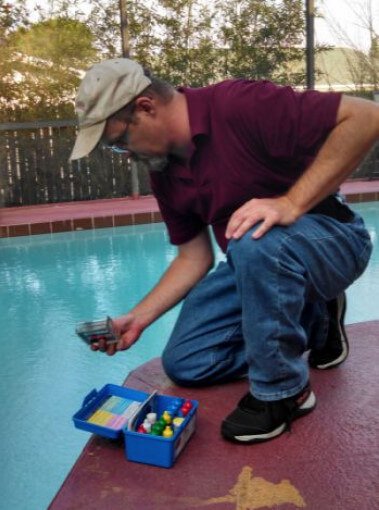 Don't trust just anyone with a website or video on YouTube. See for yourself what I can do for you, from start to finish. 

Have you already spent $200, $300, $400, or more on chemicals?
Has it been weeks or months since your pool was clear and balanced? 
Are you tired of wasting time trying to figure out your pool?
Are you frustrated about not having your pool because of listening to someone who may not know what he's talking about? 
Be confident in knowing you're getting the very best information from my 20+ years of real experience. You have nothing to lose but time spent with family and friends around a crystal clear and perfectly balanced swimming pool!!
As I've always said: 
"People talk a lot. But the truth is on the deck".
Testimonials From Pool Owners Just Like You
Elizabeth From Florida
Hi Robert. Well, the pool is now perfect.  I'm still mad at the pool store guy for selling me a bunch of crap, over $800 wasted.  After talking to you the pool cleared up in about 3 days.  My husband was so happy but still mad at the guy.  He wanted to go down there and, in his words, "straighten things out".  Fortunately I talked him out of it.  Anyway, thanks you for coming out and showing us what to do.  It made all the difference in the world.  You're such a blessing to our family and we can enjoy the rest of our Summer.
Rochelle From Florida
Hi Robert. I wanted to email you to let you know the pool is now crystal clear. Thank you for coming out on such short notice. I'm buying your eBooks so I can have something to refer to if this ever happens again. Money well spent and lots of value. Your instructions were so perfect and I understood them very well. You're a great teacher and the only one I would recommend for anything pool related. Thanks and have a wonderful day.
Tina From Maine
OMG Robert!!! It worked!!! I followed your instructions to the letter and within 2 days my pool cleared up!!! Thank you so much for your advice and patience. My husband and kids were amazed that I could do it. It told them how easy it was. Anyway, we're off to go swimming today. Thanks again and I sure wish you were here in Maine. I've already told several people about you!!!
Martin From Arizona
Hey Robert, just a quick follow up from our conversation. The pool is perfect. You were so right. It took 4 days to clear it up. I told you that I spent over $500 at the pool store and I'm never going back there. Your explanation of pool chemistry was dead on right. Thanks again and I've already bought the video series and eBooks so I can have that for future reference. 
James From Michigan
Can't thank Robert enough for his help. I've never written a testimony before for anything but I had to do it this time. Within 1 hour of talking to Robert I knew and understood more about my pool than dozens of trips to our pool store over the last 10 years. His knowledge and experience is the absolutely the best. We got our pool up and running after 3 years of frustration. Michigan only has a few months of swimming so it was important to have our pool back. You are a blessing to everyone. Thank you so much!!  
Tonya From Alabama
I'm a single mom with an above ground pool and don't have much time or experience with pools. I bought Robert's eBooks and talked with him on the phone. He walked me through every step in a way that even I could understand. 3 days later my pool was perfect after spending $300 at my local pool store. All they did was take my money and offer no help at all. It's now been 2 months and my pool is still perfectly clear. Taking care of it is SOOOO easy!! About 20 minutes per week is all I do and my kids are happy to be able to swim.
Michael From Wisconsin
This is for everyone who only want to see the money. I was spending $500 each time to open and close my pool. Total of $1000 per year. Then it was $80 per month in chemicals. Over 4 months that totals $320. Service trips from pool techs totaled another $260 per year. Grand total of $1580 per year for my 20k gallon pool!! This went on for 5 years for a total of $7900!! I was going broke just with my little pool!! Then I found Robert. Holy crap is he good!! Not good, but the best!! Yeah, I'm excited!!
Here you go: Opening and closing my pool is now only $200 for a total of $400 and a savings of $600. My chemical use is now $20 per month with a savings of $60 per month. And no more service tech trips.
Total savings per year is $1100. Over the last 3 years that's $3300!! All this from his eBooks and talking with him on the phone. You want value for your money? Talk to Robert and you'll have it!! Can't wait until Summer to enjoy my always perfect pool!!