Swimming Pool Lights: Solar Floating LED Lighting Colors
Who wants to swim in a dark pool?  Without proper LED swimming pool lights, you're missing out on lots of fun with your pool.  Adding a light-emitting diode (LED) pool light or two can increase your swimming experience and bring a new dimension to fun in your pool. Also, LED pool lights will save you money on your electric bill compared to traditional pool lights.

Really cool underwater pool light effects for your inground and above ground pool.  Swimming pool lighting offers any pool owner a relaxing evening around the pool on a warm night.  They can add a wonderful glow and finish that you want at a price that you can afford.  
With this beauty you won't be able to be away from your pool for very long. You'll feel that sense of well-being and just plain pride in your swimming pool.  Many pool owners want to take advantage of the aesthetics that illumination creates by adding pool light bulbs.  LED pool lights are far superior than they're old-school counterparts.  First, LEDs have no filament.  An electrical current passes through a microchip which illuminates the LED. They also stay cooler for longer and have a much longer lifespan than traditional bulbs. 

Some Benefits Of LED Swimming Pool Lights
That little splash of color or colored effect to your swimming pool makes everything seem fine.  When shopping around for swimming pool decorations be sure you're getting the quality you deserve.
LED Uses Less Energy
Using less energy equals more money that stays on your pocket.  LED pool lights use a lower wattage which is a fraction of the power of a comparable incandescent bulb.  They also stay cooler which means the lifespan of an LED pool light can be as much as 6x - 8x longer than an incandescent bulb. 
Many Different Colors
LED lights come in a variety of colors to satisfy virtually everyone's taste or occasion. Blue for this pool party, red for that party, or maybe orange is what you'd like this evening.  High and low hues are no problem.  With all of the color schemes available, the only limit is your imagination. 
Long Lasting
This is worthy of repeating.  LED pool lights can last a LONG time.
Inground Pool Lights & Swimming Pool Fountains
One advantage of having an above ground swimming pool or inground swimming pool is being able to swim either in the day or at night.  Choosing the right set of pool lights, the colors, shapes, and styles, will greatly depend on the type of swimming pool and your personal preferences. 

Above ground LED pool lighting is usually connected in several different ways. Some are installed into the pool's return line, to the side or bottom of the pool, or hooked over the top of the pool's wall.  Inground pool lighting is pretty simple as it is constructed and connected into the pool itself.
Both inground and above ground lights for pools have their advantages and disadvantages.  Most who own above ground pools prefer to have them hooked over the side of the pool wall to eliminate any drilling into the sides or bottom. This also makes them easier to adjust or remove.
Swimming Pool Light LED Colors
There are as many colors for swimming pool lights from which to choose as these Hayward Colorlogic LED Pool Lights.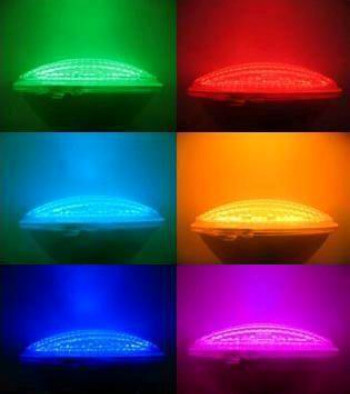 White is normally the standard choice of pool lights but different colors can be very inviting and fun to your family and friends on that perfect Summer evening.  You can also get a white pool light bulbs and purchase different colored lenses that can be changed out very quickly.  Other more expensive floating solar pool lights can go through a series of colors for an even better swimming experience.
Solar Floating Lights
Another great choice is a solar pool light for both an inground and above ground swimming pool like Floating Medusa Pool Lighting.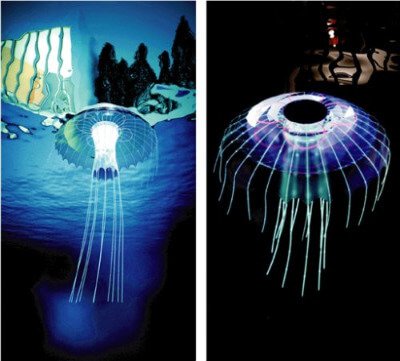 They are colorful and come in a great range of styles. Some styles for a floating pool light:
Lilly pad

Jelly-Fish

Fountain

Spinning

Twirling

Underwater
Many of these are favorites of the younger crowd who want to throw a swimming pool party.  When swimming at night you must remember swimming safety.  People seem to be more relaxed around the swimming pool at night, and this is when danger can strike.  Monitor your drinking, or better yet, wait until you get home.  Be sure everyone is always present and keep a special watch on the children.  Choosing the perfect set of pool lights should be fun.  With all the styles and colors from which to choose you will surely get the set that match your pool and your budget.  You can also look into solar outdoor lighting, solar landscape lights, and a solar deck light.  Conserve energy with new LED swimming pool lights and help your wallet as well.
Having a great set of swimming pool lights can brighten your nightly swimming.  Get a great set of pool lights and enjoy. 
Go To:
Swimming Pool Care

>
Diving Boards/Accessories

>
Swimming Pool Lights
Top of Page