Swimming Pool Lights
Swimming pool lights and prices. Really cool underwater pool light effects for your inground and above ground pool.
Swimming pool lighting offers any pool owner a relaxing evening around the pool on a warm night.
They can add a wonderful glow and finish that you want at a price that you can afford. 
With this beauty you won't be able to be away from your pool for very long. You'll feel that sense of well-being and just plain pride in your swimming pool.
Many pool owners want to take advantage of the aesthetics that illumination creates by adding pool light bulbs.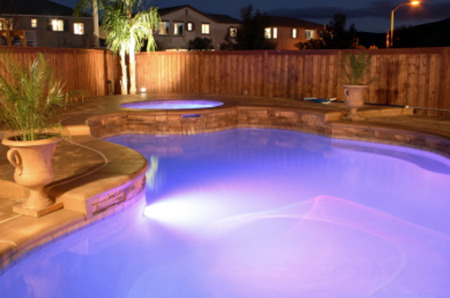 Purple Hue 

Swimming Pool Lights

That little splash of color or colored effect to your swimming pool makes everything seem fine.
When shopping around for swimming pool decorations be sure you're getting the quality you deserve.
Inground Pool Lights & Swimming Pool Fountains

One advantage of having an above ground swimming pool or inground swimming pool is being able to swim either in the day or at night.
Choosing the right set of pool lights, the colors, shapes, and styles, will greatly depend on the type of swimming pool and your personal preferences.
Above ground LED pool lighting is usually connected in several different ways. Some are installed into the pool's return line, to the side or bottom of the pool, or hooked over the top of the pool's wall.
Inground pool lighting is pretty simple as it is constructed and connected into the pool itself.
Both inground and above ground lights for pools have their advantages and disadvantages.
Most who own above ground pools prefer to have them hooked over the side of the pool wall to eliminate any drilling into the sides or bottom. This also makes them easier to adjust or remove.
Swimming Pool Light LED Colors

There are as many colors for swimming pool lights from which to choose as these Hayward Colorlogic LED Pool Lights.
White is normally the standard choice of pool lights but different colors can be very inviting and fun to your family and friends on that perfect Summer evening.
You can also get a white pool light bulbs and purchase different colored lenses that can be changed out very quickly.
Other more expensive floating solar pool lights can go through a series of colors for an even better swimming experience.
Solar Floating Lights
Another great choice is a solar pool light for both an inground and above ground swimming pool like Floating Medusa Pool Lighting.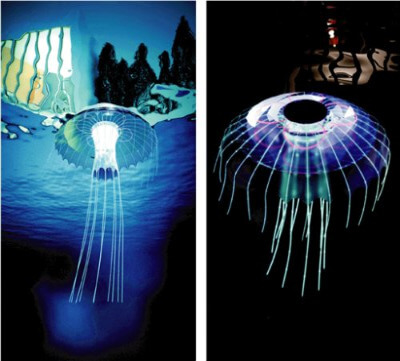 They are colorful and come in a great range of styles. Some styles for a floating pool light:
Lilly pad
Jelly-Fish
Fountain
Spinning
Twirling
Underwater
Many of these are favorites of the younger crowd who want to throw a swimming pool party. When swimming at night you must remember swimming safety.
People seem to be more relaxed around the swimming pool at night, and this is when danger can strike. Monitor your drinking, or better yet, wait until you get home. Be sure everyone is always present and keep a special watch on the children.
Choosing the perfect set of pool lights should be fun. With all the styles and colors from which to choose you will surely get the set that match your pool and your budget.
You can also look into solar outdoor lighting, solar landscape lights, and a solar deck light. Conserve energy and help your wallet as well.
Styles & Prices

| | |
| --- | --- |
| Style | Prices |
| Nova Floating Pool Light | $115 |
| Underwater Quartz Halogen Flood Light For Above-Ground Pools | $170 |
| Ocean Art Jellies $60 | $60 |
| Ocean Art Mini Jellies | $40 |
| Underwater Light and Fountain Show | $95 |
| Multi-Colored Niteliter Above Ground Pool Light | $205 |
| Aurora Color Changing Above Ground Pool Light | $335 |
| Nitelighter Above Ground Pool Light - 50 watt | $135 |
| Nitelighter Above Ground Pool Light - 100 watt | $145 |
| Led Lighted Swimming Pool Floating Pool Fountain | $80 |
| Light Hayward 120W 12V Light w/ 100ft. cable, Transformer and Dimmer | $435 |
| Light Hayward 300W 12V Light w/ 100ft. cable, Transformer and Dimmer | $650 |
| Light Hayward LED Pool Kit 12V/100ft. w/ Niche and Transformer | $915 |
| Light Pentair Amerquartz light 500W 120V w/ 30ft. Cord (CSA) | $230 |
| Niche Pentair Amerilite Small Vinyl Niche 3/4" w/ 45 Degree (Spa) | $90 |
| Light Pentair Amerilite Sam 120V Light w/ 50ft. Cord (CUL)-(No Niche) | $750 |
| Light Hayward 50 Watt Above Ground Elite Light | $165 |
| Light Pentair Aqualuminator Underwater Light for Above Ground Pool | $165 |
Having a great set of swimming pool lights can brighten your nightly swimming.
Get a great set of pool lights and enjoy. 
Go To:
Swimming Pool Care

>
Diving Boards/Accessories

>
Lights
Top of Page