Swimming Pool Fountains & Water Features

Pool fountains and poolside waterfall. Create your own pool art with swimming pool lights and a really cool pool water feature.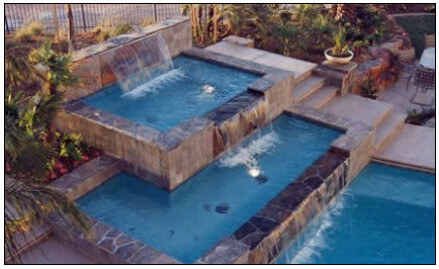 The Beauty Of Swimming Pool Fountains
By adding something nice looking and functional you can make your swimming pool into your own little tropical oasis or get-away.  They can also serve you well with water circulation and may help decrease cloudy pool water, chemical usage, especially when increasing your pool pH level.  Many come in a variety of spouting options and you're sure to find the one that looks the best for your pool and budget.  If you have everything set up and want to swim fast you can call your local pool water delivery service.  Whether you're going for the "tropical look" or just want to give the kids something to play with, you really can't go wrong with solar water fountains.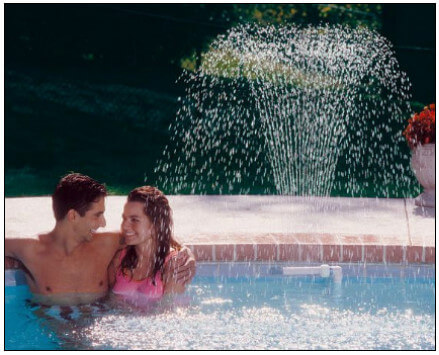 Why Swimming Pool Fountains Are So Popular
A solar pool fountain is good for those who want to "Go Green".  Many have interchangeable heads and adjustable heights for a wide range of color and displays and will probably work in both inground and above ground swimming pools.  You'll find that most are easily installed and adjusted so you can spend more time swimming and less time hooking things up.  I would suggest getting one that has a multi-adaptor kit because it should fit most of not all swimming pool return lines.  Another benefit of is that it may lower your water temperature by a few degrees.  Unfortunately, with above ground pools, they do little to cool the water. The reason is an above ground pool is similar to having a completely exposed bowl of water in the hot Summer sun.  There's little you can do to decrease the water temperature other than spraying the surface with a garden hose.  Simply run your it at night as this will help keep the water circulating during a cool night and warm the water during the day. 
Pool fountains are also the most popular "stand alone" water feature that are available for both residential and commercial spaces.  Fountains are aesthetically pleasing and can enhance a peaceful surrounding that can transform your pool into a quiet resting place.  There are design experts available to help you create the perfect fountain for the oasis in your backyard. 
Above Ground Pool Fountain

It's unfortunate, but too many people think it's too difficult to make an above ground swimming pool look great.  Maybe you're thinking of adding a deck around your pool.  Or plants and trees.  While these are decent options, they can get a bit expensive and time consuming.  This certainly is not the case in these modern times.  Step up into the 21st Century and let's see what's available.  

Easy Modern LED Pool Fountains

An easy way to add a little "pop" to your above ground pool is with a swimming pool fountain filled with LED lights.  A pool fountain containing a variety of LED lights that change colors?  That's something to smile about.  Fountains are not only fun, they can certainly enhance your swimming pool and swimming experience. You also have your choice of great floating fountains.  The modern ones can also be turned into your own LED rainbow for night-time swimming fun.  

Pool Fountain Waterfalls & Accessories
You can bring your pool to life with some simple waterfalls and and wide range of accessories.  Fountains and waterfalls of different shapes and dimensions can add a unique flare to your swimming pool such as:   
Blossom Floating
Polaris Waterstars NL
Polaris Waterstars WF
Raindance Spinning
Aspen Pool Side Waterfall
Alta Pool Side
Pond Pump & Plumbing
Inground and above ground construction should be quality and last for years
Many waterfalls and pool fountains are powered by the water force of your pool pump to create a beautiful day or night pool fountain.  They install easily and virtually no tools are required. 
Benefits Of Pool Fountains 
Whether you like a full or partial fountain, lighted, or a wall-waterfall, there's a pool fountain just for you.  Some benefits will include:
Natural Sound
The gentle flow of a water is relaxing.  It can also provide a sound barrier against those noisy neighbors. 
Natural Flow Of Your Pool Water
Pool fountains help keep the water moving and circulating and is an excellent way to increase the pH of your pool without adding more chemicals. 
Stress Relief
The best part is the relaxing sound of water movement.  I live in Florida and the beaches are some of the best in the world.  Water moving in and out is certainly a way to easily relax. 
Go To:

Swimming Pool Care

>
Diving Boards/Accessories

>
Pool Fountains