What's The Best Pool Size For You?
When considering a swimming pool size and design, there are many from which to choose.  You can narrow down your pool ideas for your next home or commercial swimming pool by taking into account the desired shape and size of your pool in relation to the space available, and also the usage the pool will get.  The truth is you can get any inground shape you want. 
And financing a swimming pool is really no different than any other major purchase, such as a car or home.  Some pool companies, dealers, and lenders may even look upon the addition of a swimming pool as a "home improvement" and may be willing to work with you.  Be sure to include monthly maintenance, water, and electricity, in addition to your payment when deciding on the right pool for your budget.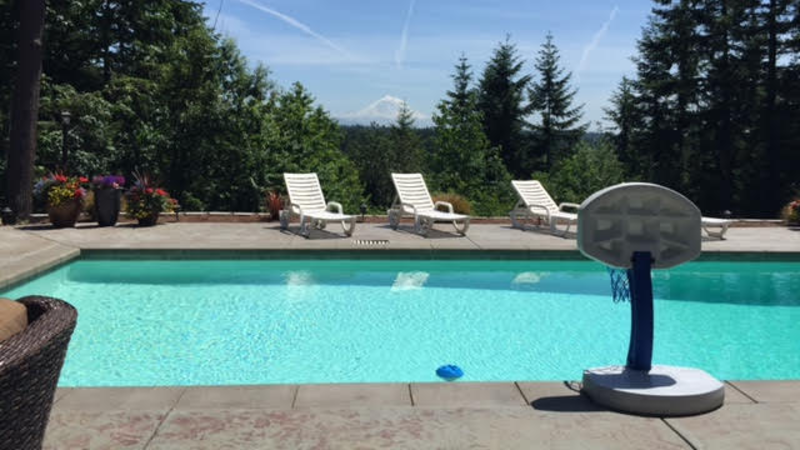 Swimming Pool Dimensions
You've probably been looking at swimming pools for some time now and realize pools obviously come in many shapes and size.  Your options are limited by the size of your yard and your budget.
What is the starting point?  Let's start by looking at some standard inground pool shapes and sizes and move forward from there.  At that point, you can decide whether to go with the most common shapes and trends, or create a pool that is uniquely you.
Standard Swimming Pool Sizes
Standard is subjective, but we can use the norm for rectangular and kidney-shaped pools.  We can remember the ratio of 2:1, which is our length-to-width ratio.  Taking a typical backyard into consideration, this creates pool sizes like:
16' x 32'
15' x 36'
20' x 40'
Other pool shapes and sizes such as round, oval, or square tend to be smaller and equal in the length-to-width ratio. 
Pool Shapes 
There are 7 standard pool sizes that most people will consider.  These are practical sizes of pools and will fit most backyards.  
1. Rectangle 
Rectangle pools are the most common pool shape and appear to fit the bill for many pool owners.  They facilitate different water depths and are attractively positioned in most yards.
2. Oval 
Oval pools are a variation of rectangle pools with rounded edges.
3. Square and Round 
These are great alternative for those who may not have a large backyard, or for people who may want a smaller pool.  Most above ground pools would fit into the "round pool" category.
4. Kidney
These pools were very popular in Arizona.  I had many of them on my pool route.  Kidney shaped pools are similar to oval pools, but with a bend, or crook, in the middle.  This shape is perfect for personalized landscaping or having an adjacent raised spa.
5. Lap 
Laps pools are simply a longer rectangle designed for a lap swimming experience.
6. L-Shaped 
This pool consists of 2 connected areas, one short rectangle and one long rectangle.  The longer piece is great for lap swimming while the shorter area is commonly used for play. 
7. Freeform 
Just as the name implies, freeform pools don't have a dedicated shape, rather, it has many bends consistent with a natural body of water. 
These are the most common pool shapes, but when you're building an inground pool, you can get virtually any custom shape you desire.  If the shape can be formed in the ground, you can get it. 
What's Your Budget?
Swimming pools are a long-term investment, so long-term financing should play an important role in determining our pool size.  Pools cost money to install, maintain, and operate, so there's no "one-size-fits-all" financial number.  Larger pools will be more expensive and cost more to maintain.
It's a good idea to talk with your pool builder about expenses, usage, and maintenance costs.  Other costs could include extra chemicals, add-ons such as slides and waterfalls, landscaping, and safety fences.  The size of your pool will have a direct impact on every financial aspect.  This is why it's so important to choose the right pool size for you and your family.
To help minimize the up-front costs and expenses, there are many financial institutions that specialize in inground pool installation.  These types of financing companies can offer a wide array of options to help free up money related to other pool needs over the long term.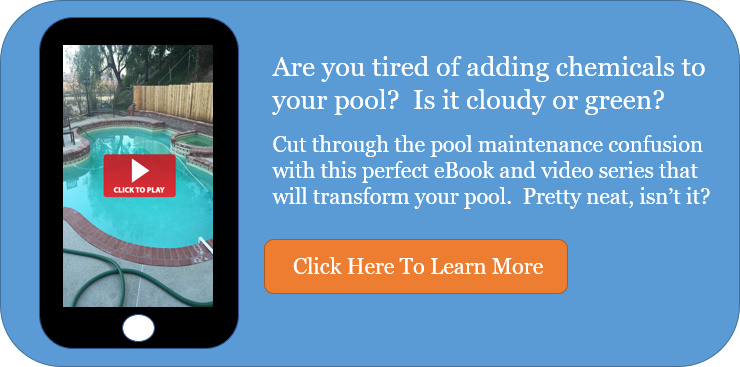 What's The Size Of Your Backyard?
We know about the different pool sizes and shapes, and that not all backyards are the same.  Your available space will dictate your pool size and its accompanying design features.  It's important we maximize the living space when designing our pools, and optimize our projects accordingly. 
How Often Will You Use The Pool? 
This will have a direct impact on the amount of pool maintenance your pool will need.  Heavy use, combined with pets, and environmental factors, will play a part in your pool size and its weekly maintenance.  What's the length of your swimming?  Our swimming season in Florida ranges from the middle of April to late October.  Be sure you properly gauge your swimming season and plan your pool's usage accordingly.
Remember that owning a pool is not a "set-it-and-forget-it" proposition.  Weekly maintenance must be done to ensure you always have a perfect pool that's ready to swim in at a moment's notice. 
Not everyone is psychic, and sometimes it's difficult to see into the future, but families do change.  A new little addition, or perhaps grandchildren are on the horizon.  These can affect the decision making process.
Lifestyle can also mean entertaining family and guests.  I'll be very honest here.  I've seen people make pool size decisions based on having one or two large events at their home each year.  It's rare that more than 50% of any group is in the pool swimming at the same time during an event.  Maybe a larger deck and a smaller pool would suit your needs, compared to a larger pool with a crowded deck.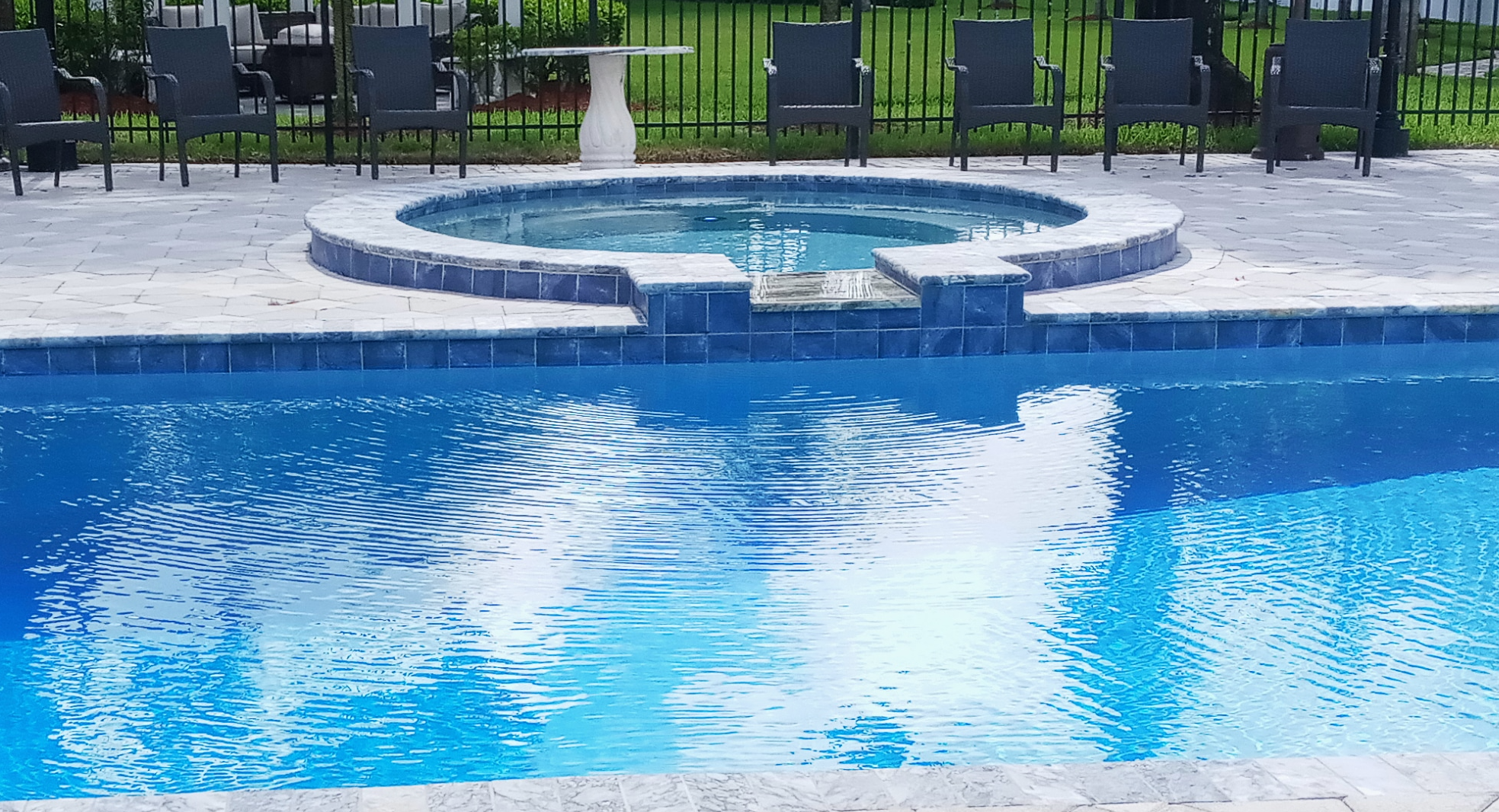 Pool with a raised heated spa
What's The Best Pool Size?
Now that we have our budget, and know what pool shape we want, the next step is to determine the pool size.  This might seem easy enough, but a few things should be taken into consideration before excavating can begin.  Let's review some options.  
A Pool For Recreation
A recreational pool should have a shallow end and an ample deep end.  The shallow end is reserved for children, or those who are just learning how to swim.  The deep end can be used for more experienced swimmers and for games.  A deep end of at least 6 ft. will accommodate most swimmers needs.  For a more general look, we can see:
For a family of 6 - 8 people, a 18' x  36' pool would be sufficient.  This avoids crowding while allowing for playing games.  Rectangle shaped pools look best for this size.
For a family of 4 - 6 people, you may want to consider a 16' x 32' pool.  Not only would this be more compatible, it allows for relaxation and playing games.  Kidney shaped pool work best in this range. 
For smaller backyards, or for those who simply want to relax and cool off during the hot summer months, a pool that's under 14' x 26' might be the one for you.  Not only will you still have versatility and comfort, it takes up less space in your yard which you can use for other purposes. 
A Pool For Exercise 
A straight-on rectangle pool is perfect for swimming laps.  I recommend a minimum length of 30 ft. and a depth of 4 ft.  This will provide enough space for lap swimming and exercise.
Customize Your Swimming Pool
Once you choose your pool size, you can make it literally any shape you want and completely customize it.  You can mold the shape of your pool to perfectly fit your backyard.  A good pool builder will be able to modify your pool size and shape, whether you want more or less curves, straight lines, or a tanning ledge.
And for add-ons, the choices are unlimited.  These include diving boards, slides, waterfalls, and attached spas.  With a little forethought and planning, you can make your pool one of a kind.
Tanning Ledge
Fiberglass Pool
Get Ready To Plan Your Pool
Once we know what to consider when choosing the right size pool for our yard, we can start planning our budget and design.  With so many pool sizes, shapes, and styles to choose from, you can be confident in knowing you'll find the perfect style for you and your family.