Swimming Pool Filter Cartridge
Swimming Pool Filter Cartridge: Choose The Best System 

A swimming pool filter cartridge is easy to maintain and simple to clean.  It's extremely durable and provide powerful filtration.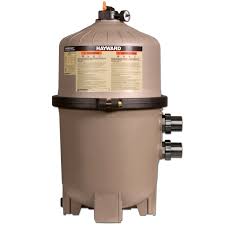 Want something better than a sand filter, but not as expensive as a DE filter?  Do you require good filtration and something that's not too expensive to replace?  Try this.  Cartridge filters are very effective at capturing small particles, bacteria, and algae spores.  This is a small as a micron.  For reasons not known to me, I've seen more cartridge filters here in Florida than I did while I had my pool route in Arizona and the 11 years I lived in Oregon.  Inside your filter tank is a plastic cylinder with pleated polyester with a plastic cap on each end.
The pool water flows into the tank, through the pleats, and the debris, as small as 10 microns, is captured in the filter.  The clean water is then returned back to the pool.  Pool cartridge filters are inexpensive and easy to replace.  They normally last about 2500 - 3500 operational filter hours.  I've personally found that cartridge pool filters are the best "all-round" in terms of a swimming pool filter system.  Kinda like a Toyota Camry.  They're easy for the first time and well-seasoned pool owner.
In my opinion and all things considered, they're the best water filter system you can get.  Swimming pool filter cartridges for ingound and/or above ground swimming pools are just as they say.  They work the same as an air filter in a car.  Dirty water passes through a filter and comes out clean.  It's a very simple process.
Follow the manufacturer's instructions.  There are other filters which are more expensive that may last 5 years or longer, depending on pool use and cleaning frequency.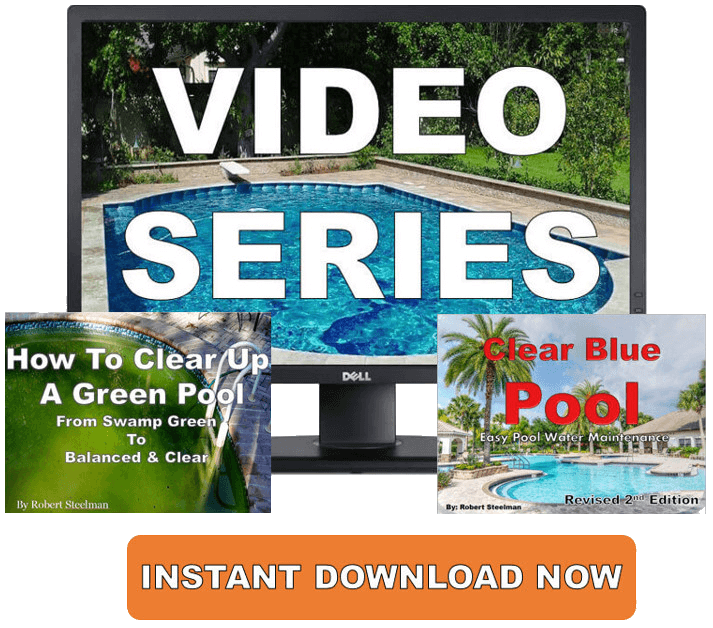 Are you tired of having a green pool?  Has it been weeks since you've seen the bottom?  Don't lose another $400 this Summer!!
In my exclusive 12 Part F.T.A. Pool Fix Video Series I show you how to not only clear up your pool but how to keep it perfect all swimming season.  Refined and perfected over the last 20 years and is the only evidence-based method available.  Cut through the confusion with this easy to understand guide to pool water maintenance.  Available for computer and mobile devices. You also receive 2 eBooks "Clear Blue Pool Revised 2nd Edition" & "How To Clear Up A Green Pool".  Click the button and get started today!!  Go HERE for more details or to my Resources Page right HERE to learn about the eBook!!
Do I Backwash A Pool Cartridge Filter?
Backwashing can be troublesome to certain pool owners.  By not backwashing you can save between 150 - 200 gallons per month.  But with a cartridge filter system, there's no backwashing involved.  The dirt and debris is simply captured in the filter and you easily spray it off when needed.   Just use a regular garden hose to clean.  Never use a high pressure washer.  You can also use a pool water filter cartridge cleaner to get them clean.
This involves filling a large bucket or trash can with water and adding the pool filter cartridge cleaning solvent.  Allow the cartridge to soak for a few hours and simply spray it off.  Remember a pair of heavy duty rubber gloves and goggles.  A good cartridge filter rates between a sand filter and DE pool filters in terms of filtering capacity and efficiency. 
Swimming Pool Filter Cartridge Comparison
Some comparisons between the other kinds of pool filters.
Pros

Good filtration down to about 10 microns. Sand is about 30 microns and DE is about 3 microns.

Lower back pressure than sand and DE pool filter pumps

Easy maintenance

No backwashing.  Simply take the cartridge out, soak it in a cleaning agent, and spray off with a garden hose.

Water savings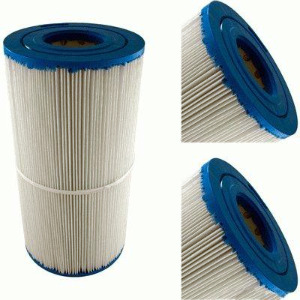 Cons
A cartridge swimming pool filter can initially cost more than sand and DE pool filter

Pool cartridge filters require replacement every 2500 - 3500 operational filter hours.  Sand can last for years.

Because there's no backwashing and less topping off of the water, your CYA will tend to rise a bit faster
How to Replace A Swimming Pool Cartridge Filter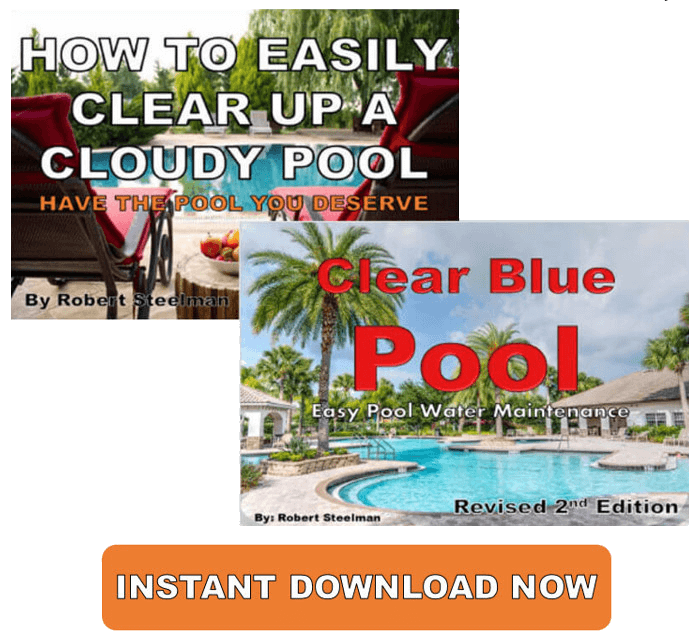 Frustrated by adding chemicals and trying to keep your pool clear all the time?  Too many chemicals?  Don't lose another $400 this swimming season!!
"Clear Blue Pool Revised 2nd Edition" & "How To Easily Clear Up A Cloudy Pool" eBook Combo Package teaches you all you need to know about clearing up and maintaining your pool.  Refined and perfected over the last 20 + years, and is the ONLY and BEST evidence-based system available.  Also included is my exclusive F.T.A. Pool Fix on clearing up green and cloudy pools.  Click the download button or HERE and get started today or go to my Resources Page right HERE to learn about the eBooks!!
How To Clean Your Swimming Pool Filter Cartridge

You need to clean your pool filter cartridges when the PSI reaches 8-10 PSI above the normal range.  

If you're a lucky one and have a hot tub, clean the filter with a good pool filter cartridge cleaner based on usage. There is no backwashing any swimming pool filter cartridges so you need to remove and clean them.
First is to turn off the pump motor, then the breaker to the pool filter pump.  Bleed the air out of the filter if you can.  Remove the swimming pool filter cartridges from the housing following the manufacturer's instructions.

Use a garden hose or a water wand.  Wash down the swimming pool filter cartridge.  Work from the top down, cleaning inside and outside.  Getting the spray at a 45 degree angle will give you the best results.  Clean in between all the pleats, every nook, very cranny, and every wrinkle.

NEVER use a high powered sprayer on your filter cartridge.  It will destroy the pleats.

Rinse again and again until all the dirt & debris is gone.

Some people choose to let the swimming pool filter cartridge sit in the sun to dry, then remove any loose particles with a stiff pool brush.  You don't need to do this but you can.

Get a large bucket with a tight-fitting lid to soak your filters.  Use a pool filter cleaner as per directions.

Remember to read the directions on the bottle because not every pool filter cleaner is the same.  Submerge the filter in this solution, then place the lid on the bucket.

Allow the filters to soak for about 24 hours 

Remove the filters and rinse in a bucket of clean water.  Hold it at one end and dunk them up and down in the water.  You should see all the contaminants coming from the swimming pool filter cartridge.

Rinse your filters again with clean water

Optional Step: You could mix muriatic pool acid and water and allow the filters to soak one more time.  In a 5 gallon bucket, mix 3 gallons of clean water to 1.5 quarts of pool acid.  Place the filter in the bucket and allow to soak until it stops bubbling, or about 5 minutes.  Take the filter out and rinse well.

Remember to add acid to water, never water to acid.  Keep the container sealed tight when not in use. 

Rinse your filters again with clean water.  Failure to remove all of the oils, contaminants, and pool filter cleaner solution may result in partial or complete failure of the filter

Replace it within the filter's housing per the manufacturer's instructions.

Turn on the breaker to the pump

I don't recommend using Diatomaceous Earth (DE) powder.  The powder will become trapped in the pleats of the cartridge filter and may shorten its life expectancy.
As always, follow the manufacturer's instructions on pool cleaning tips for your swimming pool filter cartridge and use the proper pool filter cleaner.
This will work for:
Hayward pool filter cartridge

Pentair pool filter cartridge

Jacuzzi pool filters

Pleatco filters

Sta Rite pool filters
and all others.
Have A Story, Question, Or Comment?
If you have a chemical related issue, please give the chemicals readings, type of filtration system, what you've done or are trying to do, etc..

Chlorine
pH
Alkalinity
Hardness
Cyanuric Acid
Sand, Cartridge, DE Filter

Please explain your issue thoughtfully. By giving me all the details, it makes it much easier to answer your question and helps others that may have similar issues.

Thank you
What Other Visitors Have Said
Click below to see contributions from other visitors to this page...