Swimming Pool Heaters
Information On Solar & Electric Swimming Pool Heaters. Pool Solar Heaters Info. & Savings Chart.
Swimming pool heaters will allow you to s-t-r-e-t-c-h your swimming season out just a little further.
It could also be viewed as an investment and may increase the value of your pool should you choose to ever sell your home.
Many parts of the country don't have the right combination of water and air temperatures to make swimming comfortable early or later in the season.
If you're thinking of a couple more months of swimming, you may want to consider a good pool heater.

The most popular models are electric and solar. However, a good swimming pool heat pump heater rounds it out nicely.
So, while your neighbors are sitting by the fire in their living rooms, they may hear, faintly in the distance, your children just finishing up their last back-flips and cannonballs of the day. 

Remember to keep your pool calcium hardness between 150 - 250ppm the best you can. Higher CH readings can calcify and possibly burn up the heater.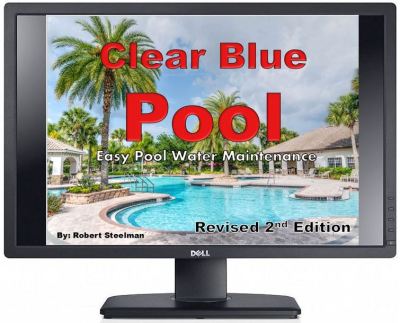 Click HERE to Discover Your Perfect Pool
Inground & Above Ground 

Swimming Pool Heaters

Both inground and above ground pool heaters should maintain the desired temperature in most weather conditions.
A highly effective and efficient inground and above ground swimming pool heater could be mounted in either in a horizontal or vertical position.
It can be installed in new construction or in an existing filtration system.
Just set the thermostat and you're ready to go.
Solar & Electric Pool Heater Installation & Questions

When you're seriously looking around at the many ones available, you should keep a few things in mind:
What's the price? Is that the best you can do? There are others out there I like.
Out the door installation cost?
Does it have an automatic control? Automatic shut-off?
Any special plumbing required?
Is it rust and corrosion resistant? Show me why.
Will it install easily into my existing pipes and/or plumbing?
Are there any vents?
How large are the panels and how much room will they take up? Is it a compact design that would should fit my pool?
No condensation or corrosion, right?
Is it UL recognized?
Does it have a good thermostat? Is the thermostat automated?
Is there maintenance? If so, what and why? Will you take care of that or do I?
Digital control panel?
What's the warranty? I need to see specifics.
What if I install it? Will that void the warranty? I want that in writing.
Do you have a contractor? Is he licensed and insured? Is he experienced in these kinds of heaters? I need to see proof.
What are the safety features? What would happen if one of the safety features fail? If it does fail, who is responsible?
So you install it or do you have someone else? Contract it out? Who do you use? Why do you use them? Are they experienced?
If it does fail, who will fix it? Will you, or do you contract that out to someone else? Who is it? Why do you use them?
How about free delivery? I want that in writing.
Ask these questions to anyone trying to sell you a swimming pool heater. Be sure to get specifics and everything in writing. Whatever anyone tells you they can also put it in writing. If it's not in writing it didn't happen.
Heat Pump Reviews, Ratings, Efficiency, & Operation

Estimates of annual swimming heat pump pool heating costs by location, by water temperature, and with or without using a pool cover.

Costs by Location of Heating Outdoor Pools with a Heat Pump*
Location
Season
Temperature
78°
80°
82°
Miami
1/1–12/31
$1100
$1460
$1845
w/ cover
1/1–12/31
$215
$300
$410
Phoenix
3/1–10/31
$680
$875
$1090
w/ cover
3/1–10/31
$45
$85
$125
Dallas
4/1–10/31
$760
$970
$1240
w/ cover
4/1–10/31
$90
$140
$205
Atlanta
4/1–10/31
$840
$1110
$1425
w/ cover
4/1–10/31
$155
$205
$290
Los Angeles
5/1–10/31
$950
$1210
$1485
w/ cover
5/1–10/31
$85
$155
$240
Kansas City
5/1–10/31
$715
$935
$1185
w/ cover
5/1–10/31
$145
$205
$270
New York
5/1–9/30
$740
$975
$1220
w/ cover
5/1–9/30
$105
$150
$200
Chicago
5/1–9/30
$810
$1035
$1270
w/ cover
5/1–9/30
$105
$150
$195
Denver
5/1–8/31
$875
$1055
$1245
w/ cover
5/1–8/31
$70
$100
$150
Boston
5/1–8/31
$875
$1075
$1280
w/ cover
5/1–8/31
$120
$165
$235
Minneapolis
6/1–9/30
$660
$850
$1040
w/ cover
6/1–9/30
$100
$125
$190
San Fran
6/1–8/31
$800
$950
$1110
w/ cover
6/1–8/31
$95
$165
$240
Seattle
6/1–8/31
$770
$900
$1035
w/ cover
6/1–8/31
$150
$215
$280
*Swimming pool heaters figures based on a 1,000 square foot, outdoor pool heated with an air to water heat pump with an average COP of 5.0 at $.085/kwh for swimming pool heaters.
Estimates of the annual savings of using swimming pool heaters compared to using an electric resistance or gas pool heaters.
Annual Savings Comparisons of
Gas and Electric Pool Heaters*
Efficiency
Annual Cost
Cost w/ 5.0 COP
Heat Pump Savings
Gas Pool Heater
55%
$584
$200
$384
60%
535
$200
$335
65%
494
$200
$294
70%
$459
$200
$259
75%
$428
$200
$228
80%
$402
$200
$202
85%
$378
$200
$178
90%
$357
$200
$157
95%
$338
$200
$138
Electric Resistance
100%
$1000
$200
$800
*Based on an electric resistance heated pool, which costs $1,000 per year at an electric cost of $.085/kwh, and using a natural gas cost 0f $.80/therm. A seasonal average COP of 5.0 was used to determine heat pump savings for swimming pool heaters.
Charts from the Department of Energy
Go To:
Swimming Pool Care

>
Electric Heater

>
Pool Heater
Link To Top