How To Choose The Right Swimming Pool Paint
Fading?  Cracking?  Blistering paint?  I know that painting a swimming pool is a big project that you want to do right the first time.  I've had my fair share of painting pools.  We also want to choose the right color and type of paint which is the first step to success.  Pool paint comes in a variety of colors and compared to other kinds of coating, is pretty inexpensive.
However, the most important part of painting a pool is not choosing the right color.  It's the prep work.  Far too often, jobs are rushed.  A surface that's not properly prepared will lead to many problems down the road, and many times within a few weeks.  Here we'll discover the three common pool paint types, what they are, and their advantages and limitations. 
How Is Swimming Pool Paint Different?
Pool paint differs from normal bedroom or living room paint, to say the least.  It must stand up to years of chemicals, sun, heat, UV rays, usage, not to mention be totally waterproof.  Toss in playful kids, pool toys, and maybe even a dog or two, and well, you get the picture.  Swimming pool paint must be tough and durable to withstand that type of punishment. 
And it costs more than regular paint, so let's make double sure our pool really needs to be painted before we go spending all that money.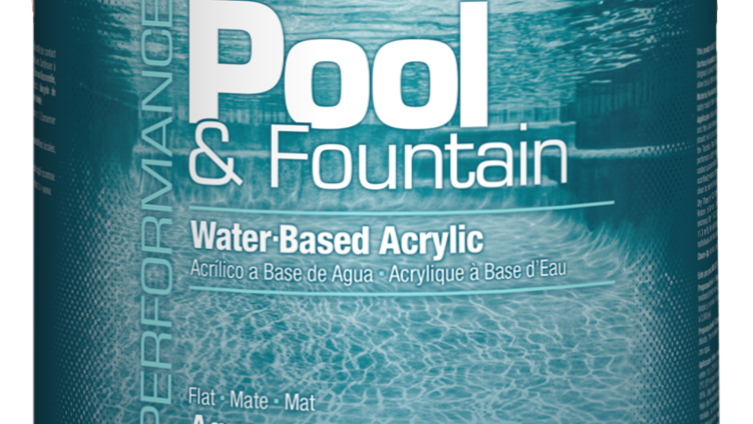 When Should I Paint My Pool?
That is an excellent question, and there are some markers to think about when you're considering painting your pool.  After being in the pool business for over 20 years, I've learned that pools are situational.  Your pool is not your neighbor's pool and might require different applications.  But I have noticed some common themes about swimming pool paint.  
My Paint Is Faded or Stained
Nothing lasts forever and all paint will eventually fade or have some form organic, metal, or chemical stain.  And due to usage, sun, heat, and time, the pool paint will fade.  Before you undertake painting your pool, you might consider doing a chlorine wash or an acid wash.  These types of washes can clear up stains that might not otherwise be cleared up when the pool is still full.  And it's easier and much cheaper than going the pool paint route. 
If you still want to paint over truly badly stained and faded areas, you will want to properly prep the surface.  I've seen scores of painted pools over the last 20+ years that were blistering only after 1 - 2 weeks after the pool was painted.  Prep work is the key to painting a pool.     
Bubbled or Blistering Pool Paint
This is truly the biggest source of frustration and concern for most pool owners after they have spent days prepping and painting their pools, just for the paint to start to crack, bubble, or blister.  Bubbles and blistering pool paint is normally caused by improper preparation, or not allowing the normal 7 - 10 days to cure.  And there's a massive difference between pool paint drying and curing.
Drying happens when the solvent in the paint has evaporated from the coating.  Curing is when the coating has reached optimum hardness.  Oil paints can dry within 4-8 hours and cure within 10 days.  Latex paints dry within 2-4 hours and cure within 30 days.
It's best to paint your pool during a cooler month.  Painting in the hot Summer can cause the pool surface to get too hot and the paint will have a harder time adhering to the surface.   
My Pool Paint Is Chalky
This is the second most asked question about pool paint I get.  Pool paint will fade and sometimes "chalk" over time.  This chalking means your pool surface will have a white residue that can rub off on your feet and hands.  Pool chalking normally happens when your pool water chemistry is off, so checking and maintaining your pool chemicals is essential to keep your pool paint from chalking up.
Once chalking happens, the only solution is to repaint the pool.  To avoid chalking in the future, make sure your water chemistry is properly balanced.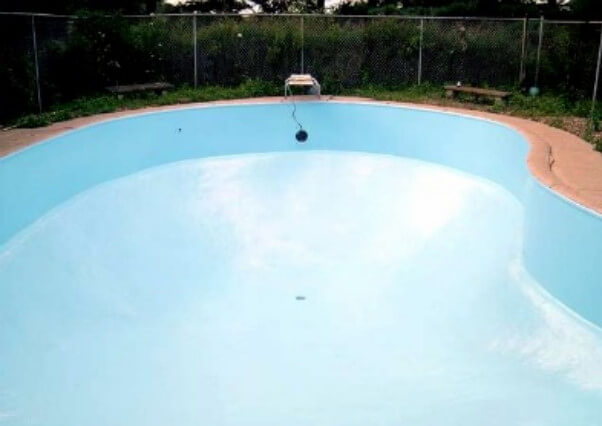 Types Of Pool Paint 
There are three types of pool paint that we can choose, and they are: 
Epoxy Swimming Pool Paint
Pool epoxy paints are for new construction and pools painted previously with epoxy.  It's long lasting, durable, will stand up to UV rays, chemical treatments, and will last about 7 - 10 years.  Epoxy can also help smooth out rough surfaces.

Chlorinated Rubber Pool Paint Base

Rubber paint is not as expensive or durable, but is dependable, easy to use, and easy to apply.  It will last for about 3 - 5 years.  One side note about rubber based paints.  Some of them may contain polychlorinated biphenyls, or PCBs, which are known to cause neurological, reproductive issues, as well as cancer and other conditions.  The United States no longer produces PCBs so you'll need to make double sure the point of origin of the paint you're using.  

Acrylic Pool Paint

This paint can be used for swimming pool restoration and refinishing.  Acrylic pool paint is good on any type of surface, easy to apply, and cleans up with water.  This paint is ideal for commercial applications and fiberglass pools that need to be repainted on a regular basis.  It last about 2 - 3 years.
It's important to follow manufacturer's instructions and recommended safety guidelines to make sure you prepare the pool properly.  This is the most important step in how to paint a pool.
What To Do Before You Paint Your Pool
Without preparation, the paint will not bond with the wall or existing surface.  If you're unsure what type of paint had previously been used, simply remove a chip and have it tested by your local paint dealer.  They can easily determine the type of paint that was used.  
Modern pool paints are very strong and will easily chemically bond with the previous layer of paint.  If the surface is not properly prepared the new coat of paint won't last very long.  So remember it's prep work, prep work, and lastly prep work.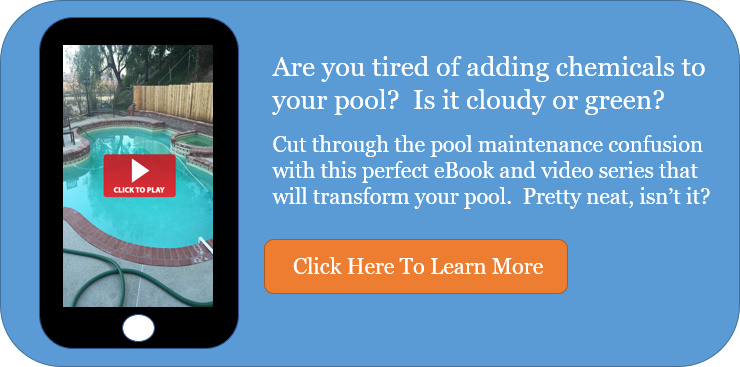 Should I Call In A Professional Pool Painter?
If painting your pool sounds like it would be too much to handle, or you just don't have the time to paint your own pool, you can always call in a professional pool painter.  Just know that hiring a pro will cost more than painting the pool yourself.  You'll have to cover both materials and labor.

Don't Worry.  Paint Happy.
Painting a pool is a big job, but it's not an impossible one.  As long as you properly choose the right paint, gather the right materials and tools, and correctly prep your surface, you'll be well on your way to a bright and beautiful new pool. 
What Other Visitors Have Said
Click below to see contributions from other visitors to this page...

Pool Color Changed

Last year I contacted you about our pool having a very green tint after it was acid washed by our pool maintenance guy. At this point it is still an aqua …