Swimming Pool Paint
Swimming pool paint. What to look for and look out for when painting your pool and buying the right products.
It comes in a variety of colors and compared to other kinds of coating, is pretty inexpensive.
The most important part of painting a pool is not choosing the right color. It's the prep work.

Far too often jobs are rushed. The surface is not properly prepared. 
This will lead to many problems down the road, many times within a few weeks.

There are three main types:
Epoxy Swimming Pool Paint
Pool epoxy paints are for new construction and pools painted previously with epoxy. It's long lasting and durable. It will stand up to UV rays, chemical treatments and will last about 7 - 10 years.
Chlorinated Rubber Pool Paint Base
Rubber paint is not as expensive or durable, but is dependable, easy to use, and easy to apply. It will last for about 3 - 5 years.
Acrylic Pool Paint
This paint can be used for swimming pool restoration and swimming pool refinishing. It's good on any type of surface, easy to apply, and cleans up with water.
This type is ideal for commercial applications and fiberglass pool paint that need to be repainted on a regular basis. It last about 2 - 3 years.
Whether you use a gunite pool paint, concrete pool paint, or fiberglass, it's important to follow manufacturer's instructions and recommended safety guidelines to make sure you prepare the pool properly.
This is the most important step in how to paint a pool.
Without preparation the paint will not bond with the wall or existing surface.

Swimming Pool Paint Common Problems

Fading

You can lighten up the surface with a very light acid wash. The acid will remove any dirt that can dull a paint job. After cleaning the pool, rinse well and refill the pool.
A 5:1 ratio of acid and water is a good mixture.
Chalking
This can result in dull and hazy water. It can also lead to a white powdery residue that easily can rub off. To avoid this, water chemistry and maintenance are the key.
Keep your pool total alkalinity between 80 - 120ppm. If the pool alkalinity is too low the pool paint can rub off.
Constant shock treatments will also chaulk up the swimming pool paint. Keep your pool chemistry correct. Use liquid chlorine or bleach.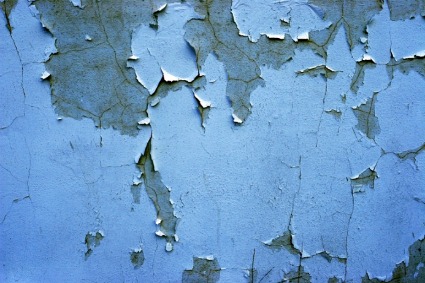 Bubbles And/Or Blisters
This is caused by improper preparation. For diy pool resurfacing, the paint must be applied to a clean dry surface.
If applied too thick, if the surface is too hot, and if the pool is not cleaned properly, the pool paint might blister.
The only remedy is to repaint the pool or the blistered spots.
Go To:
Swimming Pool Care

>
Paint
Top of Page
---
Have A Story, Question, Or Comment?
If you have a chemical related issue, please give the chemicals readings, type of filtration system, what you've done or are trying to do, etc..

Chlorine
pH
Alkalinity
Hardness
Cyanuric Acid
Sand, Cartridge, DE Filter

Please explain your issue thoughtfully. By giving me all the details, it makes it much easier to answer your question and helps others that may have similar issues.

Thank you
What Other Visitors Have Said
Click below to see contributions from other visitors to this page...