How To Find Cheap Used Swimming Pools For Sale 

Want to know a few little secrets when you're in the market for a good used swimming pool?  Here ya' go.  Used swimming pools can save you a pretty penny over buying from your local pool store if money is tight and space is limited.
Many people want to get rid or sell them for a variety of reasons.  Maybe they're moving and can't take it with them.  Or their kids are grown and don't use it as often.  Sometimes people just get tired of their above ground pool it and want it gone.  Who knows?  Does it really matter?  You're in the market for a used pool on-the-cheap and they want to sell it.  Win/Win for everyone!!  
What Is An Above Ground Pool?
An above ground pool is a pool that is free standing and professionally installed, uses a fitted filtration system that includes a pump and filter, and is not temporary in nature like an inflatable swimming pool.
Since the beginning, above ground pools have been an alternative choice to their in-ground swimming pool cousins.  An above ground pool is much less expensive, easy to install, cheap to maintain, and easy to disassemble and move.  
In the last 20 years, technology has grown by leaps and bounds.  Above ground pools have taken on a life of their own and have changed in appearance, size, and features.  Some pools are now equipped with LED lighting and excellent filtration systems.  If you take a look at their humble beginning back in the  1960s and compare them today, you'd swear above ground pools from 60 years ago were from another time and dimension.
How Long Do Above Ground Pools Last?
When you invest in something, you want it to last.  When choosing a used above ground pool, you want to be as informed as possible about the pool, its life expectancy, cost of maintenance, and cost of replacement parts.  By and large, with proper maintenance and good pool chemistry, you can expect your above ground pool to last from 7 to 15 years. 
What's The Best Type Of Above Ground Pool?
Above ground pools are a great choice if it's your first pool, if you have limited space, or you have a young family.  But what kind of above ground pool should you buy?  Are you looking at a new, or used above ground pool?  The most important decision is choosing which frame you want and what works for you.  The frame is the piece that ultimately holds up the walls and the water.  Your choices of frames are made from a variety of materials including steel, resin, and hybrid.  
Steel Frame
Steel frames have been around since the inception of above ground pools and continue to be the most popular choice.  They're made with galvanized steel, aluminum, zinc, and an extra thick coat of polyester paint for weather protection.  Steel frames are still in use today due to their sturdy, yet light weight construction.  
Resin Frames
Resin is a type of durable hard plastic and is a great choice if you plan on keeping your above ground pool for a long time.  Resin is also good if you're in the market for a used above ground pool.  Resin pools are gaining in popularity because:
They're very resistant to rust and corrosion. 
They stay cooler compared to steel or aluminum that can get very hot in the sun. 
They're easier to clean and take care of. 
They're warp and dent resistant.
Resin above ground pools are a little more expensive up-front, but the long term benefits might outweigh the extra cost.
Hybrid Frames
Hybrid is the "in" thing, and above ground pool are no exception.  Hybrid above ground pools are a combination of resin and steel.  The steel provides the support for the pool and the resin protects the most vulnerable areas that get the most exposure to the water and sun.  With a resin pool, you get a strong steel pool with the added benefit of resin that resists rust and corrosion.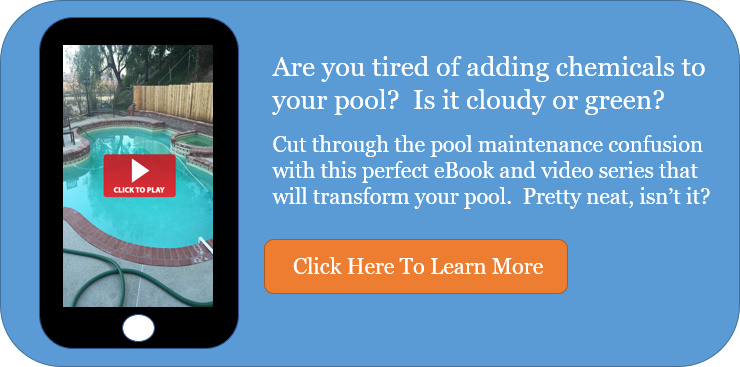 What To Look For When Buying Used Swimming Pools
Just like when you buy a "pre-owned" car, there are many things to consider when buying a pool.  Due diligence is needed. 

1. Rust
That's right, good ole' rust.  It's probably the most important part.  Look at the bottom rails and foot plates, as they are the first to rust and sometimes the hardest parts to replace.  The bottom 6" or so of the sidewalls usually rust out first.  Then check out the skimmers and returns.  If there is minor rusting there, don't sweat it, that's pretty normal and easy to repair.

2. Find a Swimming Pool Already Up and Running
You'll want to see the pool in all its glory, running, and in good condition.  Only if the price is really good or if you know the seller personally, should you buy a pool stacked and folded up in a pile.  Used swimming pools should be in operating condition so you're able to see any flaws.

2. Pool Filter System
If the pool is clean and clear, then the pool filter system is probably doing its job.  A sand filter with a 3/4 HP pump motor should be the minimum for a used above ground swimming pool.  Cartridge filters are my favorite, but you need to be sure it is a high capacity filter with a large pump.  DE pool filters are great, but remember these little guys are a bit different so you need to know what you're getting into and how often to clean them.

4. Vinyl Pool Liner
When the pool is up and running, you'll be thinking to yourself, "Well, how difficult can that be?"  Just let me tell you when you do buy a used pool, you can probably bet you're going to need a new above ground pool liner.  When the pool is drained, the liner will probably shrink a bit.  Shrinkage is normal but usually renders the liner unusable.  They also become a bit brittle with age.  Even when the liner can be used again, it will never look the same as it did in its prime, so make sure you budget for a new vinyl liner. 

5. Pool Steps and Ladders
Make sure they are in good working order.  They should be algae, corrosion free, and sturdy.  Also, watch for those sharp edges, loose steps, rust spots, and handrails.

6. Size 
Choosing a used swimming pool can depend largely on the size and dimensions of your yard.  Measure it out carefully and take into consideration any add-ons later on like decking and walk ways.  You will want to check with the local ordinances in your community or your homeowner's associations (HOAs).  They may have restrictions regarding backyard pools.  Make sure you do your due diligence and find out if there are restrictions, and plan accordingly. 
7. Depth
Above ground pools have three basic wall heights: 48", 52" and 54".  The higher the wall, the more water your pool will hold.  Just remember that above ground pools are not for diving.  Diving into an above ground pool is dangerous. 
8. Shape 
You will have 2 choices for above ground pools and they are round or oval.  The shape of the pool you choose will be dictated by your personal taste and the dimensions of your yard.  One advantage that oval pools have over round pools is an oval pool looks more like an in-ground pool, especially if you're planning on adding a deck.    
9. Who is Going to Use the Pool?
This plays a big factor when looking at used above ground pools.  Think about size and depth of the pool and consider who will be using it the most.  How many people will be using it?  What's the age range of the swimmers?  Will it be mostly adults or children?  How many children will be using the pool, and how tall are they?  Younger children may need lower walls, while adults would be more comfortable with higher walls. 
Cheap Pools For Sale On A Budget  

Don't let the word "cheap" scare you.  We're talking about price, not quality.  If you have a tight budget and limited space, an above ground swimming pool might just be what you need.  And used swimming pools are an even better option.  Above ground swimming pools make up over 50% of all pool sales in the country each year.  Discount swimming pools are readily available, you just need to know when and where to look.
You can look to your local classified ads, on the grocery store bulletin board, on Craigslist, or estate sales.  You may even find someone who is giving their used swimming pool away for free.  Keep your eyes open for opportunity, and a cheap above ground swimming pool will come to you in a New York Minute.
Used swimming pools are a great deal, but remember swimming safety is the most important aspect of any pool.  For safety reasons you need to buy a good pool safety fence and properly install it. 
Half the fun is looking for a used swimming pool, but when you find a good one, jump on it and enjoy swimming with your family.
How To Save More Money On An Above Ground Pool 

We're almost finished, and I wanted to give you a couple more money-saving tips when your looking at used above ground pools. 
Closeout Deals

Talk about saving some cash!!  Check online for companies that are having closeout deals.  This is when, for some reason or another, that particular pool didn't sell as well as the company hoped for.  Maybe it's simply not popular.  Or perhaps the color isn't right.  Maybe it was a floor model?  Who cares, right?  An almost brand new pool with no damage means HUGE savings for you.
Easy-Set Pools

Just as the name implies.  Easy to assemble, maintain, and the whole family will enjoy it.  They are normally equipped with a filter pump, ladder, and ground cloth.  And the best part of all is it only takes about 30 - 45 minutes to set it up. 

How To Become A Used Swimming Pool Pro

Having an above ground pool is a great investment when money and space are limited.  You still get that feeling and pride of ownership and the ability to cool off during those hot Summer days.  Just take your time when considering purchasing a used above ground pool.  But when you find the right one for you and it's within your budget, you'll know it.