Got Pool Questions?
Easy Swimming Pool Care. Answers About Pool Chemistry, Green Pool Water, & General Pool Care & Maintenance.
Answers To Your Pool Problems
If you have a specific chemical issue or have a water problem such as cloudiness or green algae, there are three eBooks and a complete 12 part video series for your consideration.  My F.T.A. Process for clearing up pools is the best in the world.  GO HERE to learn more.  First is my eBook, How To Clear Up A Green Pool.  This goes into tremendous detail and is a step-by-step guide on how to clear up your cloudy or green pool within a matter of days.  It contains my exclusive F.T.A. Process on clearing up pools.
Next is Clear Blue Pool.  This covers all aspects of pool water and filter maintenance.  And of course How To Clear Up A Cloudy Pool.  This covers a multitude of the most common pool issues.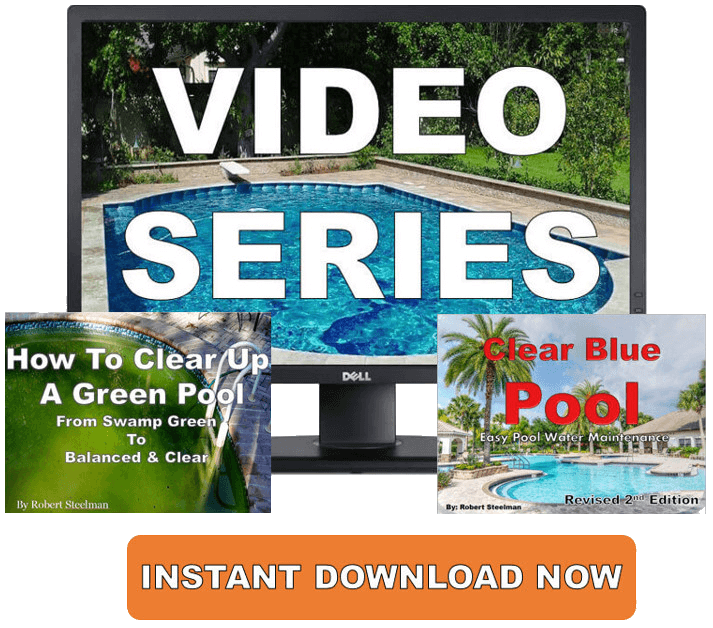 Are you sick and tired of fighting your green pool?  Too many chemicals?  Too many trips to the pool store?
In my exclusive 12 Part F.T.A. Pool Fix Video Series I show you how to not only clear up your pool but how to keep it perfect all swimming season.  Refined and perfected over the last 20 years and is the only evidence-based method available.  Cut through the confusion with this easy to understand guide to pool water maintenance. Available for computer and mobile devices. You also receive 2 eBooks, "Clear Blue Pool Revised 2nd Edition" & "How To Clear Up A Green Pool". Click the button and get started today!!  Or get more information right HERE!!  
Thoughtful & Detailed Questions Help Me & Other Visitors 
Please take a couple of minutes to write out your detailed question so that I can give you the best answer. 
The problem or issue you're having

When you noticed it

What you have done already 

Pool size in gallons




Kind of filtration

If you've checked for anything and the results
I'm more than willing to help, but I need information to give you the answer to your problem.
DISCLAIMER
Due to the high volume of questions I receive, I prefer to keep email questions to those that can be quickly answered with 1 email.  For more in-depth questions I will refer you to my eBooks, phone consultations, and 12 part video series. Thank you.  

---
Go To:
Swimming Pool Care

>
Pool Care Questions
Top of Page