Chlorine Generator
Chlorine generator (saltwater chlorinator) and the best swimming pool chemistry for your salt water pool systems.
These units can either be in-line or you can have a stand alone machine which are usually about the size of a dishwasher.
Saltwater generators have been around for a many years now but have just recently enjoyed mass success due to people's chlorine allergies, chlorine rash, and hot tub rash.
There's also the the convenience of not needing to add swimming pool chlorine on a regular basis.
Saltwater Swimming Pools Produce Pool Chlorine

Add salt to your pool. For an average 20,000 gallon pool you will need 7-10 50lb. bags to bring your saline level to the correct reading of 3000-4000.

The saline (salted water) is then carried through the plumbing to the swimming pool chlorinator

Salt cells produce chlorine a.k.a. Hypochlorous acid. This chlorinated water is then returned to the pool for sanitation
You'll also need to keep up on your chlorine demand and other chemicals as well.
Chlorine Generator Maintenance Information

Maintenance for these units is usually low. However, if neglected they could cost a pretty good sum, sometimes on the upwards of $1000-$4000 to replace. Most manufacturers recommend a yearly cleaning, usually at pool start up.

Simply remove the unit from the plumbing and clean with a soft brush to remove any debris or deposits.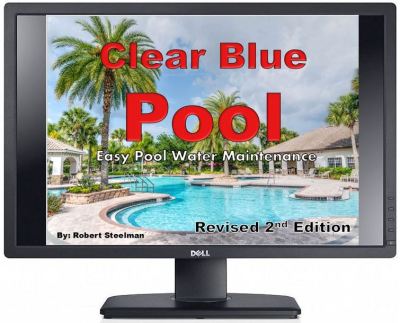 Do your homework and choose the right salt water system for your specific needs and desires. Even with the best salt water swimming pools, you need to keep up on the proper swimming pool water chemistry.

For calcium deposits, it is a recommended mixture of muriatic pool acid and water. I normally use 4 gallons of water to 1 gallon of pool acid, a 4:1 ratio.
We have these cool plugs that screw into the bottom of our salt water chlorine cell. I fill the cell with the pool acid mixture and wait until the bubbling stops, about 5 minutes.
I then pour the muriatic acid mixture out, rinse the unit with clean water, and re-install. Works every time.
Follow the manufacturer's instructions for cleaning your specific unit. I don't know if this is true for all systems and cells but it's true for the YMCA's swimming pool.
Whenever I need to do a pool shock, I ALWAYS turn off the power to the cell. By having a high volume of swimming pool chlorine flowing through the pipes we run the risk of burning it up if it's running.
So maybe you could do the same. Better safe than sorry. And besides, if you do need to do a pool shock, why have the salt the water anyway? You're just wasting salt.
Salt Chlorine Generator
There are many kinds of salt water chlorinators on the market. This will give you a good run-down of what's waiting for you at your local pool store.
| | |
| --- | --- |
| Types of Chlorine Generator | Price |
| Zodiac Up To15K Gallons | $750 |
| Zodiac Up To 25K Gallons | $850 |
| Zodiac Up To 40K Gallons | $1000 |
| Duo Clear Salt System w/ Cartirdge Up To 25K Gallons | $1100 |
| Pool Frog Mineral Hybrid 25K Gallon | $1000 |
| Pool Frog Mineral Hybrid 40K Gallon | $1300 |
| Aqua Rite Chlorine Generator | $1000 - $1200 |
| Pentair IntelliChlor 40K Gallons | $790 |
I encourage you to do your homework and choose the right system for your specific needs and desires.
Even with the best saltwater swimming pools, you need to keep up the good swimming pool care.
Go To:
Swimming Pool Care

>
Salt Water Pools

>
Chlorine Generator
Top Of Page
---
What Other Visitors Have Said
Click below to see contributions from other visitors to this page...