Swimming Pool Sand Filters
Understanding Swimming Pool Sand Filters, Swimming Pool Filter Sand, & Your Pool Filter System.
Water is pushed through the sand in the housing and is removed by a set of lateral tubes on the bottom.
The dirty water goes into the top of the filter, is pressed through the sand and exists out the bottom as clean water.
Ever had an "espresso" from a coffee place? Pool sand water filters work on the same concept.
Let's dig a bit deeper into your sand filter.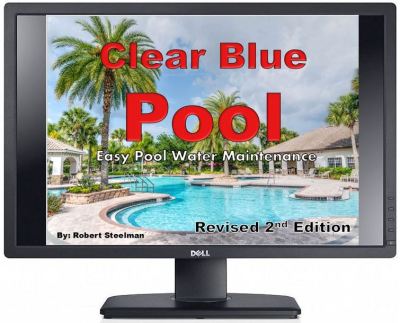 INSTANT DOWNLOAD
Swimming Pool Sand Filters - 

Pool Pump Motors and Filters

As your pool filter becomes clogged with waste and debris, the pressure increases and the water flow lessons. Your filter should have a PSI/pressure gauge that will tell you the pressure.
This requires the pool owner or operator to backwash every few weeks or when needed, depending on the water flow. 

Please remember that excessive backwashing may cause a loss of sand which in turn will reduce the effectiveness of the sand filtration process. The measurement from the top of the sand to the top of the filter is called the "freeboard". Check your owner's manual for the correct measurement.
The freeboard is, in my opinion, one of the most important, yet, THE most overlooked aspect of sand filter maintenance.
Please be aware of proper pool sand filter maintenance.
Should you find your sand filter low, simply get the proper grade of sand and top off the filter following the manufacturer's instructions. 
---
Sand Filter Maintenance - Pool Sand Filter Maintenance & Pool Filter Problems. 
Sand Filter Problems - Pool Sand Filter Problems & Sand Filter Maintenance & Troubleshoot Pool Filter Sand Issues.
Above Ground Filters - Choosing above ground swimming pool filters can be an issue, but which one to pick. 
---
In terms of cost and efficiency for swimming pool filter systems, a sand filter is probably the least expensive but least effective at removing those very small particles.
You also want to gauge your pump motor to fit your filter. Too many people believe that "bigger is better" and that's true in some cases but not for sizing filter motors.
There are huge calculations for this process, but the short of it is this: You want a water turnover rate of about 8 - 10 hours.
Inground & Above Ground Pool Sand Filter
Pros
Least expensive of the three filters

Sand is easily added

Little maintenance and backwash every 2-3 weeks or when warranted

Decent filtration, but less than DE and cartridge filters
Cons
Must backwash on a regular basis and uses anywhere from 50-150 gallons or more of water per backwash for above ground pools and 250-500 gallons for inground pools, as opposed to a cartridge filter

Every 5 - 7 years, or depending on usage, the sand in the sand filter needs to be replaced which could be a hassle

If bottom lateral(s) is broken all the pool filter media must be taken out, the laterals replaced, and pool filter sand added back into the filter
Go To:
Swimming Pool Care

>
Sand Pool Filter

>
Pool Sand Filter
---
What Other Visitors Have Said
Click below to see contributions from other visitors to this page...