Swimming Pool Sand Filters: Understand The Best Pool Filter For You
Understanding Swimming Pool Sand Filters, Swimming Pool Filter Sand, & Your Pool Filter System.
Ever had an "espresso" from a coffee place?  Pool sand water filters work on the same concept.  So set's dig a bit deeper into your sand filter.  Fair enough?

The pool filter system is a very important part of your swimming pool.  Choosing the right one takes time and effort.  Sand filters have consistently proven their quality, reliability, and are very durable even in the harshest of climates.  The pool sand filter is a high-quality that captures both small and large particles and debris which include algae spores, bacteria, leaves, hair, insects, and whatever else falls into your pool. 
Water is pushed through the sand in the housing and is removed by a set of lateral tubes on the bottom.  The dirty water goes into the top of the filter, is pressed through the sand and exists out the bottom as clean water.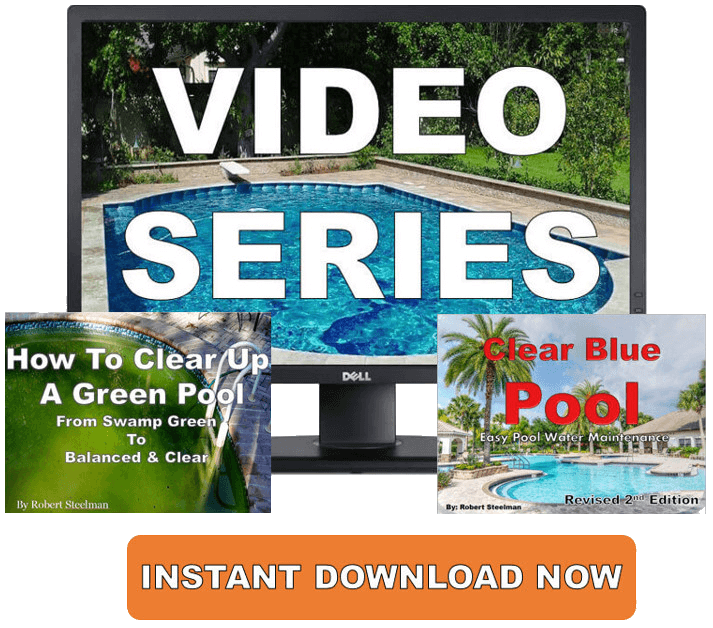 Are you sick and tired of fighting your green pool?  Too many chemicals?  Too many trips to the pool store?  Don't lose another $400 this year on pool care!! 
In my exclusive 12 Part F.T.A. Pool Fix Video Series I show you how to not only clear up your pool but how to keep it perfect all swimming season!!  Refined and perfected over the last 20+ years and is the ONLY and BEST evidence-based system available.  Cut through the confusion with this easy to understand guide to pool water maintenance. Available for computer and mobile devices. You also receive 2 eBooks, "Clear Blue Pool Revised 2nd Edition" & "How To Clear Up A Green Pool". Click the button and get started today!!  Or get more information right HERE!!  
Swimming Pool Sand Filters - 

Pool Pump Motors and Filters
As swimming pool sand filters becomes clogged with waste and debris, the pressure increases and the water flow decreases.  Your filter should have a PSI/pressure gauge that will tell you the pressure.  This requires the pool owner or operator to backwash every few weeks or when needed, depending on the water flow. 
Please remember that excessive back-washing may cause a loss of sand which in turn will reduce the effectiveness of the sand filtration process.  The measurement from the top of the sand to the top of the filter is called the "freeboard".  Check your owner's manual for the correct measurement.
The freeboard, in my opinion, is one of the most important yet THE most overlooked aspect of sand filter maintenance.  Please be aware of proper pool sand filter maintenance.  Should you find your sand filter low, simply get the proper grade of sand and top off the filter following the manufacturer's instructions. 
In terms of cost and efficiency for swimming pool filter systems, a sand filter is probably the least expensive but least effective at removing those very small particles.  You also want to gauge your pump motor to fit your filter.  Too many people believe that "bigger is better" and that's true in winning the lottery, but not for sizing filter motors.  1/2 to 1 HP pump motors are generally more than adequate for a most home pools.  
Multi-Port Valve Settings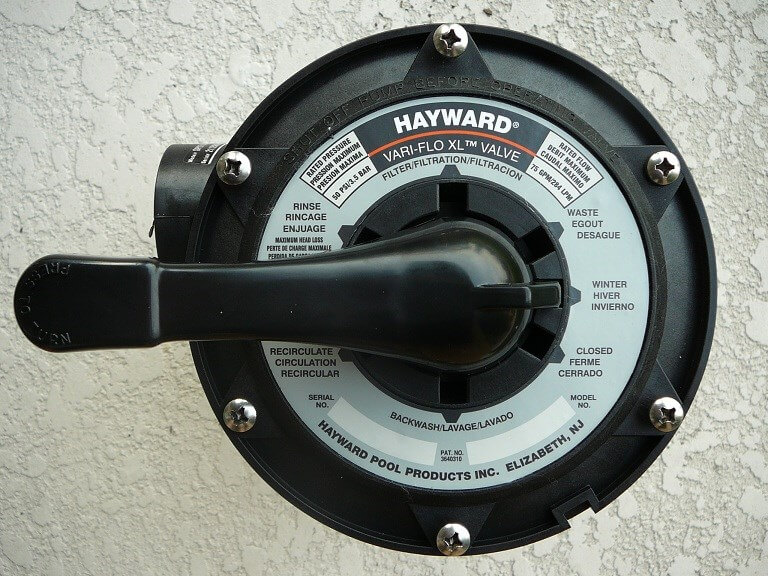 Swimming pool sand filters will always have what is called a Multi-Port Valve, or MPV.  Each MPV will have at least 6 port settings with different applications and functions. 
Filter: This setting filters the water and is what your sand filter will be set on 99% of the time. 
Waste: This setting allows the water to run directly out of the filter and bypasses the sand.  Waste can be used when your pool is very dirty and needs to be vacuumed.  Word of caution: Waste setting will drain your pool so if you're going to be vacuuming your pool on this setting, make sure you keep the pool topped off with water.  Don't allow the water level to dip below the skimmer. 
Backwash: This is the cleaning cycle for your filter. It removes the trapped dirt and debris from the sand and improves filtration.  You want to back-wash when your filter psi (pounds per square inch) gets 8 - 10 psi over the "just-back-washed" psi.
Rinse: This setting is used after back-washing.  Sometimes dirt and loose sand can remain in the lines after back-washing.  The rinse setting clears the lines of the debris. Think of it like rinsing your mouth out after brushing your teeth. 
Circulation or Recirculate: This settings means the water bypasses the filter and is returned back to the pool without being filtered.  Excellent for when you add chemicals and need to get them quickly mixed and circulated through the pool. 
Closed: All filter ports are closed.  This setting is generally reserved when servicing the pump motor or filter.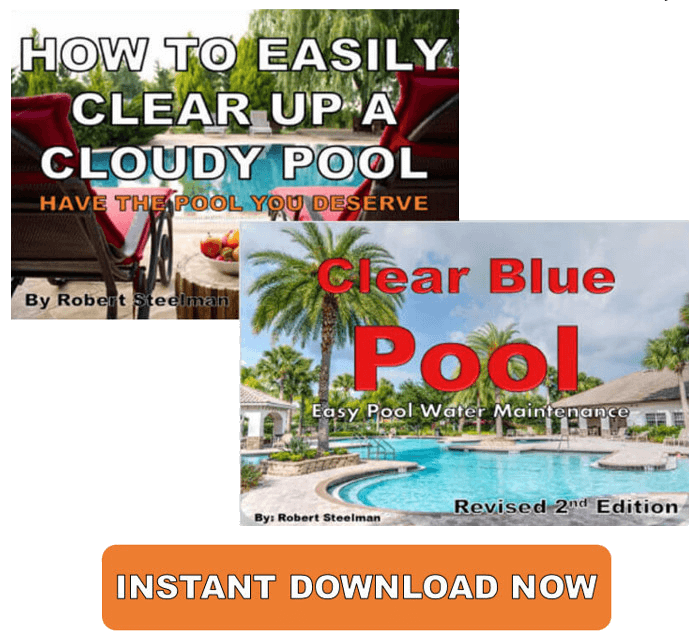 Frustrated by adding chemicals and trying to keep your pool clear all the time?  Too many chemicals?  Don't lose another $400 this swimming season!!
"Clear Blue Pool Revised 2nd Edition" & "How To Easily Clear Up A Cloudy Pool" eBook Combo Package teaches you all you need to know about clearing up and maintaining your pool.  Refined and perfected over the last 20 + years, and is the ONLY and BEST evidence-based system available.  Also included is my exclusive F.T.A. Pool Fix on clearing up green and cloudy pools.  Click the download button or HERE and get started today or go to my Resources Page right HERE to learn about the eBooks!!
Inground & Above Ground Swimming Pool Sand Filters
Pros
Least expensive of the three filters

Sand is easily added

Little maintenance and backwash every 2-3 weeks or when needed

Decent filtration, but less than DE and cartridge filters
Cons
Must back-wash on a regular basis and uses anywhere from 50-150 gallons or more of water per back-wash for above ground pools and 250-500 gallons for inground pools, compared to a cartridge filter.

Every 8 - 10 years, or depending on usage, the sand in the sand filter needs to be replaced which could be a hassle.  But I have seen sand that can last 20 years or more with proper maintenance.

If bottom lateral(s) is broken, all the pool filter media must be taken out, the laterals replaced, and pool filter sand added back into the filter.
---
What Other Visitors Have Said
Click below to see contributions from other visitors to this page...

Low Water Pressure From The Return

I changed the sand in my filter for the first time, after having the pool and filter installed 8 years ago. The local pool store demonstrated how to …
Backwash Hose Filling With Water Not rated yet
My husband backwashed sat.and left the hose rolled out into the yard. We noticed on the way to church Sunday but forgot to put it up when we got home. …
Repair Hayward S200 Sand Tank Not rated yet
I have replaced the o'ring in my Hayward S200 sand filter and now it leaks around the middle of the tank where it opens. I have the one that is connected …