Above Ground Swimming Pool Covers: Choose The Right One For You
Above ground swimming pool covers and great pool tarps. Pool cover ideas for pool equipment, safety and pool winterization.
You've added the right chemicals?  Check.  You've un-hooked and stored your filter?  Right.  You've done everything you should to properly close your pool.  The last thing is the pool winter cover.  Are you sure you're using the right type of cover for its intended purpose?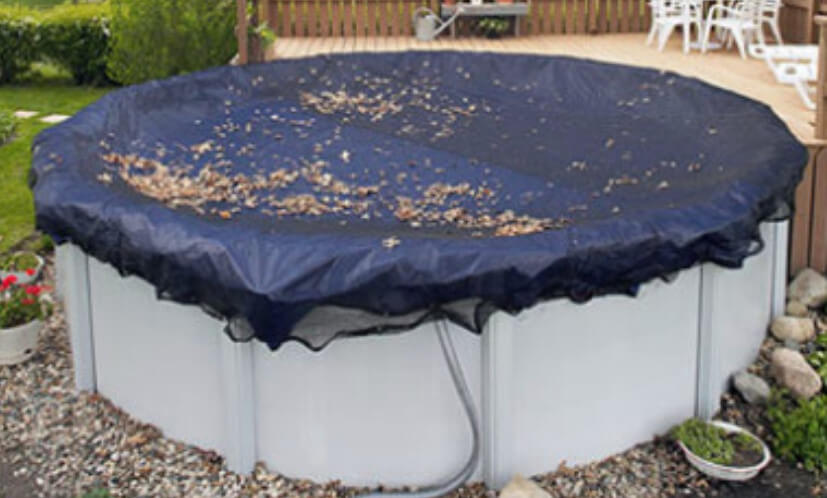 Let's be honest.  The reason we use a pool winter cover during the off season is to protect your pool and to prevent animals and children from falling into the water.  Most times we were relegated to either mesh or a solid cover, but not any longer.  The quality of winter safety covers have come a long way in the last few years and they'll continue to get even better with newer and better technology.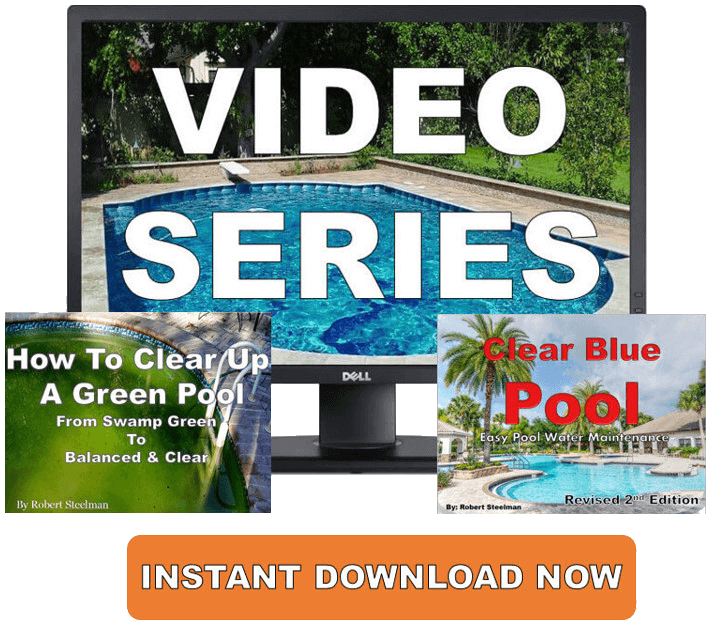 Do you want the pool you deserve but aren't sure what to do?  Are you tired of having a green pool?

In my exclusive 12 Part F.T.A. Pool Fix Video Series I show you how to not only clear up your pool but how to keep it perfect all swimming season.  Refined and perfected over the last 20 years, and is the only evidence-based method available.  Cut through the confusion with this easy to understand guide to pool water maintenance.  Available for computer and mobile devices. You also receive 2 eBooks, "Clear Blue Pool Revised 2nd Edition" & "How To Clear Up A Green Pool".  Click the button and get started today!!  Or get more information right HERE!!  

Winter Pool Covers
Mesh pool covers are great for keeping larger debris out of your pool, but they're not ideal for actually closing your pool if you live is places that get sub-freezing temperatures.  Solid safety covers are designed to block out all sunlight and keep dirt and debris from collecting on the bottom of your pool.  Also, when correctly installed, evaporation and algae growth is inhibited. 
They come in many shapes and sizes. In addition to protecting your pool, your above ground swimming pool cover has other good uses as well. For instance, if you're looking for solar pool covers you'll be able to:
If you want the best protection, you may want to look at solid pool covers.  Most, above ground pool covers are very tough and can withstand virtually anything Mother Nature throws at them.
One drawback is the lack of drainage on above ground swimming pool covers.  Rain and melting snow can cause your cover to sag a bit which can create a puddle in the middle of your cover.  Water that's allowed to sit can not only damage your pool cover but will make removing it very difficult.  Water weighs about 8 lbs. per gallon.  Even though it's Winter you might need to tend to your swimming pool every so often.  By investing in a quality pool cover pump, you'll not only ensure your cover will last for years, but it'll make Spring cleaning easier due to the fact that when the cover is removed, you won't gave nasty water going into the pool. 

Do You Really Need An Above Ground Pool Safety Cover?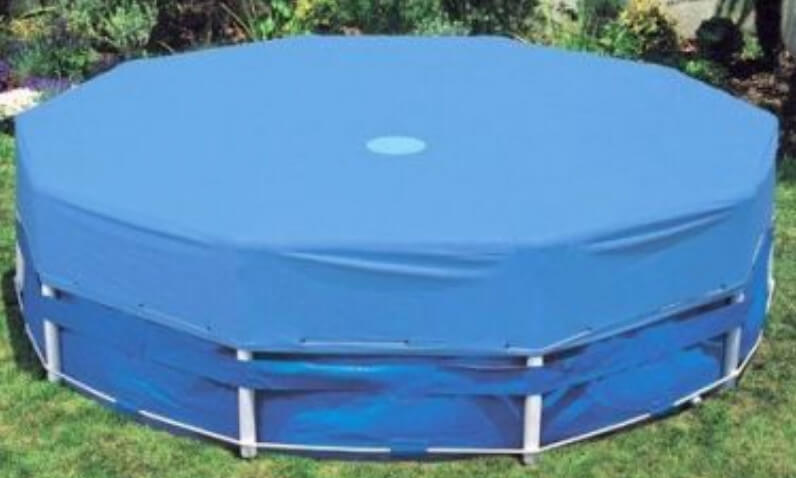 A pool can provide lots of fun, but can be a pool owner's and parent's worst nightmare.  It only takes a few seconds for a child to drown. To help prevent this tragedy, you may want to investigate the many kinds of in-ground and above ground pool covers.
The photo at the right shows a cover which provides safety by firmly hooking over the sides of the pool. Swimming pool fences, even removable pool fences, are also an important part of water safety for children.
Safety First
You cannot place a price on safety.  If you can't find a cover, drain your above ground pool and put it away. If you have an in-ground pool, please get a cover.
Above Ground Swimming Pool Covers Make A Difference
You have many kinds of manual and automatic pool covers from which to choose. You really can't go wrong no matter what choice you make. They'll go a long way in protecting your swimming pool and decreasing the amount of maintenance involved all year long. 
Summer: If you live in a warm part of the country, you can look for a solar pool cover, or bubble pool cover, which will act as a heat saver while keeping it clean and protected. A plastic pool cover will keep dust, dirt, and leaves out of your pool.  Hayward products are some of the best around.
Winter: All across the country there are many people who own pools and these pools need something over them during the harsh Winter months. It will keep debris and animals from accumulating, while the pool is not being used.   Above ground winter pool covers are also great for when you're preparing for your pool winterization.  Come Spring, this will make opening your pool much quicker. Remember though, you're going to need a good swimming pool cover pump to get up all of the water which has accumulated on top of your above ground swimming pool cover.
Above ground pool covers come in different varieties such as net, resin, plastic, mesh and leaf covers.  Automatic swimming pool covers are popular, because they provide a barrier that helps to keep your pool free of debris, reduce maintenance, and evaporation, and will help keep animals out of your pool.
Benefits Of Above Ground Swimming Pool Covers
The most common objection people have about pool covers is that they're either ugly or they don't have room for them.  But there's much more to consider such as:
Protection for your pool
Less chlorine consumption
Easier Spring opening
Reduces the amount of UV rays on your pool
Reduced evaporation
Reduced debris in your pool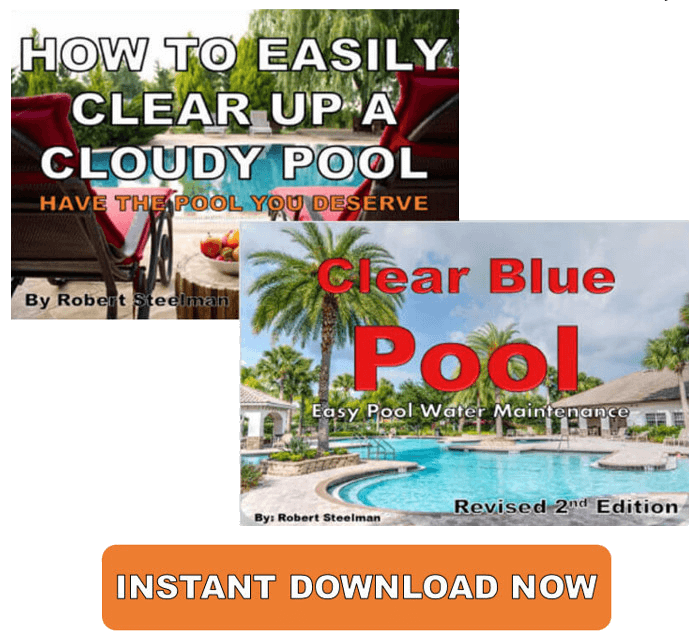 Frustrated by adding chemicals and trying to keep your pool clear all the time?  Too many chemicals?
"Clear Blue Pool Revised 2nd Edition" & "How To Easily Clear Up A Cloudy Pool" eBook Combo Package teaches you all you need to know about clearing up and maintaining your pool.  Refined and perfected over the last 20 years, and is the only evidence-based method available.  Also included is my exclusive F.T.A. Pool Fix on clearing up green and cloudy pools.  Click the download button or HERE and get started today!!
How To Maximize the Longevity of Above Ground Swimming Pool Covers
To get the most out of your Winter cover there are some things to consider and they are:
Only walk on the cover for emergencies such as an errant pet/animal or child
Clean debris off the cover as soon as possible by using a leaf blower or a hose.  And whatever you do, NEVER use a metal rake, shovel, or other type of tool that can rip or tear the cover.
Remove heavy snow or ice as soon as possible
Remove excess water by using a pool cover pump
Check the tautness of the cover and tighten when needed
Clean your cover before removing it using a leaf blower or hose.  Allow it to fully dry before storing it for the Summer.
Solid Safety Cover Care and Maintenance

Above ground swimming pool covers are not a "set-it-and-forget-it" type of deal.  Even though it's there to protect your pool from the harsh Winter, it still needs some attention from time to time.  In order for your cover to do what it was designed to do, you should take at least 2 precautions and they are:
The cover must be kept tight enough by checking the cables or straps and winter cover.  It also needs to be tight enough so an adult can walk on it to get a child or pet that may be on it.
Water and debris should be removed from your winter pool cover.  It water and/or ice is allowed to remain in the cover, it can damage the cover. 
But here's the caveat for that.  Allowing about 1/2" of water on the cover can actually help by weighing the cover down so it won't get caught by high winds.  And always completely remove the cover before using the pool.  You never want to swim in a pool with a partially removed cover due to the fact that you can be entrapped under the cover and drown.
Go To:

Swimming Pool Care

>
Above Ground Pools

>
Above Ground Swimming Pool Covers
Top Of Page
---