Above Ground Swimming Pool Filters: DE, Sand, and Cartridge Filters
Choosing above ground swimming pool filters can be an issue, but which one to pick?  Pool sand filter problems and swimming pool DE filter issues can be bad for a pool owner.  The purpose is to avoid problems that could create ineffective filtration or safety hazards.  Inground pool filtration systems are set many feet apart from the pool while your above ground pool filter system sits very close the pool.  Finding the correct size filter and pump motor will greatly affect the way your pool will perform.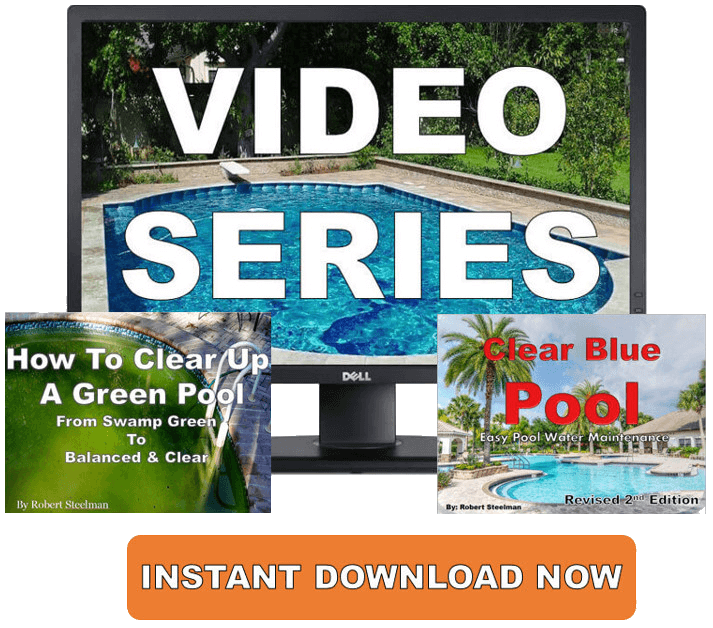 Are you sick and tired of fighting your green pool?  Too many chemicals?  Too many trips to the pool store?
In my exclusive 12 Part F.T.A. Pool Fix Video Series I show you how to not only clear up your pool but how to keep it perfect all swimming season.  Refined and perfected over the last 20 years and is the only evidence-based method available.  Cut through the confusion with this easy to understand guide to pool water maintenance. Available for computer and mobile devices. You also receive 2 eBooks, "Clear Blue Pool Revised 2nd Edition" & "How To Clear Up A Green Pool". Click the button and get started today!!  Or get more information right HERE!!  
How To Select Above Ground Swimming Pool Filters 
Sand Filter
Just as the name implies. It uses sand to filter the dirt and debris from your pool water.  The water comes through the suction side of the filtration system and passes through the sand filter.
The clean water is then returned back to the pool. Needs to be backwashed when the pressure reaches 8 - 10 psi over your "just backwashed" pressure.  Sand filters have the least filtration capability out of the 3 kinds of filters.
Sand Filter Advantages
Easy to use and operate
Low maintenance
Easy backwashing 
Sand can last a very long time and is inexpensive to top off or replace
Removes debris down to 20 microns.  For reference, a micron is about the size of a red blood cell.
Low maintenance
Sand Filter Disadvantages
Sand might need periodic replacing
Worse filtration compared to a cartridge or DE pool filter system
Backwashing means loosing water which, in turn, means topping off
Constant backwashing means higher chemical use, especially in a heavily used pool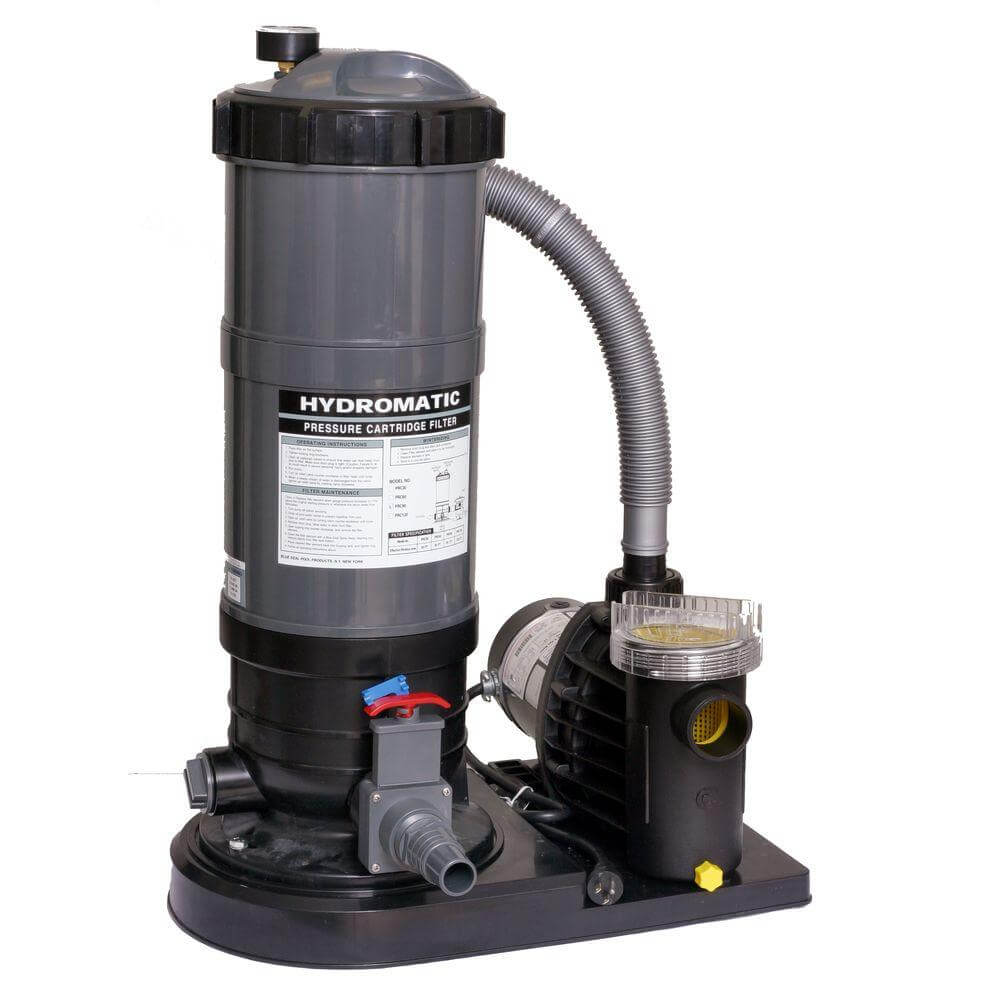 Cartridge Filter
Works just like the air filter on your car.  Dirty water goes in and clean water goes out.  The dirt, debris and algae get trapped inside the pleats.  No need to backwash, but they must be rinsed out with a garden hose.  NEVER use a high pressure cleaner.  It will rip the pleats. Rates between a DE and sand filter.
Cartridge filters only last about 2500 - 3500 filter hours.  Places that keep their pools open all year long may need to replace the filters every 1.5 - 2 years, which can get a little expensive.  Those who close their pools for the Winter may be able to get 3 - 4 seasons out of the cartridges.
Cartridge Filter Advantages
Can remove particles as small as 10-15 microns
Easy maintenance and no backwashing
Lower pool pump pressure
Large surface area means cleaner water
Replacement cartridges are relatively inexpensive
Cartridge Filter Disadvantages
Cartridges need to be replaced every 2500 - 3500 filter hours 
Must be taken out to be manually cleaned
CYA can slowly increase due to no backwashing and topping off with fresh water
Not practical for very large pools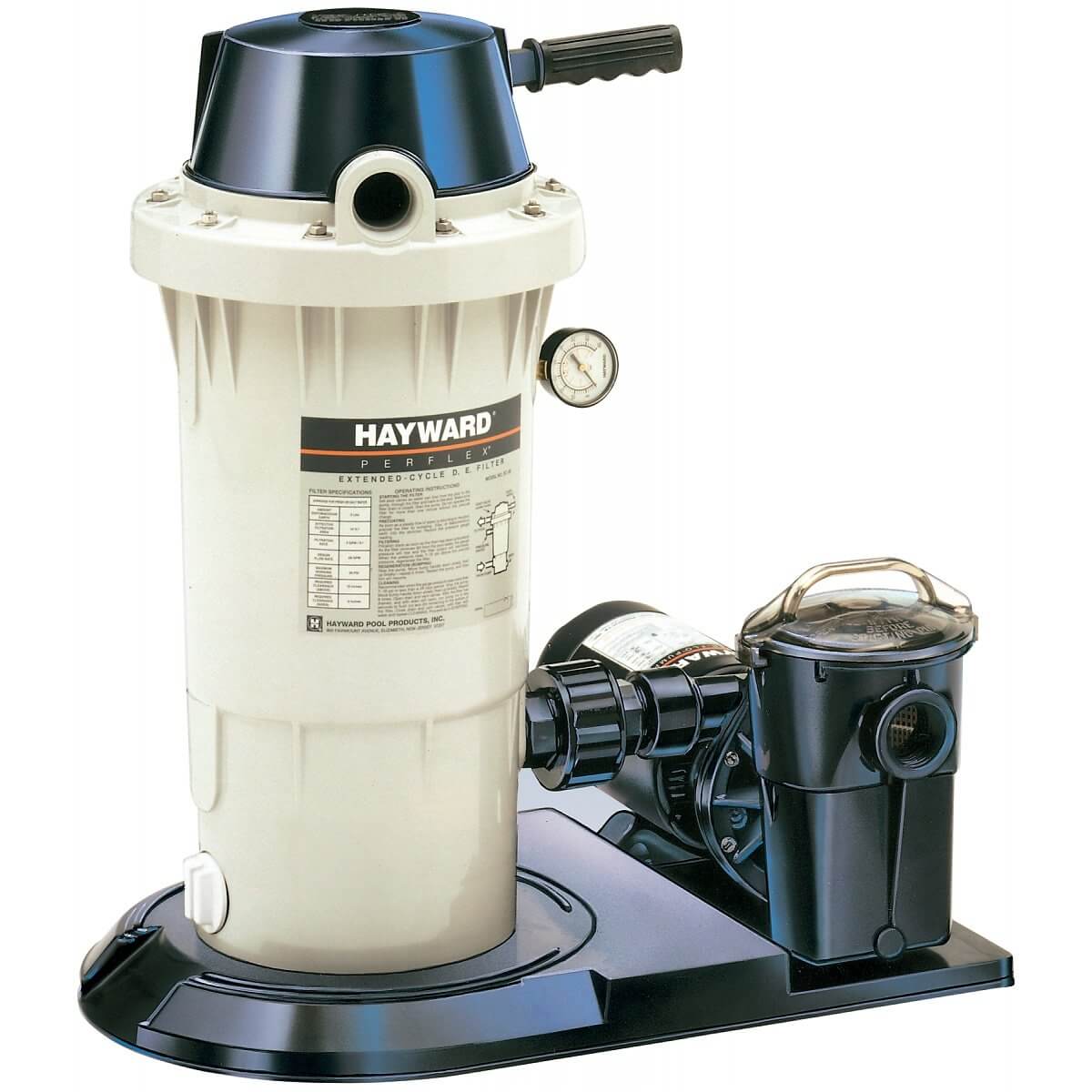 D.E. Filter
The best in terms of filtration, but can sometimes be troublesome.  DE filters can filter down to 2 microns and are considered the "water polishers" of pool filters.  They need to be "bumped" every so often.
The grids or fingers can tear which allows DE to go back into the pool.  Backwashing is required when the pressure on the psi gauge read 8 - 10 psi over your "just backwashed" pressure.  
DE Filter Advantages
Can filter down to 2 - 3 microns
Easy backwashing
It filters "faster" due to the DE filter's ability to capture virtually every dirt particle 
Water clarity is excellent
Grids are durable and long lasting with proper care
DE Filter Disadvantages
Higher maintenance
Grids or fingers need to be periodically replace which can get expensive
DE filter system needs to be taken apart and cleaned at least twice per year if you keep your pool open year round
Backwashing can loose up to 200 - 300 gallons of water.  More often for a heavily used pool. 
Grids and/or fingers are more expensive than a cartridge filter  or sand
Must recharge your filter system with fresh DE after each backwash
Some place have banned DE filters
DE can be messy and harmful if inhaled
Please don't worry if these sound a little confusing.  That's why you're here.  To get the information you need.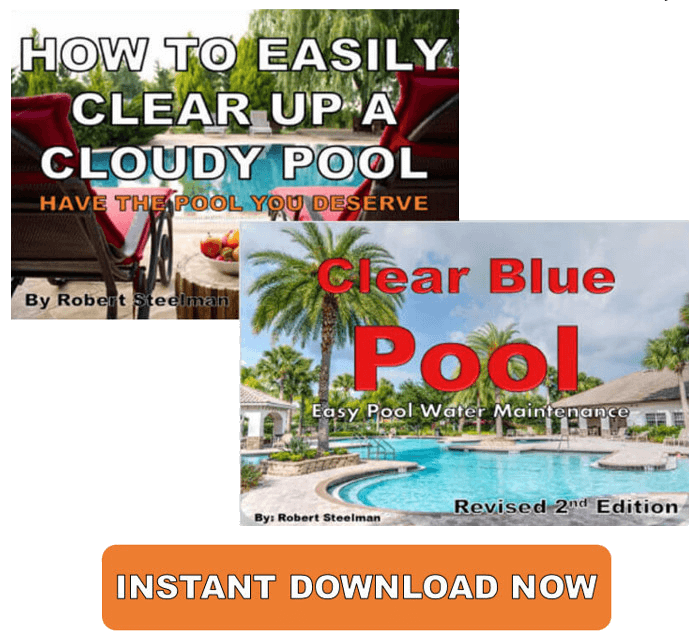 Are you frustrated with your cloudy pool?  Has it been weeks since you've seen the bottom?
"Clear Blue Pool Revised 2nd Edition" & "How To Easily Clear Up A Cloudy Pool" eBook Combo Package teaches you all you need to know about clearing up and maintaining your pool.  Refined and perfected over the last 20 years and is the only evidence-based method available.  Also included is my exclusive F.T.A. Pool Fix on clearing up green and cloudy pools.  Click the download button or HERE to get started today!!
Above Ground Swimming Pool Filters Manufacturers
Are you looking for the best swimming pool filter, brand, or pool filter parts?  What manufacturers are there and how about cleaning a swimming pool filter?  Here's a short list to cover your above ground swimming pool filters for cartridge, sand, and DE (diatomaceous earth pool filter).

Hayward (sometimes called Haywood)
Jacuzzi
Intex
Pentair
Sta-Rite (sometimes Sta Rite or Starite)
Proline
Waterway
Lomart
Doughboy
Purex
Nautilus
Astral
Jandy
Apollo
Unicel
Dayton Motors
Go To:
Swimming Pool Care

>
Above Ground Pools

>
Above Ground Swimming Pool Filters
Top Of Page