Above Ground Swimming Pool Liner | Your Complete Guide To Vinyl Liners
A new above ground swimming pool liner is exciting. Take care and consideration about the vinyl liner repair and pool liner wrinkles. They may increase your swimming pool cost.
Almost 70% of all above ground swimming pools in the country have these easy and durable vinyl swimming pool liners.  These protect their pool surface from the harsh Summer rays, chemicals, and other things you and Mother Nature throws at it.  Vinyl is the most popular choice of many inground swimming pool liners.
So when the time comes to replace your liner, how do you choose one?  What should you look for?  And more importantly, what can you do to make it last for years and years?  A replacement vinyl pool liner is easy to figure out once you have the understanding and details.  So let's begin.

When To Replace Your Pool Liner
A patch is a temporary fix so look these over and see if any apply to your situation.
Pool Liner Is Old
This one is the most common.  Vinyl pool liners normally last about 7 - 10 years with good pool and chemistry maintenance. 
Hot and Cold Can Ruin A Liner
Hot sun beating down on your liner, along with freezing temperatures can prematurely age your liner.
Bad Weather Can Ruin A Pool Liner
Sun, heat, wind, and rain can wreak havoc on your pool liner.  Hurricanes, like we get here in Florida, can damage liners through wind and flying debris such as tree branches.
Bad Pool Chemistry Is Bad For A Pool Liner
Next to age, the wrong pool chemistry can really damage your liner, especially adding chlorine incorrectly to your pool.  You should always sweep immediately after adding chlorine.  You'll not only be mixing it up in the water, but the chlorine will never have a chance to settle to the bottom.  Chlorine that is allowed to settle equals a chemically stained liner.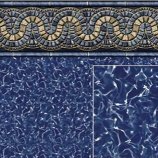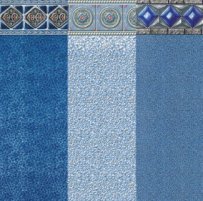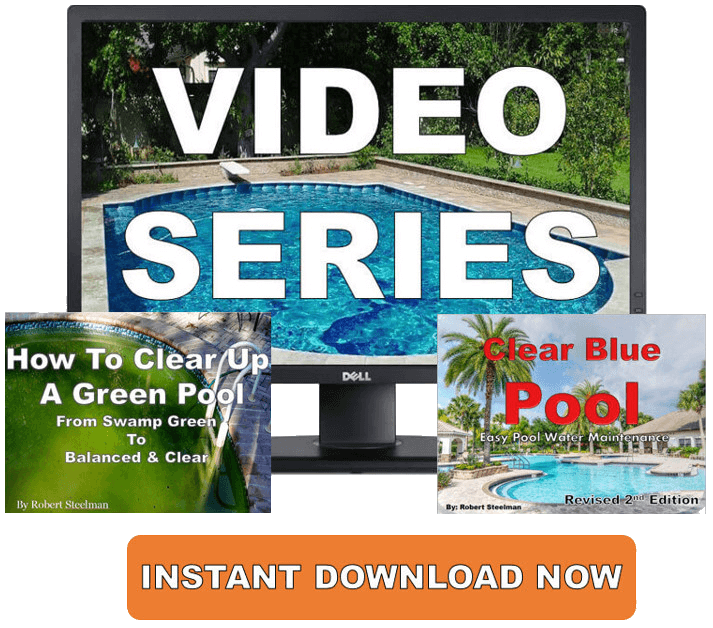 Are you sick and tired of fighting your green pool?  Too many chemicals?  Too many trips to the pool store?
In my exclusive 12 Part F.T.A. Pool Fix Video Series I show you how to not only clear up your pool but how to keep it perfect all swimming season.  Refined and perfected over the last 20 years and is the only evidence-based method available.  Cut through the confusion with this easy to understand guide to pool water maintenance. Available for computer and mobile devices. You also receive 2 eBooks, "Clear Blue Pool Revised 2nd Edition" & "How To Clear Up A Green Pool". Click the button and get started today!!  Or get more information right HERE!!  
Clear Up An Above Ground Pool With A Vinyl Liner
Never worry about clearing up an above ground pool, or any pool with a vinyl liner.  By knowing a few tricks you can have the same results as I get.
Warning
About Your Pool Liner
You may have read or heard that if you have green pool water you need to double, triple, or even quadruple shock your pool, depending upon how "green it is".  This is patently and across-the-board false.  By bringing your chlorine level up to 30 ppm, 40 ppm, 50 ppm or higher, you run the chance of bleaching the liner out.  Maybe not the entire liner, but you could have chemical stains, and chemical stains CANNOT be removed off a vinyl liner.  Hopefully you watched the above video.  The water was absolutely filthy and solid green with water bugs, debris, and mosquito larvae.  I didn't "quadruple" shock the pool.   I employed the right techniques and used easy 1st Grade Level Universal Laws of Pool Chemistry & Physics and my F.T.A. Process to clear it up.  There is absolutely no reason to increase your chlorine level to such a dangerous level. 
How To Choose A New Above Ground Pool Liner
A vinyl swimming pool liner is meant to last, but don't kid yourself. They are susceptible to decay, tears, rips, scratches, and all sorts of bump and bruises. A really good above ground swimming pool liner should last around 7 - 10 years using the proper pool tips.  There are 4 styles of vinyl liners from which to choose.  The difference is how they attach to the pool.  Your first step should be the type swimming pool liner you want.  Most above ground swimming pools are set up to have a beaded or overlap pool liner. The main difference is how they are installed to the top of the wall.
Beaded Pool Liners
These will have a groove that goes along the liner's top edge with clips that snap into a track, also known as the "bead receiver" and that goes along the top inside edge of the pool's wall. If you have an above ground swimming pool designed for a beaded liner, you'll be able to see the track under the top rail on the inside of the pool.

Overlap Liner
The other kind of above ground swimming pool liner is the overlap liner. With these vinyl swimming pool liners, you'll need to remove the pool's top railing and drape the fabric over the pool's walls. Use plastic clips to hold the liner in place. After this, simply install the top rails and trim any excess liner hanging down on the outside of the pool's walls. Pretty easy and straight forward.

J Hook Liner
These pool liners are made specifically for the size of your pool. If you have a swimming pool that is 42″, then the liner must be 42″.  There is no extra vinyl swimming pool liner so make sure you're getting the right size. It would really be a pain to get the thing home only to realize it's the wrong size.  If you're in the market for discount pool liners just be careful in getting the right size and color for your pool.
When looking for a quality liner it's just as important to think about function as it is style.  With many patterns and designs available, you won't have a shortage of choices to set the tone for your pool. 
Universal Bead
The universal bead liner can compatible with your current above ground pool.  This style is similar to a J-hook and can be installed the same way.
What To Look For 

Above Ground Swimming Pool Liner
Even with above ground pool kits and inground pool kits you still have a wide variety of discount pool liners and inexpensive (cheap) pool liners. Doughboy pool liners are very popular and last a long time to give your the pool perfect for you.  Above ground swimming pool liners are the first thing, but surely not the last.
Consider the cost of:
How To Clean Your Vinyl Liner
Cleaning your pool should be enjoyable and when you know what to do, the task will be shorter and you'll spend less time cleaning and more time swimming.
Brush Your Pool
This one is easy to do when you use a good nylon brush.  NEVER use a metal or wire brush on an above ground swimming pool liner.  It will tear it up very quickly.  Brush the walls, steps, behind the ladder, and everything in-between.  Try to gently push everything into the center of the pool.     
Vacuum Your Pool
After brushing your pool you can allow the dirt to settle, then easily vacuum.
Balance Your Pool Chemicals
I suggest using the Taylor K-2006 pool test kit.  Test (guess) strips are not as accurate and what we're looking for accuracy when we take our chemicals readings. 
Filter For Good Measure
At least 10 hours during the swimming season and 4 - 6 hours of filtering during the off-season.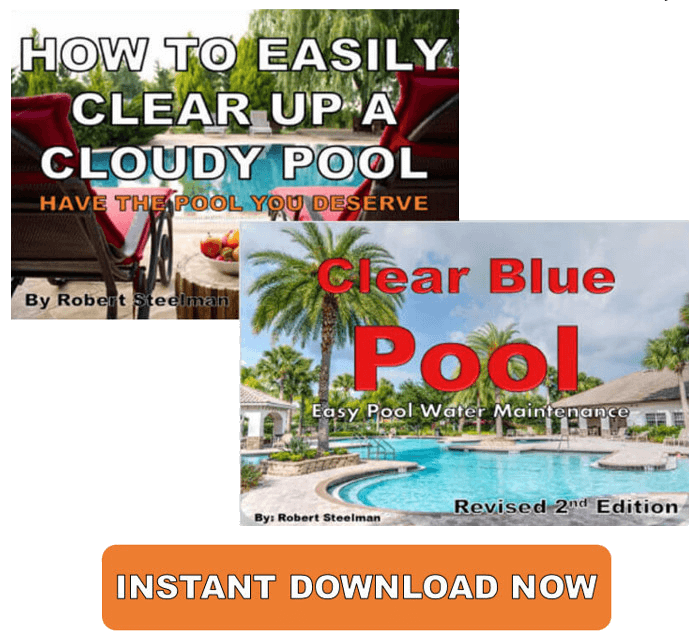 Frustrated by adding chemicals and trying to keep your pool clear all the time?  Too many chemicals?
"Clear Blue Pool Revised 2nd Edition" & "How To Easily Clear Up A Cloudy Pool" eBook Combo Package teaches you all you need to know about clearing up and maintaining your pool.  Refined and perfected over the last 20 years, and is the only evidence-based method available.  Also included is my exclusive F.T.A. Pool Fix on clearing up green and cloudy pools.  Click the download button or HERE and get started today!!
Above Ground Swimming Pool Liner Quality and Price
You can get above ground swimming pool liners in many different grades.  This simply means the thickness and durability.  Of course a thicker above ground swimming pool liner will be more durable and able to withstand more punishment.  But a thicker liner will also be more expensive.  This is also true for inground swimming pool liners.   When choosing a liner, keep in mind your budget and buy according to your means.
You may hear the word "Gauge" or "Mil."" when buying an above ground swimming pool liner.  This is simply the thickness of the liner; the higher the gauge the thicker the liner.  After you have figured out the type, shape and size that your new liner will need to be, it's time to start thinking about quality and price ranges.  If you choose to have a vinyl liner in your swimming pool, you need to know they are available in a number of different grades. The various grades refer to the thickness and durability of the liner.
Thicker liners will withstand wear and tear and last longer, however, they will also be more expensive.  Although it's typically worth it to invest a little more in a durable liner, everyone has a different budget and should choose according to their needs and means. 
Go To:
Swimming Pool Care

>
Above Ground Pools

>
Above Ground Pool Liner
Top of Page