Cloudy Pool Water
Understand Cloudy Pool Water & Swimming Pool Water Maintenance. How To Get Rid Of A Cloudy Swimming Pool W/Out A Pool Clarifier.
I Had $5 In My Pocket & Did This
I used my F.T.A. Process to clear up this cloudy pool for less than you'd pay for coffee. You can easily learn this process and save TONS of time and money. Click HERE & get started.
It's not by accident that you're here wondering why you have cloudy swimming pool water. 

Why use a coagulant, phosphate remover, and tons of algaecides? 
A cloudy pool, next to green pool water, is the biggest complaint among pool owners.
Sometimes you'll seem to have milky pool water overnight.  What can you do about it to get back your crystal clear and clean pool water?
Cloudy pool water should never slow you down. You've seen my videos. Now get the BEST information on the internet on how to clear up your pool. Click on the eBooks below to get your pool back.
You can also have access to my F.T.A. Video Series that walks you through the EXACT process of clearing up your cloudy or green pool water. Click HERE to get started!!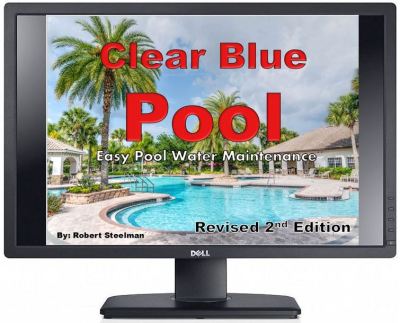 INSTANT DOWNLOAD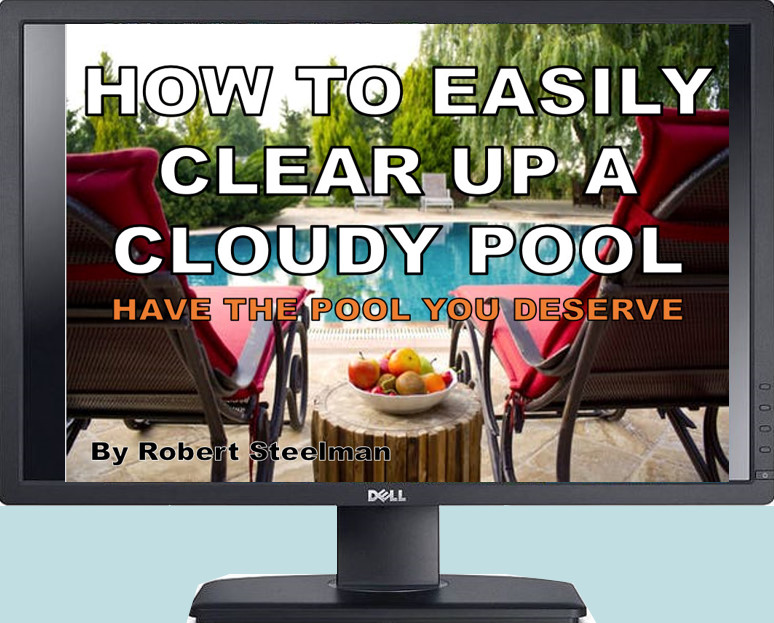 INSTANT DOWNLOAD
Where Does Cloudy Pool Water Come From?

There could be many reasons for cloudy pool water, so check out this list and see if any apply to your swimming pool. Before you go out and spend hundreds on chemicals that "they" say you need, check this list to see if any apply to your situation:
Bad or inconsistent chlorination with pool chlorine or weak hypochlorous acid. 

This might be the main reason which can cause a whole host of problems.

Excess dead or dying swimming pool algae

Pool pump and filters are not running long enough. It's 6 - 8 hours in the Winter and 10 - 12 hours in the Summer.
Too much sodium bicarbonate and/or calcium chloride. The can produce hard water scale.  Time to check the water hardness testing with a quality pool water test kit.
Wrong/bad level of cyanuric acid (pool stabilizer/conditioner), or Dichlor. CYA should be 30 - 50ppm.
Using or over-use of calcium hypochlorite (for chlorination)
Pool chlorine tablets/smart sticks old or ineffective
Use and/or over-use of flocculation (flocculate) in swimming pool water
Pool pH too high. The range is 7.2 - 7.8
Inground pool covers left on for too long
Pool ionizer or pool ozonator not functioning properly
Clogged or improperly working pool filter system
Bad swimming pool shock (using too much or not enough)
Cracked or leaking pipes from skimmer or pump causing bubbles in the pool
Bather load too high for a period of time or too many people at once
Use and/or over-use of Baquacil, Proteam Supreme, Softswim, or Bioguard pool chemicals
Bad/wrong pool water chemistry.  Poor weekly pool maintenance.
Wrong or old pool acid
The DE pool filter is cracked, not cleaning correctly, or is leaking DE back into the pool
Sand in sand filter too old, has low sand, not backwashed fully or correctly, or sand has "channeled" down the side of the filter housing
Poorly functioning pool water filters
Wrong chemicals for salt water pool systems/saltwater pools, bad or inconsistent salt water pool maintenance
Bad, shorted out, or calcified chlorine generator pool/salt cells
Multi-Port Valve damaged, is cracked, damaged gasket, or plumbing is wrong
Pump worn out or impeller broken or blocked
Pipes are clogged up with a foreign object or gummed up through chemical use
Refinished pool plaster
Over-brushing of new pool plaster
Dust, pollen, or mud
Use and/or over-use of phosphate remover such as "Phosfree"
Over and/or use of wrong pool algaecide. Only use PolyQuat 60.

Supersaturation of chemicals not in line with the Langelier index

Bad or wrong swimming pool winterization/pool closing

Onset of pool algae and/or green pool water
As you can see from this list, there are many reasons why you can have cloudy swimming pool water.  
Myths About "Pool Water Cloudy"
These are a few things I have learned that won't cause swimming pool cloudy water.
Too much pool chlorine
This is good at killing algae and taking care of green pool water. It will make swimming uncomfortable causing possible swimming pool rash and/or chlorine rash. Only Calcium Hypochlorite will cloud your pool, especially when you do a pool shock and will be an expensive lesson in weekly pool maintenance and will increase your pool maintenance cost.
Low calcium hardness and low pool alkalinity
and
Low cyanuric acid level (CYA), below 20 ppm
This will lead to lower and less effective chlorine levels and a high chlorine demand causing problems such as a green algae swimming pool, white water mold, yellow algae, blue-green algae, etc...
Normally, the main reason for cloudy swimming pool cloudy water is swimming pool algae growth.  Knowing this, you'll need to shock the pool to kill the pool algae.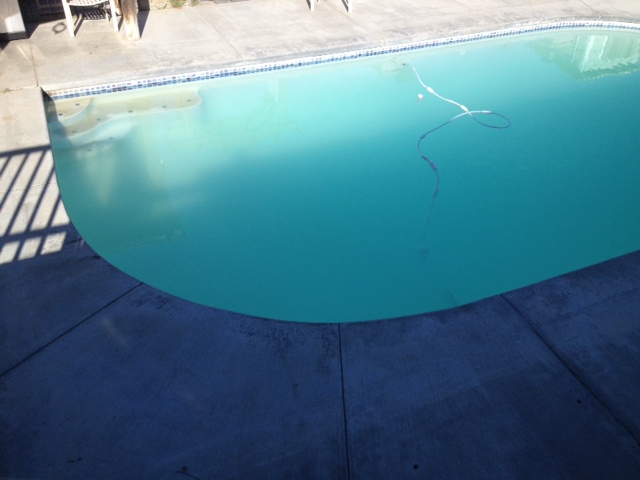 Swimming Pool Care Instructions

Some self-proclaimed "pool guys" on the internet and YouTube will tell you to simply add some clarifier, flocculant, and phosphate remover. Or worse, to use those products in tandem with test strips.
A real pool guy will tell you to NEVER use test strips. Sure they're safe, easy, affordable and convenient. But, they are not as accurate as a good Taylor test kit. And that's what we want - accuracy.  
You MUST know you chemical readings (the actual numbers) and find out the reason why the pool went cloudy to begin with.
First off, be sure to get your readings in line. Use a good FAS-DPD K-2006 Taylor Test Kit.

Be sure your filter is perfectly working. No holes in the DE grids, sand is good or your cartridge filter has less than 3000 filter hours. 

Scoop out as much debris as you can and vacuum

Shock the pool with liquid chlorine

Run the filter 24/7 until you have clear pool water
A partial water change might be in order for cloudy pool water, but allow this to work first before going that route. Remember when dealing with swimming pool care, patience is needed.
Don't worry if you have cloudy pool water. Even the best pool owners with a good understanding of basic pool care and using the best pool tips will slip up every now and then.
Things may happen, but don't worry about your "swimming pool cloudy" issue. You have the swimming pool maintenance tips to take control of the problem properly.
So go clear up your cloudy pool water and safe swimming to you and your family.
Go To:
Swimming Pool Care

>
Pool Algae

>
Cloudy Water
Top Of Page

What Other Visitors Have Said
Click below to see contributions from other visitors to this page...