Public Swimming Pools
Public Swimming Pools & Swimming Pool Safety Regulations. Enjoy Your Local Public Swimming Pool With Your Family & Things To Look Out For.   
Large local pools are a great place to do on those hot Summer days. If you're in a bigger city, you could have dozens of pools. Some are free and some are not.

When you and your family go swimming use a hot tub or spa, the pool operator/manager must adhere to the federal, state, and local swimming pool safety regulations. 

When I was the pool operator at the YMCA I made sure all the patrons and guests had a great time swimming with friends and family.
Swimming Pool Regulations

Your local health department is working to ensure that all pools have:
An approved bathing safety protocol

Correct and experienced supervision

First Aid kit and properly working equipment

Proper use of chemicals and timely readings

Proper maintenance and operation of filtration equipment

Swimming pool rules are properly displayed
This is just a summary and in no way allows for any legal advice. You may want to check with your local health department for a complete summary for pools in your area.
Some states also offer public swimming pool grants. 
Commercial pools should be operated and maintained so there are no health risks. This list will give you a good run-down of what you may expect.
Provide trained lifeguards or adequate supervision. They don't want anyone to become part of the national drowning statistics

Provide the proper disinfectant levels

Continuously operate the swimming pool's filtration systems. I believe most commercial pools must filter 24/7

Use a clean water supply to fill and top-off the swimming pool

Keep electrical circuits or wiring 10 feet or more from swimming pool

Maintain emergency lighting

Keep all lifesaving equipment on the swimming pool deck and within reach

Keep the pool drain visible

Depth markings must be clearly posted

Provide and maintain an enclosure or safety fence around the pool to prevent non-use access

Properly maintain drain grate and repair any broken or missing parts

Reduce overcrowding. 2 or more lifegaurds should be on duty during busy times.

Glass or sharp objects should not be permited in or around the deck area
Some hotels may or may not have trained lifeguards or other forms of supervision so please ask before swimming.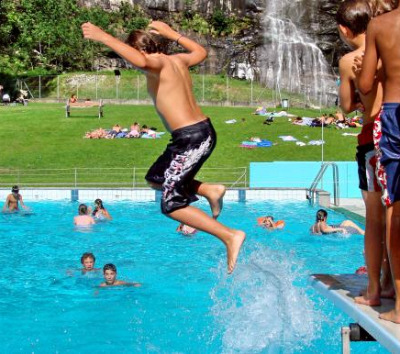 Public Swimming Pools - Operators & Managers

Everyone who maintains a public pool should do the following:
Properly disinfect the swimming pool with 

pool chlorine

 or another kind of sanitizer

Take accurate readings and measurements of chemicals using the right kind of water testing kit

Keep accurate records

Understand the proper use of all chemicals

Control the cleanliness of the swimming area

Supply supervisory personnel

Report injuries, deaths and communicable diseases to the proper authorities

Maintain a clean and neat facility

Be sure all equipment is working properly including fresh air supply, air circulation, ventilation, and filters
Some Swimming Pool Safety Rules

Always have adult supervision when children are swimming. Child water safety is always first.
Instruct any babysitter on the dangers of leaving a child unattended

During a large swimming party, always have an adult as the "watcher". Never assume someone is watching while children are in or near a pool

Never assume that the lifeguard on duty will always catch everything all the time.

Just because your child may know how to swim, never assume he is "drown-proof"

Pregnant women should consult their physician before using a Hot Tub or Sauna

Stay only up to 15 minutes in a Hot Tub or spa

Children under 6 should not use the Hot Tub or spa

Stay out of a pool or Hot Tub if you have a communicable disease

Be sure your local swimming pool has proper life saving devices, i.e. shepherds hook, life vests, rescue tubes, and other rescue and life saving equipment near the pool

Learn CPR/First Aid from a qualified agency such as the YMCA or Red Cross
If you entrust a babysitter or caregiver to take your children swimming be sure she has CPR/First Aid training and understands everything about swimming safety.
As you can see there is much that goes into keeping public swimming pools safe for its members and patrons.
When properly cared for and maintained they offer your family a great way to have fun.
Go To:
Swimming Pool Care

>
Salt Water Pools

>
Public Pools