Best Swimming Pool Party Ideas and Games For Children, Adults, and Teens
Swimming pool party and fun outdoor games for children and adults. Great ideas for teen and kids pool party.
To pull off a great time you need some really good pool party ideas that are in budget, quick, and easy.  What better way to start off Summer then to throw a party full of fun and swimming pool games.  
Pool and spa games for a couple of people or a couple of hundred, it doesn't matter, it's all about fun. Whether you're a seasoned vet or a beginner, these pool party games and ideas will surely please any crowd.  Be sure to check out all of the pool party accessories like plates, napkins, cups, invitations, inflatable beach balls, swimming pool party banners, etc...
Swimming Pool Party Invitations
What good is a hot pool party if nobody knows you're having it? You'll need to send out pool invitations, right?   Your pool party invitation should have your guests bring their swimsuits, a change of clothes, shoes and/or flip-flops, and a towel.  Not all pool parties are for kids. Those adults who aren't scared of getting wet and having some fun can join in as well.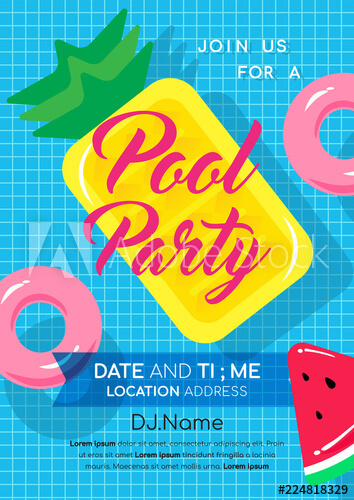 Hopefully, parents can lead the kids into some swimming pool games.  Be creative as well. Maybe you can write beach invitations on a beach ball, helium-filled balloon, or make little cut-out fish or whales and write your name, address, and time.  Think outside the invitation box and get creative. 

Pool Party Ideas
Hawaiian Luau
If you've never been to Hawaii, no worries, just throw a Hawaiian Luau. Invite your guests to bring their most colorful Hawaiian shirts and shorts.  Basically, the more tacky the better. Make or purchase leis and hand them out when your guests arrive.  You can decorate your backyard with tropical colors, bamboo, and any Hawaiian accessory that you can find. 
Get some Tiki torches, grass skirts, tropical flowers, and coconut shells to put on the table for the finishing touches.  Pool party food could be pineapple chicken, rice, steamed veggies, ham, or a great pig roast. And remember the fancy drinks with the big umbrella. 
Birthday Party
A swimming pool party is a great way to celebrate anyone's birthday, especially your child. Start by sending kids party invitations using fish shaped cut-outs, or write your swimming pool party invitation on colorful beach balls and deliver them to your guests personally.
Swimming pool games can be tailored to each child's age and theme cakes or birthday party cakes for the occasion. Maybe a pool cake shaped like a swimming pool?  Games like Marco Polo and Sharks and Minnows are always a favorite for children. You can also have water balloons and a water-gun fight for the boys, or something a little more subtle for the girls with a Little Mermaid or Cinderella theme for great pool party fun.
Food should include something light. We're talking about kids, right? They'll be off and running in about 5 seconds. Light half sandwiches, fruit, water, chips, and box drinks are a favorite. Try to go easy on the soda. You can also get a few pizzas and watch their eyes light up.  And also remember the pool party favors for the little ones.
Beach Party
When you have a great swimming pool, why not use it to the fullest? A Beach Swimming Pool Party is probably my favorite. 
Lots of friends and a cook-out is probably the best way to welcome Summer.  You can have pool party decorations and cover your tables with fish nets and cover the chairs with beach blankets.  Get a few Frisbees and maybe a football or two. Have the kids build a sand castle, and remember all the great pool toys available. Break out your old surfboard, put on some Beach Boys music, and have at it.  Food is the easiest part of this swimming pool party. Hot dogs and hamburgers with chips, baked beans, potato salad, and drinks. Or you could go a little more and do popcorn and snow cones.
Just remember that alcohol and swimming don't mix, so please either manage your drinking or better yet, wait until you get home to have that "adult beverage".
Movie Night
One Saturday night I went to the YMCA to vacuum the pool.
All of the lights were off and the Y was closed, or so I thought. I walked into the pool area only to find about 50 kids floating in the pool, eating popcorn and drinking soda. I asked the lifeguard on duty what was going on and she said it was movie night and the kids were watching "Finding Nemo".
I thought that was a great idea and the kids were having a blast. So go ahead and carry your big-screen T.V. outside or get a white sheet, a projector, some popcorn and drinks, and pick one of the classics like "Finding Nemo", "Jaws", or any other movie that your guests would enjoy and have fun at your next swimming pool party.
Pool party food could be candy, popcorn, soda and chips. Just don't be surprised at the clean-up because believe me, there will be. That's a small price to pay for a great evening with your family and friends. 
Swimming Pool Games
These swimming pool games to play will surely be a hit with your kids. They are very quick to set up and many of them are very inexpensive or free, for a great swimming pool party your kids will love.
Marco Polo
Have the children choose the one to be "it". This "it" closes his eyes and tries to tag the other swimmers. "It" calls out "Marco" and the other swimmers must say "Polo". If "it" tags another player, then that player becomes "it". If a player gets out of the water, "it" can say, "Fish out of water!" If the player cannot get back into the pool before "it" finishes saying that line, then the fish out of water becomes "it".
Of all the swimming pool games, this classic never gets old.
Noodle Joust

Have 2 players to sit on a raft in the middle of the pool.
Each player has a pool noodle and they joust with the noodles to try and get the other player off the raft.  When one player can get the other player off the raft, they are declared the winner. The winner then jousts the next player.
Wet Shirt Relay

Have two equal teams line up on the same side of the pool. The first players put on a large T-shirt, swim to the other side of the pool and back. They get out of the pool and take off the wet T-shirt. They hand the shirt to the 2nd player who must then put on the T-shirt, swim to the other side of the pool and back. This keeps going and the first team done wins.
If you find this too easy, you can always bump it up a notch by having the players put on a mask or goggles, bathing cap, flippers, and swim through a pool ring or hoola-hoop. Don't put on too many clothes as this may hinder swimming. You want to make it a bit difficult, but not too hard to swim.
Water Tag

Choose a player to be "it". Use a large sponge for "it" to tag other players. Have "it" throw the sponge at the other players and whoever "it" hits becomes the new "it". 
Watermelon/Apple Relay

The swimming pool game is for individuals or teams.
Each player pushes a watermelon from one end of the pool to the other without their feet touching the bottom of the swimming pool.  You can also use an apple and push it with your nose.  I wouldn't advise pushing a watermelon with your face, for obvious reasons.
Water Freeze Tag

One player is "it". This "it" tags players and the player must freeze where they are.
Other players can unfreeze them by swimming under their legs, climbing out of the pool and doing a cannon-ball, or anything else you may think of to get them "unfrozen". When all players get tagged "it" can then choose another player to be the new "it".
S-E-A-H-O-R-S-E

Play this swimming pool game just like the "basketball" game H-O-R-S-E only this time use a water basketball hoop.
Catch Me If You Can

Line up the players up in single file. An adult stands poolside (or in the water) and throws a ball up so that the players jump and catch it. 
Relay Races

Have 2 teams of players line up on one side of the pool. Players take turns going from one side of the pool to the other:
Twirling

Summersaults in the water

Swimming through hoops

Picking up dive sticks

Picking up pennies

Riding a pool noodle

Riding on an inflatable swimming pool toy with oars

Pushing a ball through the water

Swimming backwards
Dive Sticks

Get some dive sticks for some easy pool toys and part of a great swimming pool party. 
At the YMCA we use old 6" - 8" cut-up pieces of a water hose.  Give the player points for fastest, most in 30 seconds or a minute, different colored ones, etc... There are also many Hot Tub toys on the market as well. 
As you can see, having a great swimming pool party is pretty easy. With all of the swimming pool games out there, this will surely be a Summer your family and friends will remember for years to come.  Again, remember the most important part of any swimming pool party or any swimming pool games is swimming safety, especially when you're throwing a swimming pool party at night. It will be even more difficult to see under the water so be sure to keep an extra good watch on the water.
Keep the alcohol to a minimum or not at all, and always have adult supervision. That means at minimum one adult who is designated as the "watcher".  So go make your own swimming pool party, use these pool games, or make up your own swimming pool games, and have fun.
Go To:
Swimming Pool Care

>
Pool Party
>
Top of Page