DE Pool Filters System: How To Select The Best Pool Filter
Understand DE Pool Filters - Your Swimming Pool Filter System & Swimming Pool Pumps and Filters.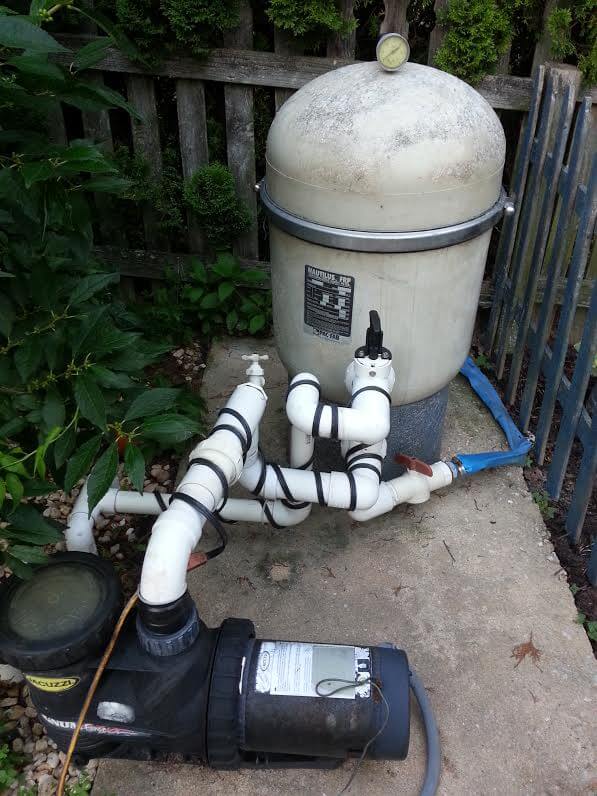 Simply put, diatomaceous earth (DE) are the bones of tiny little animals and plants that lived millions and millions of years ago, diatoms.  DE swimming pool filter systems are the most effective pool filtration available, but on the downside, they also require the highest level of maintenance. 
This DE is used to coat the pool filter grids inside the filter which captures and filters particles as small as 5 microns.  When the pressure rises, it is backwashed in the same manner as a sand filter. 
A slurry of diatomaceous earth is put into the skimmer to "recharge" or "re-coat" the grids.  Be very careful when dealing with pool grade DE.  It can be dangerous to your health and aquatic life.
Clear Up A Green Pool - DE Pool Filters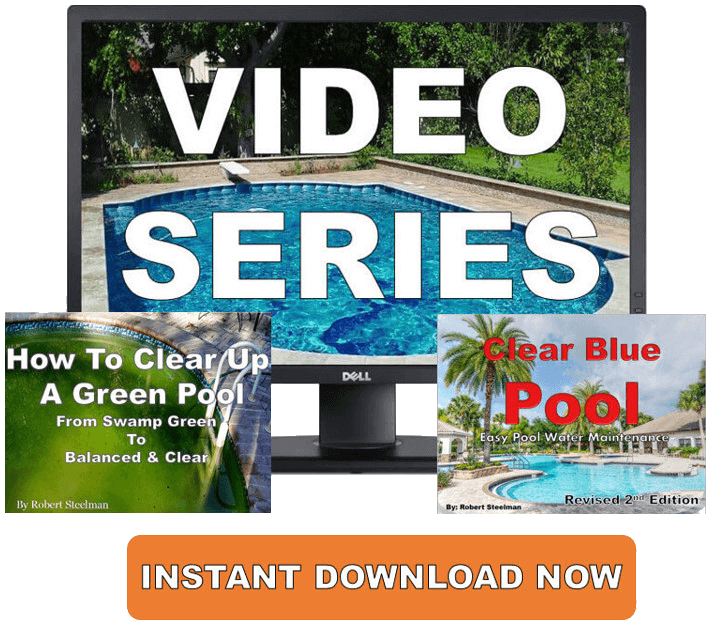 Do you want the pool you deserve but aren't sure what to do?  Are you tired of having a green pool?

In my exclusive 12 Part F.T.A. Pool Fix Video Series I show you how to not only clear up your pool but how to keep it perfect all swimming season.  Refined and perfected over the last 20 years, and is the only evidence-based method available.  Cut through the confusion with this easy to understand guide to pool water maintenance.  Available for computer and mobile devices. You also receive 2 eBooks, "Clear Blue Pool Revised 2nd Edition" & "How To Clear Up A Green Pool".  Click the button and get started today!!  Or get more information right HERE!!  

A swimming pool DE filter is very effective and efficient but a little more expensive to maintain.  Some call it the "water polisher" of a pool water system filter.

Advantages Of A DE Filter
Most pool experts today believe that a DE Earth type filter is the best modern filtration system. It makes your water clear and sparkle compared to sand and cartridge.  Some of the advantages, or pros, are:
DE filter powder is easily stored

Gets your water cleaner than either sand filter or cartridge filter

Recharged easily by putting the DE in the skimmer

Might go longer in between a normal backwash than sand filters

Filters particles and debris better than sand or cartridge filter systems
Disadvantages/Drawbacks Of A DE Filter
Of course nothing in the world is absolutely perfect.  And a DE pool filtration system is no different.  Some cons of working with DE filters are:  
Backwashed every 4 weeks or so due to the fact that DE capture everything

Uses up to 50-150 gallons or more of water with every backwash for an above ground pool and 250-500 gallons for an inground pool.  These lengthened backwash times can waste more water compared to a cartridge and sand filters. 

DE must be purchased, which can get expensive, and stored

Filter must be taken apart and the DE filter grids must be cleaned.  Cleaning DE filter is not fun.

The grids need to be coated with fresh DE with each backwash

Semi-fragile grids and internal framework.  If a stick or twig gets passed the pump pot strainer and makes it way through to the grid, it might puncture the grid.
Recommended Reading For You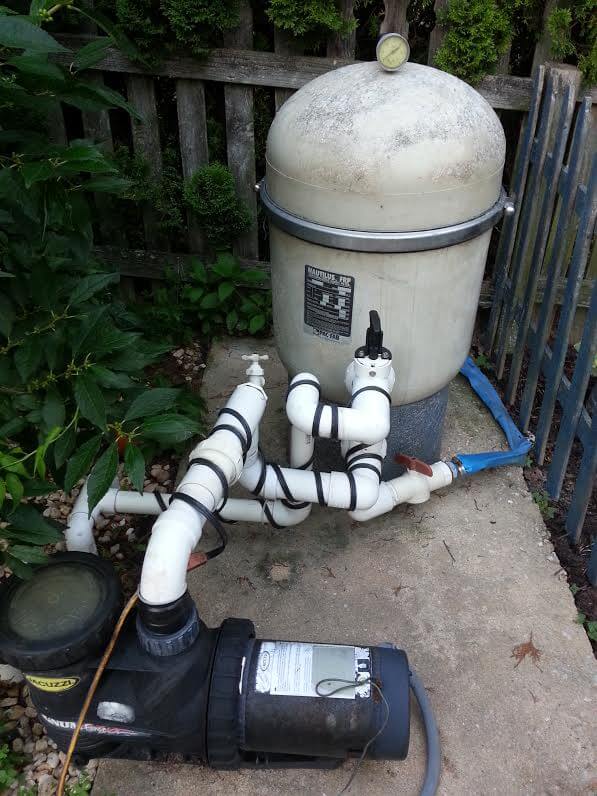 DE Filter Maintenance - Learn Swimming Pool Pumps and Filters For Cleaning Diatomaceous Earth Pool Filter.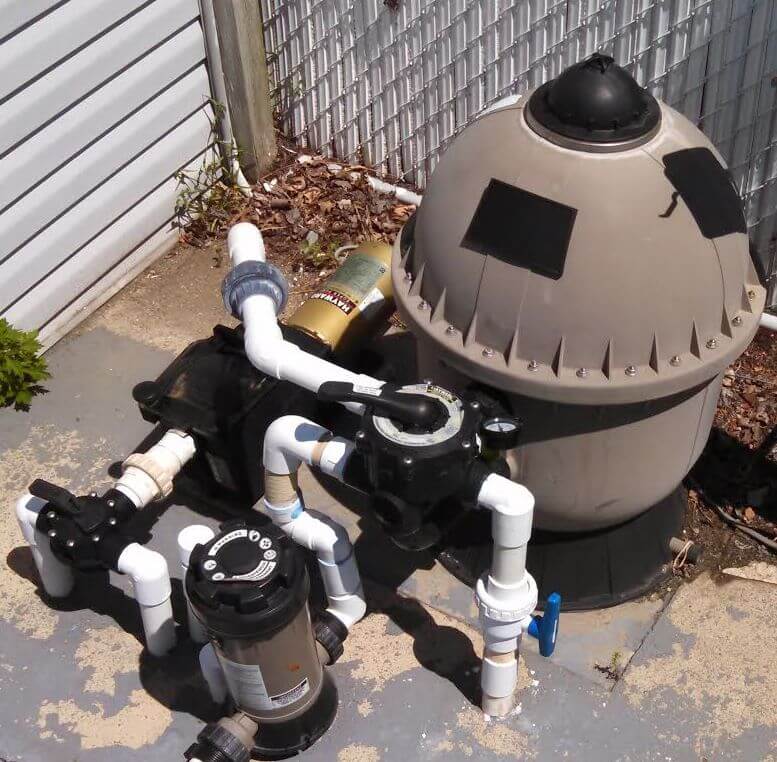 Sand Filters - Understanding Swimming Pool Sand Filters, Swimming Pool Filter Sand, & Your Pool Filter System.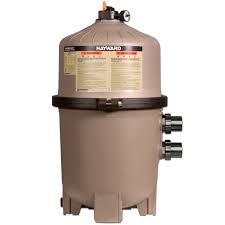 Cartridge Filters - Swimming Pool Filter Cartridge Care & Swimming Pool Filters and Pumps for Inground and Above Ground Pool Filter Systems  

Compare Water Filter Systems
So, out of the three, sand, cartridge, or DE swimming pool filters, which is best for you?  Thinking about changing to a different one?  Well, this all depends on your needs, situation, pool use, cleaning schedule, time investment, financial considerations, etc...
Helpful hints:
Want an inexpensive and easily maintained pool filter?  Splashing around for fun and it's just the two of you?  Then you may want to consider a sand filter.
You require low maintenance and pretty good filtration?  The major use is only on the 4th of July and Memorial Day?  Then a cartridge filter is the one you might consider.
Money and time are of no consideration and you want the cleanest and clearest pool in the neighborhood.  You want to throw a dime in the deep end and be able to see what year it was made.  Then check out DE pool filters.
It really depends on your wants and needs.  Just remember to ask the right questions to get the best pool filter for your swimming pool.  If that happens to be a swimming pool DE filter , then good for you.
Go To:
Swimming Pool Care

>
DE Pool Filters
Top Of Page
What Other Visitors Have Said
Click below to see contributions from other visitors to this page...