Green Pool Video From Clean Pool & Spa. Simple and Basic Pool Care.

Warning
About Your Pool Liner
You may have read or heard that if you have green pool water you need to double, triple, or even quadruple shock your pool, depending upon how "green it is".  This is patently and across-the-board false.  By bringing your chlorine level up to 30 ppm, 40 ppm, 50 ppm or higher, you run the chance of permanently bleaching the liner out.  Maybe not the entire liner, but you could have chemical stains, and chemical stains CANNOT be removed off a vinyl liner.  Hopefully you watched the above video.  The water was absolutely filthy and solid green with water bugs.  I didn't "quadruple" shock the pool.   I employed the right techniques and used easy 1st Grade Level Universal Laws of Pool Chemistry & Physics and my F.T.A. Process to clear it up.  There is absolutely no reason to increase your chlorine level to such a dangerous level.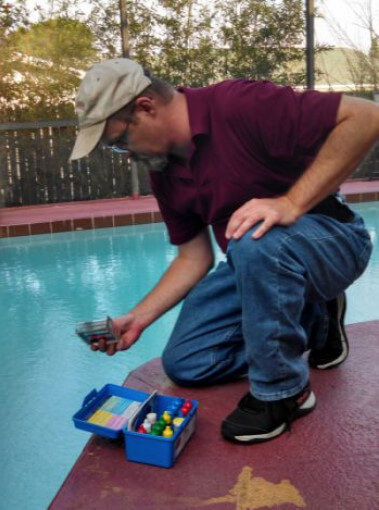 What you can expect to receive during your consultation

Absolute expert advice with personalized service.  You'll also receive a detailed analysis of your unique situation with a comprehensive follow-up email and detailed and exact process of clearing up your pool.  You'll have a complete understanding why your pool went cloudy or green. 
Folks, it's probably the easiest thing you'll ever do with your pool.  I taught dozens of 16 and 17 year old lifeguards at the Mid-Willamette YMCA in Oregon on how to maintain and troubleshoot a 100,000 commercial salt pool with 7,000 swimmers per month.   Believe me, if they can do it, you can do it!!  I've also taught my F.T.A. Process to hundreds of pool owners and every single time their pools came out perfect. Using a 1st Grade Level  Universal Laws of Pool Water Chemistry & Physics that apply equally to every outdoor salt and chlorine pool in the world, your pool will go clear and stay clear because you'll have a perfect understanding of what's going on.  
Word of Caution
If ANYONE who tells to how to clear up a pool starts by saying, "First, get the pH and alkalinity right, then add a couple of tabs to the skimmer, then shock the pool and add some phosphate remover.  If that doesn't work, add a bottle of copper algaecide and let it run for 3 hours.  If that doesn't work, add 3 more bottles of phosphate remover and Pool Rx," I absolutely promise you're going to spend hundreds of dollars and try for weeks, maybe even months, to clear up your pool.  That is NOT how it works.   
You're told chemicals clear the water.  My friends, chemicals have not, are not, nor will they EVER clear the water.  The reason your pool is cloudy or green is because what you've been taught is incorrect.  Please understand that you're NOT wrong.  The information you're getting is wrong.  And when you get wrong information you're going to get bad results. 
Partner with Clean Pool & Spa and join those that have gone before. You'll personally talk to me, a REAL pool guy and swimming pool care professional that has cleared up hundreds of green pools just like these!!  Don't just watch a green pool video.  Learn how to do it yourself.  Save time and TONS of money!!