Indoor Swimming Pools
Indoor swimming pools and indoor pool designs. Get the most fun from home indoor in ground swimming pools. 
Do you live in a warm climate or cold climate? Swimming inside has its benefits.

Those who enjoy an indoor exercise pool for aqua jogging can use these tips for an enclosed and heated pool year-round, instead of just during the Summer months.

Whether fiberglass inground pools or concrete, residential, indoor public swimming pool or hotel indoor pool swimming, these pools are great.
In some parts of the country having an indoor outdoor pool can increase property value.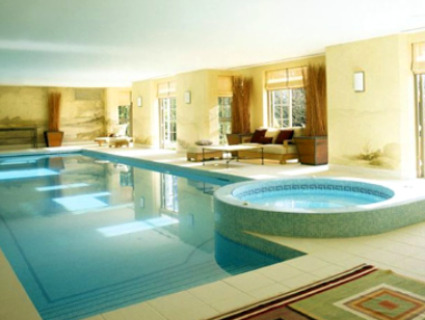 Read on to learn more about this, including material choices, inground pool prices and inground pool cost.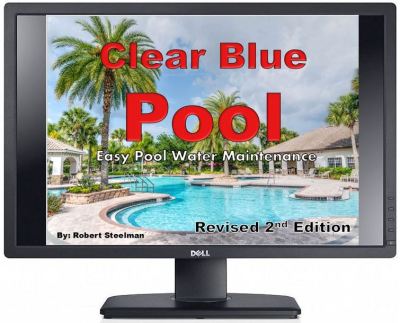 eBook For Crystal Clear Water
Your Choices For Indoor Swimming Pools

You have options that include:
Vinyl
Fiberglass pool kit
Concrete
Vinyl pools are considered the least expensive of the three while one piece fiberglass pools may be the most expensive

On the flip-side fiberglass and vinyl residential pools are less to maintain (chemically that is) while a quality concrete or plaster swimming pool are the most expensive.
Indoor swimming pool design is limited only by your imagination. You can create all kinds of structures, waterfalls, Hot Tub/pool combos, decking, landscaping, etc...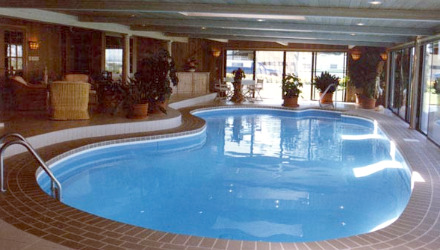 Customizing your pool might be more expensive in the short term but it can add thousands to your re-sale value if you ever want to move. 

Dehumidification, Exhaust, and Ventilation


An in door pool will create a very humid area if it doesn't have a proper source of fresh air, exhaust, and dehumidification system. This will prevent any mold or mildew growth.

If these are not in place and properly working the pool room will become very wet very quickly due to the evaporation of the water. Without a good supply of fresh air and a strong exhaust system the chloramines (combined chlorine) will increase in your pool causing you to pool shock too often.
Be sure to get a quality room heater to stay comfortable out of the water.
Contact a good qualified local contractor/swimming pool dealer that is experienced in indoor swimming pools. Once again, be sure to get others bids before signing on the dotted line. 
Vapor Barrier
You may consider what is known as a vapor barrier. This barrier is installed in the wall surrounding your pool to keep the moisture and vapors from the rest of your home.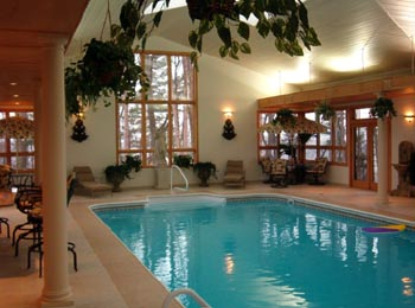 Also consider moisture-proof insulation in the walls and ceiling to prevent mold and mildew. It's a very thick piece of plastic that should envelope the entire room.

Swimming Safety
Swimming safety is obviously the most important part of having a swimming pool. Lock all doors when the pool is not in use. You may consider a swimming pool alarm and door alarm to each access door to the pool room. This will notify you if a child enters the pool area.
Also consider a quality pool safety cover if you shut-down your pool for any reasons or for long absences.
Indoor pools have come a long way in the last few years. If you can afford it, have the space, and your family wants one, go for it and have fun swimming year-round for your own all inclusive family vacations.
Go To:
Swimming Pool Care

>
Salt Water Pools

>
Indoor Pools
Top of Page

What Others Have Said
Click below to see contributions from other visitors to this page...