Inground Pool Cost and Estimate Prices For Construction

Inground pool cost and all about in ground swimming pools. Get the facts and don't become a victim when you build a swimming pool.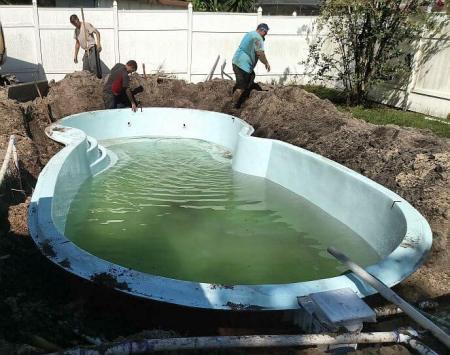 So you're looking at pictures of a beautiful pool, patio and furniture?  You're imagining yourself leisurely sitting by the pool while your friends and family enjoy the cool water on a warm Summer day?  As Summer approaches you start to wonder if that picture could ever become a reality for you?  But before you start picking out float toys and that inflatable chair that will hold 6 different types of beverages, let's make sure you know what you're getting into.
There are two main components when considering the cost of inground pools:
The initial price of the pool
The lifetime cost of pool ownership 
Inground pool cost will vary to build and to operate.  The larger your pool the more it will cost.  Another variable is the type and size of your pool.  Other factors are items like swimming pool solar heater, electric pool heater, filtration systems, diving boards and slides.  Vinyl-lined pools can be $10,000 or more to build.  Very large pools that have extras like heating or extra filtration can cost well over $50,000. 
Some other factors to include are extra concrete, dirt removal, landscaping, and a safety fence.  Many cities require all new and many existing pools to have some kind of protective barrier around the pool.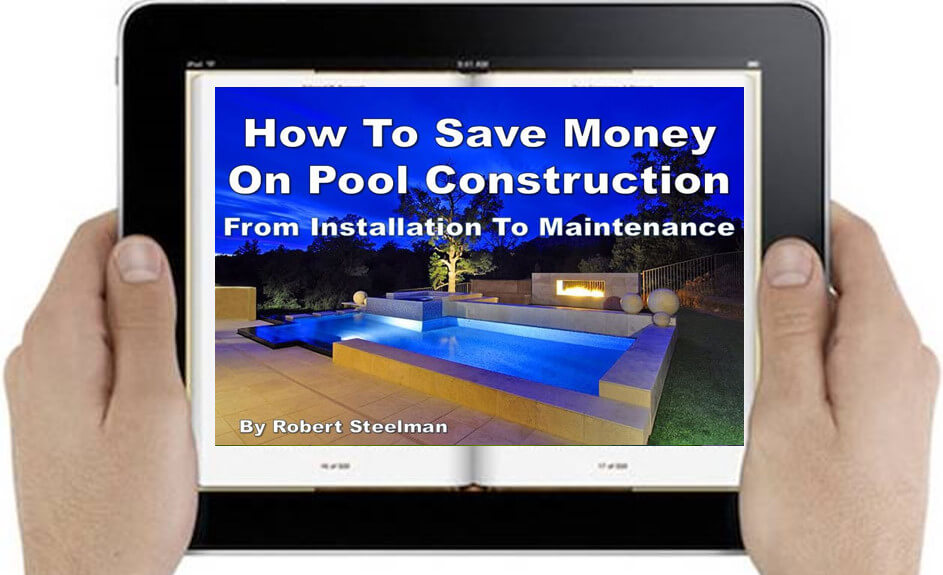 Don't make a $25,000 mistake.  Get the facts BEFORE you sign on the dotted line.
"How to Save Money On Pool Construction" is the authoritative eBook on saving money on your pool project. Filled with useful information from how to choose a contractor, what questions to ask, financial advice, how to know if a pool is right for you, and much more.  I've been on dozens of pool construction sites since 1999 and have seen first hand the problems that can happen.  Don't be a victim.  Get the best information now and save thousands!! Click on the button below and get started today!!

Average Cost Of An Inground Pool
An average pool owner looking to put in a relatively nice inground pool can expect to pay between $15,000 and $25,000.  I'm only talking about the actual installation and set-up.  Those extras that we talked about will  increase the final price.   It's good to shop around before you pick a contractor.

You always want to get the best price.  Consider doing some of the labor yourself such as digging or clearing away trees or brush for a DIY inground pool.  Small changes in size can be an increase in price.  If you don't think you can afford an inground swimming pool, try looking at above ground swimming pools.  These are less expensive and can give you many of the same features found in a quality inground pool.
What To Know About Inground Pool Cost
 There are 3 main kinds of inground pools  They are concrete/plaster, vinyl, and fiberglass.  Let's take a more detailed look at each one and see the pros and cons. 
Plaster/Concrete

Vinyl

Fiberglass
In some areas you might find contractors that build steel or aluminum pools.  Concrete pools can be built to almost any size or shape.  They're sometimes called gunite, shotcrete, or plaster pools.  They normally take between 3 - 12 weeks to build but are considered the strongest and most durable pool.
Concrete/Plaster Pools Advantages
Some advantages of a concrete pool are:
Custom Size and Shape

Concrete and plaster pools have the big advantage of being totally customized to fit any design or your particular taste.  This is by far their greatest appeal.  

More Durable

Concrete pools are very durable. In fact, when Hurricane Irma came ripping through Florida, I didn't see one concrete pool that sustained major damage.  And if someone drops a sharp object into the pool, simply fish it out.  No need to worry about a ripped liner or scratched gelcoat.

Concrete Pool Disadvantages

Some disadvantages of a concrete pool are:
More Chemical Usage

Water chemistry is a slight issue with concrete pools.  Because of the porous nature of plaster and concrete, algae spores can easily embed themselves into the surface which means more chemicals to keep the water balanced and possibly more chlorine to kill the algae and bacteria.  This means more time and money to maintain the pool.

Rough Surface

A rougher pool surface means possible sores on the bottom of your toes and heels.  I've known kids that actually need to wear water shoes or tennis shoes when they had a plaster pool so their feet wouldn't get blisters. 

Slower Installation Time

Digging can take a long time, especially when the unexpected happens.  Compared to a fiberglass or vinyl pool which can be completed in a few short days, concrete/plaster pools can take longer, even weeks, to finish.

Vinyl Liner Pool Advantages

Some advantages of a vinyl pool are:
Customized Shape

Most vinyl liner pools are rectangular in shape but you can customize your pool's shape and size.  Customized shapes do cost more a little more but are still less than fiberglass and plaster pools.

Low Installation Cost

Vinyl liner pools are more affordable to install and can start around $25,000 for a 20,000 - 25,000 gallon pool which is comparable to a concrete inground pool cost. 

Different Vinyl Styles

Not only can you customize your pool shape and size, there are literally dozens of great vinyl patterns from which to choose.

Vinyl Liner Disadvantages

Some disadvantages of a vinyl pool are:
Liner Replacement

The vinyl liner replacement is the biggest disadvantage of vinyl liner pools.  Vinyl liners can last between 5 - 10 years, or longer, depending on several factors such as chemical balance and geographical area.  With an average replacement cost of about $2000 - $4000 (including set-up, chemicals and new water) your wallet can take a hit.   And heaven forbid if you just replaced your liner and some smart-guy jumps in the pool with a sharp object and punctures the liner.  You're going to need to get another one.    

Limited Liner Warranty 

I would encourage anyone buying a liner to carefully read the warranty.  Some of it is straight forward while other parts might be "lawyer talk".  Many times the warranty only covers the seams of the line, or where the liner is fused together.  The warranty doesn't normally cover labor and other expenses such as chemicals and water.  And most liner warranties are pro-rated which means you might just get a fraction or partial credit towards a new liner.  

Fiberglass Pool Advantages

Some advantages of a fiberglass pool are:
Lower Chemical Use

Fiberglass pools are really big fiberglass bath tubs in terms of its composition.  They're non-porous which means algae has a harder time sticking to the pool's gelcoat surface.  Fiberglass pools can use 50% less chemicals than concrete pools. 

Very Durable
Fiberglass pools are clearly not plaster or vinyl, but they're very durable.  With proper care, they can easily last 20 years or more.  There's no need to be concerned about damaging the pool during daily use.

Attractive Looks

Fiberglass inground pools have made a great transformation over the last few years.  Gone are the days of the "bath tub" style look you'd find in the bad area of town.  You will now find elegant pool designs that can fit any taste and budget.  You can get your fiberglass pools with different colors, ledges, and water features built or plumbed into the shell.

Fiberglass Pool Disadvantages

Some disadvantages of a fiberglass pool are:
Higher Initial Cost Compared To Vinyl Liners

Be prepared to spend more on fiberglass pool installation.
Limited Shape and Size
Another disadvantage to consider is the shape, size, or depth of the pool.  Although you can many choices, it's not even close to what you could do with a plaster or concrete pool.  If an ultra customized shape is what you want, a fiberglass pool probably isn't for you.  

Recommended Reading For You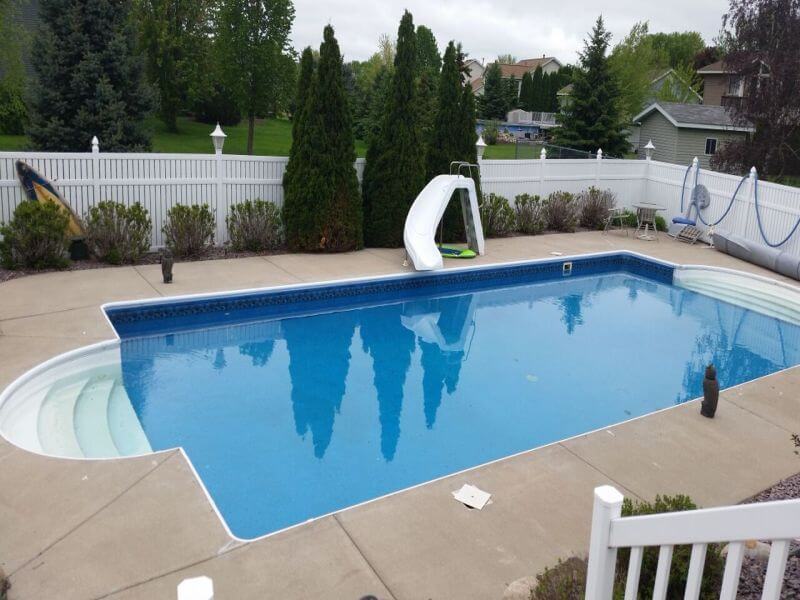 Maintenance Cost  - Pool maintenance tips. The ultimate swimming pool care manual and guide for weekly pool maintenance and mistakes to avoid.

Swimming Pool Financing - Swimming pool financing and the average costs of installing and building a swimming pool, common mistakes and questions to ask.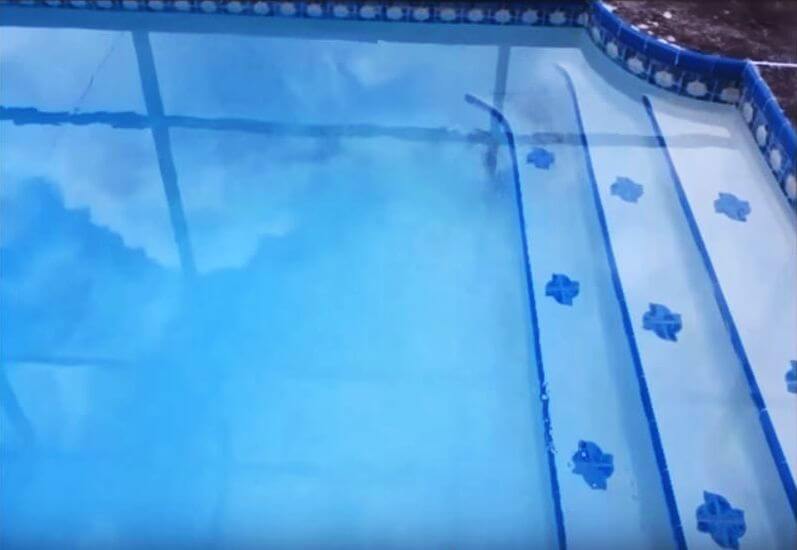 Inground Pool Parts - Parts and accessories you need for your in ground pool.

Main Difference Between Fiberglass & Vinyl Pools
Vinyl pools are flexible liners that fit into holes and attached to a wall frame made of steel or aluminum.  Vinyl lined pools are mostly rectangular but you can get them in a classic L-shaped.  The construction time for a vinyl lined pool is normally 1 - 3 weeks.  Fiberglass pools are factory-molded and 1 piece.  They can be installed much faster than other pool types, sometimes in as little as 3 days.  They tend to use fewer chemicals which saves you some money in the long run.  Fiberglass swimming pools come in fewer sizes and shapes than concrete or vinyl pools.  Fiberglass inground pool cost and prices are comparable to regular inground pool cost.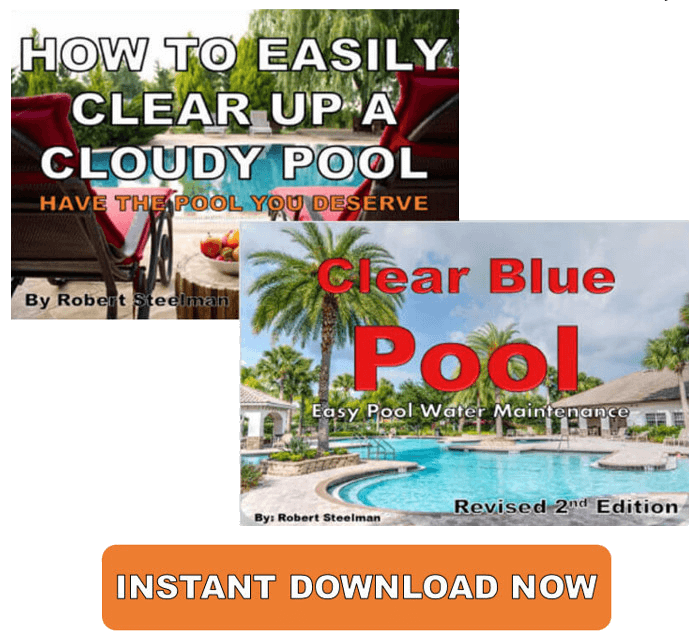 Are you frustrated with your cloudy pool?  Has it been weeks since you've seen the bottom?  Tired of losing so much money on your pool? 
"Clear Blue Pool Revised 2nd Edition" & "How To Easily Clear Up A Cloudy Pool" eBook Combo Package teaches you all you need to know about clearing up and maintaining your pool.  Refined and perfected over the last 20 + years and is the ONLY and BEST evidence-based system available.  Also included is my exclusive F.T.A. Pool Fix on clearing up green and cloudy pools.  Click the download button or HERE to get started today or go HERE for your Resources Page to learn about your eBook!!
Compare Pricing

Average inground pool cost will vary depending on the region, type of pool, ground condition, filtration, accessories, size and shape, and even the time of year.  Contractors may offer discounts for pools built during off-season when business is slow.

Check With Zoning

Inground pool cost is normally subject to building and zoning regulations.  You may need to apply for a building permit and/or receive approval from the proper authorities.

Inground Pool Cost & Site Consideration

A good and experienced contractor can provide help.  Consider the following tips:
Pick a location that's open and away from any trees.  This will reduce the leaves that drop into the pool.
Build or create a wall or solid-board fence to help reduce evaporation by strong winds
Avoid low-lying areas that may result in pool flooding.  Mud and debris should be kept out during heavy rains.
No overhead telephone or electrical wires should be over the pool 
Watch for sewer lines, septic systems and electrical cables
Build the pool within view of the house to keep an eye on swimmers
Make sure there's room for accessories like a hot tub, slide, diving board, pool decking, outdoor bbq island, etc...
Choose A Filtration System

Your pool's filtration system is made to keep the water clean and clear.  The main types of swimming pool filtration systems are:
Swimming Pool Sand Filters
Cartridge Filter
DE
All three work well when properly installed and maintained.  Check with your swimming pool dealer or contractor to help you decide which filtration system is best for your pool.
Swimming Pool Construction Cost...It's How Much?

A hamster is $10, but the cost of having the hamster is more.  The cage, food, bedding, water bottle, etc... and that same $10 hamster will run you over $100.  Same for inground pool cost.  You'll want to enhance the landscape, buy accessories and invest in pool maintenance.  This will increase the pool costs and inground pool cost. 
Go To:
Top Of Page