SPF Clothing
SPF clothing and SPF swimwear is an essential part of Summer if you're sensitive to the sun's rays.
Your can enjoy having fun in the sun. 
Over exposure to the sun may cause sunburn and wrinkles. Long term exposure can increase the risk of skin diseases and damage to the skin.
A little sun is good. Vitamin D3 is good. Too much sun and a bad sunburn can happen in as little as 15 - 20 minutes on a bright sunny day.
Sun protective clothes are pretty new in America, but Australia has used them for over 15 years. 

It seems that sun protection clothing is more popular than sunscreen.
Natural and/or organic sunscreens need to be applied when you go outside for extended periods. You can find a good list of sunscreens below.
But they can easily rub or wash. This requires applying it on a regular basis, normally every 2 - 3 hours or more often if you go swimming or sweat.
SPF Clothing Sun Protection Hats & Shirts 
Our skin is mostly exposed to the sun. Summer clothes let through damaging ultraviolet rays from the sun.
Usually they protect less than an SPF 30 sunscreen.
Non UV Protective Clothing

Your regular clothes may be good, probably around 5 (UPF 5). This doesn't reduce the UVR exposure.
It also doesn't provide skin protection from UV radiation. Be sure your getting the right sun protective clothes.
Your sun block clothing products should be tested and provide a high block rating of the sun's UV Rays. This is normally a UPF 50+. This blocks about 98% of the sun's UV radiation.
Normal T-shirt only block about 50%. Many summer clothes protect even less. A good lightweight SPF shirt and pants provides a barrier from the sun's rays. They will also keep you a bit more comfortable on those hot summer days.
The Fabric Of Sunblock Clothing
Sunscreen clothing fabric is a tightly woven/knit. It might be chemically treated with UV blockers. Cotton and polyester are used, but much of your UV protective clothing is made from nylon.
Your UV protection clothing should be light-colored and lightweight. Limit your SPF clothing to one layer to help the sweat evaporate. Wet sun protection shirts and pants should be replaced with dry ones.

UV Protective Clothing For Babies

For babies under 6 months old it's recommended to avoid direct sun exposure. Dress your infant in lightweight SPF clothing; long pants and a long-sleeved shirt.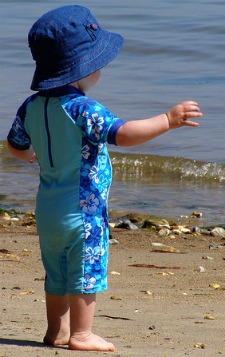 A nice wide brimmed hat should cover the face and neck to prevent sunburn.
If shade or sun protection clothing are not available, you can use a good quality organic sunscreen made from zinc oxide. Apply a minimal amount of sunscreen with at least 15 SPF. Cover the exposed areas such as the face, neck, arms, and legs.
If your baby does get a sunburn, you can use a cold compress or natural aloe.
For Young Children
Apply a natural sunscreen at least 20 minutes before going outside. The SPF rating should be a minimum of 15 and protect against UVA and UVB rays.
SPF Clothing For Older Children & Adults
Your best bet is to limit sun exposure during the sun's peak hours, normally between 12pm - 4pm.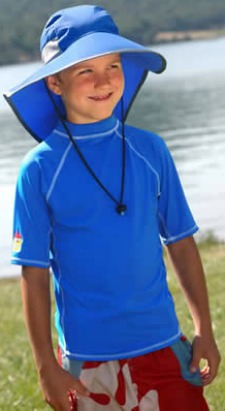 You can cover up by wearing UV protective shirts, hats for sun protection, pants, and sun gloves.
Look for sunglasses that block 99-100% of ultraviolet rays. UV shirts and garments should be cotton and/or nylon with a tight weave.
---
More Sun Protection
Best Sunscreen - The best sunscreen and the best natural sunscreen. Important sunscreen information and sunscreen safety.
Biodegradable Sunscreen - A biodegradable sunscreen is a natural sunblock.
Chemical Free Sunscreen - The Best Chemical Free Sunscreen Is The Most Effective Sunblock With Sunblock Clothing .
Organic Sunscreen - An Organic Sunscreen & Organic Sunblock Is A Natural Zinc Sunscreen.
Sunscreen Allergy - A sunscreen allergy could be a bad red skin rash.
---
Try to stay in the shade if you feel you've been in the sun too long. Use a natural or organic sunscreen with an SPF of 15 or greater.
Apply enough sunscreen to cover the exposed areas. Reapply your sunscreen every two hours or after swimming or sweating.
Go To:
Swimming Pool Care

>
SPF Clothing
Top of Page