Sunscreen Allergy
A sunscreen allergy could be a bad red skin rash. Get the best sunscreen facts before you develop a bad rash on your skin this Summer.
A sun lotion allergy (sometimes known as contact dermatitis) are thought to caused by the chemicals in the sunscreen. 
Sunscreen allergies can also be caused by the fragrances and preservatives found in the sunscreen.
Contact dermatitis is normally an itchy blister on the skin.
This kind of skin rash is normally caused by the direct contact of a chemical substance on the skin.
Symptoms usually develop within a few minutes after applying sun lotion.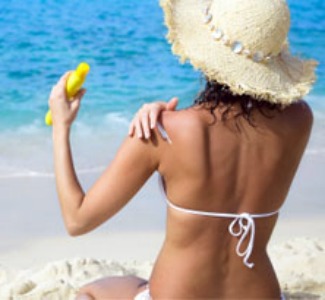 These are the most common chemicals in sunscreens and tanning lotions that may cause an allergic reaction:
Butyl methoxy dibenzoylmethane

Avobenzone

Oxybenzone and benzophenone-3

Methoxycinnamate based eg Octyl Methoxycinnamate

Parabens (synthetic preservatives)

Fragrances

Petrochemicals

PABA (4-Aminobenzoic acid)

Octocrylene
Symptoms Of Sunblock/Sunscreen Allergy

Sunscreen allergy symptoms could include:
Red rashes
Itchy and/or burning feeling in and around the affected area
Blisters and/or hives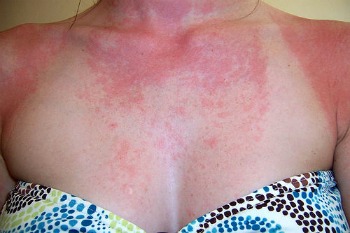 These should not be confused with seasonal allergies or food allergies that many people have.

Different Types Of Sunscreen

Pick a hypoallergenic sunscreen or one that is labeled organic

A sunscreen that uses "physical blockers" like titanium dioxide and/or zinc oxide

Hats, long sleeves, and long pants go a long way

You may need to test different sunscreens until you find which one works best for you.

If your symptoms persist you'll need to contact a dermatologist or health care provider. 
They can run the proper tests to check if you have a real allergic reaction to your sunscreen.
If you have sensitive skin or skin that reacts to sunscreen, you should stay clear of chemical sunscreens. Try a natural alternative made from titanium dioxide or zinc oxide.
And remember articles like a wide-brimmed hat, sunglasses, and UV protective clothing. You can wear loose fitting clothes, long sleeves, and pants if you don't want to slather yourself down with a lotion or if you're in a rush and don't have the time.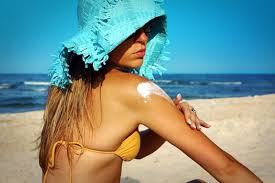 Remember to keep babies under 6 months out of direct sunlight. If there is protection available, use a natural sunscreen that is formulated for babies.
Exposed areas like the hands and face need a little more protection. The wrong sunscreen on your little one may cause a bad skin reaction.
If you have a child over 6 months old, choose one that has natural ingredients and is chemical free.
Go To:
Swimming Pool Care

>
Best Sunscreen

>
Sunscreen Allergy
Top of Page